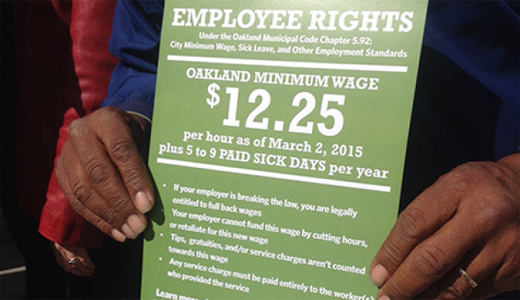 OAKLAND, Calif. – On Mar. 2, tens of thousands of Oakland workers will get a pay raise, and thousands more will have paid sick days for the first time, thanks to a ballot measure passed last November.
Low wage workers and their supporters gathered in front of City Hall Feb. 27, to celebrate the new requirement that all Oakland employers pay their workers a minimum of $12.25 an hour – up from the state minimum of $9 an hour – and provide all workers with paid sick days based on the number of hours they work, up to a maximum of nine days per year.
Next Jan. 1, and every year thereafter, the minimum wage will rise based on the previous year's increase in inflation.
"This is a historic moment. Many people are more than happy, we're moving in the right direction," fast food worker Chris Higgenbothem told the crowd. "We're trailblazers not only in the Bay Area but also in the nation."
Kate O'Hara, executive director of the East Bay Alliance for a Sustainable Economy (EBASE), said, "We know that if we can raise wages in the East Bay, more families will be able to stay in their homes, more workers will be able to live closer to their jobs, and we can all spend more time with our families, and building stronger communities."
Marcus Brown, a temporary part-time worker for the City of Oakland, said he worked with city and school district workers to get Measure FF on the ballot because temporary workers, who he said outnumber the city's fulltime employees, don't get benefits including sick and vacation days.
And Sal Bednarz, owner of two Oakland restaurants, said he was an early advocate for the change, though it would be difficult for his businesses. Calling the move "the right thing to do," Bednarz said he doesn't want to live in a "city where our workers cannot live."
Oakland's Measure FF passed with 82 percent of the vote last November, after a broad Lift Up Oakland coalition brought together by EBASE and involving over 50 labor and community organizations including the Alameda Labor Council waged a campaign to get the measure on the ballot and build voter support.
Other San Francisco Bay Area cities are also raising their minimum wages.
In November, over three quarters of San Franciscans voted to raise that city's minimum gradually to $15/hour by 2018.
Processes are also underway in Oakland's neighbors, Emeryville and Berkeley, to raise minimums there. The Emeryville City Council is considering a raise to $14.42, effective Jun. 1. And Berkeley voted last year to set its minimum wage on a course to reach $12.53 by October 2016.
At Oakland City Hall, Alma Blackwell of Causa Justa/Just Cause said she is glad for the gain. But, she said, to carry the process further, "maybe we need a new ballot measure. Or maybe a city policy that any new company coming to the city should pay a living wage." Calling $15/hour "a living wage," Blackwell said longtime city residents are suffering from rising rents. "This is a start," she said, "so people won't have to move out of the area."
Victor, a day laborer currently working as a mover and a gardener, called the wage hike "a very good thing for me and my family." He said he's "felt very limited and stressed out," but now the family will be able to afford better food, and cope with rising costs of health care.
Because many employers and their workers don't yet know about the new minimum wage, EBASE says fast food workers and advocates of the new wage will mobilize around the city on Mar. 2, to spread the word, and tell workers what to do if their employer doesn't comply with the law.
Meanwhile, in the California state legislature, state Sen. Mark Leno, D-San Francisco, introduced in December a bill to raise the state minimum to $11 in 2016, and $13 in 2017. The measure is co-sponsored by Senate President Pro Tem Kevin de León, D-Los Angeles.
Photo: KGO Radio