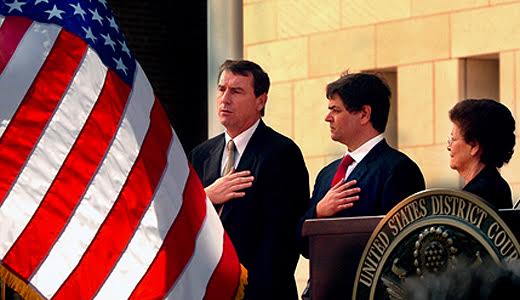 In a bizarre, almost hysterical ruling, the judge who has gummed up the Obama administration's attempts to provide relief to some of the 11 million undocumented immigrants in the United States has now added another element to the fear mongering against immigrants.
On May 19, federal District Court judge Andrew Hanen ordered the Justice Department to hand over to him the names and other identifying and contact information for approximately 100,000 young immigrants who the DOJ granted, before Hanen issued an injunction in February 2015, the right to live and work in the U.S. for three more years under the DACA (Deferred Action for Childhood Arrivals) program.
Hanen blocking DACA/DAPA implementation
DACA was initiated by an executive order by President Obama in 2012, after years of Republican obstructionism made it impossible to get a humane and practical legislative solution to the issue of undocumented immigration. Under the original DACA, people who were brought to the United States without immigration documents when they were minors, and who had not yet reached 30 years of age, could apply for authorization to stay and work in this country. The authorization would last for three years but could be renewed for two. In 2014, Obama issued an expanded DACA order, which eliminated the 30 year age cap, advanced the cutoff date for having arrived in this country from 2007 to January 1 2010, and lengthened the extensions from two years to three. Obama also created the DAPA program, Deferred Action for Parents of Americans and Lawful Permanent Residents. Together, the two executive orders make it possible for about 5 million people to remain and work in the United States, at least for the time being.
But in February 2015, Judge Hanen ruled in favor of a suit filed against the federal government by 26 Republican state attorneys general, and issued a temporary injunction to delay implementation of extended DACA and DAPA. The case is now being decided by the U.S. Supreme Court, which is likely to issue a ruling next month.
When the original DACA program was announced, immigrants' rights and community organizations worked feverishly to get eligible young people to sign up for it. But one problem they ran into was fear that if such people filled out the paperwork, they might expose themselves to arrest and deportation at some later date. This made some people hesitant to apply. The government assured them that their information would be treated as confidential and would not be abused, so hundreds of thousands applied for DACA relief and got it. But for many the first three years are up so they have had to apply for extensions.
Hanen had already ordered Department of Justice lawyers to take courses in legal ethics. He claimed that the government attorneys had misrepresented their actions to him and had concealed the fact that a large number of three year extensions had been granted even before he issued his injunction. Hanen accuses the government of having handed out the three year extensions without telling him. He characterized this as a violation of legal ethics; hence the order to take classes. (The administration denies the accusation.)
Now he has added to that strange order another one which requires that the government hand over to him personally the names, addresses and other information of all the DACA extension recipients in question.
Immigrants could face persecution
For many, but not all young immigrants who have applied for the three-year extensions, Judge Hanen's latest order-to hand over their names and contact information by June 10- represents a serious danger.
This would cover people in those states whose attorneys general are part of the suit against extended DACA and DAPA. These are Alabama, Arizona, Arkansas, Florida, Georgia, Idaho, Indiana, Kansas, Louisiana, Maine, Michigan, Mississippi, Montana, Nebraska, Nevada, North Carolina, North Dakota, Ohio, Oklahoma, Tennessee, Texas, Utah, West Virginia and Wisconsin (Virginia was originally in the suit but withdrew). Hanen wants this information by June 10. He says he will keep the information sealed until the Supreme Court rules on the main case, but when it does he might be open to sharing this information with the state attorneys general so that they can, for example, stop issuing drivers' licenses or allowing in state college tuition to some of the individuals. But these are politicians who have already demonstrated hostility to undocumented immigrants and opposition to their legalization; for them to get their hands on such information is hair raising.
Resisting an extremist judge
Immigrants' rights defenders reacted with consternation, anger and a determination to fight back against this newest peril. Marielena Hincapié, executive director of the National Immigration Law Center, said "This is the latest of a long line of outrageous and outsized orders from this extremist court…The clear disdain for the administration and our families inherent in Judge Hanen's actions is further evidence that this lawsuit has never been about the law, but, rather, is purely about politics. What Judge Hanen is demanding is tantamount to a witch hunt intended to instill fear in immigrant youth with DACA and perhaps even those who would benefit from a positive Supreme Court decision".
This latest intervention from Judge Hanen comes in the context of a bitter election campaign in which undocumented immigrants have been made the all-purpose scapegoat for the nation's ills by Republican candidate Donald Trump, and also by other Republican candidates down-ballot. This may explain Ms. Hincapié's characterization of the judge's order as being about politics rather than law.
Immigrants' rights advocates are calling for the Obama administration to resist Hanen's order. This would entail appealing it. Some fear that the administration might not do so, so some organizations are looking for ways to intervene in court themselves, perhaps filing an appeal in the name of persons who would be negatively impacted by the order. On Friday May 21, attorney Nina Perales of the Mexican American Legal Defense and Education Fund, along with others, filed papers pointing out that last year a federal appeals court that three of their clients should be given status to intervene in the original DAPA suit.
United we Dream, one of the main organizations that has been fighting for the legalization of the "Dreamers", young people brought into the United States without papers when they were children, has insisted that the U.S. Attorney General and President Barack Obama do all they can to resist this attack on immigrant youth by Judge Hanen.HHH
United we Dream is circulating an online petition which urges the Obama administration to resist Judge Hanen's order on the handing over of names and contact information of the DACA beneficiaries.
We urge all our readers to sign it and to circulate it as widely as possible to friends, co-workers, neighbors and contacts.
Photo: U.S. Southern District Judge Andrew S. Hanen, left, joins with Filemon B. Vela, Jr. and Blanca Vela for the Pledge of Allegiance during a ceremony in Brownsville, Texas. Hanen's move to block President Barack Obama's orders on immigration lays bare a pervasive practice in federal district courts: venue shopping. Immigration advocates say that lawyers for the state of Texas were seeking a court with sympathetic judges when they filed their case in Brownsville. | The Brownsville Herald & Brad Doherty/AP