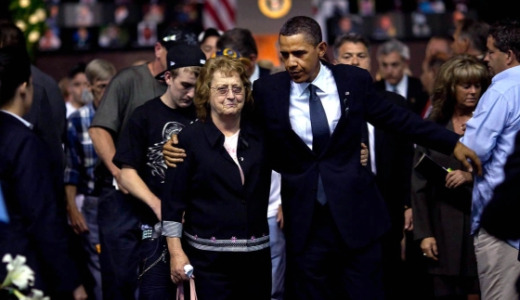 "We are here to memorialize 29 Americans: Carl Acord. Jason Atkins. Christopher Bell. Gregory Steven Brock. Kenneth Allan Chapman. Robert Clark. Charles Timothy Davis. Cory Davis. Michael Lee Elswick. William I. Griffith. Steven Harrah. Edward Dean Jones. Richard K. Lane. William Roosevelt Lynch. Nicholas Darrell McCroskey. Joe Marcum. Ronald Lee Maynor. James E. Mooney. Adam Keith Morgan. Rex L. Mullins. Joshua S. Napper. Howard D. Payne. Dillard Earl Persinger. Joel R. Price. Deward Scott. Gary Quarles. Grover Dale Skeens. Benny Willingham. Ricky Workman. "
Thus began President Obama's eulogy at the memorial for the 29 miners killed in a Massey Energy coal mine in Montcoal, West Virginia. Thousands attended the memorial, held in the Beckley, W.Va., Convention Center. After naming each of miners, Obama gave a succinct picture of their working life:
"Up at 4:30, 5 at the latest, they began their day, as they worked, in darkness. In coveralls and hard-toe boots, a hardhat over their heads, they would sit quietly for their hour-long journey, five miles into the mountain, the only light the lamp on their caps, or the glow from the mantrip they rode in.
"Day after day, they would burrow into the coal, the fruits of their labor, what we so often take for granted: the electricity that lights up convention centers like this; that lights up our churches and homes, our schools and offices; the energy that powers our country and the world."
Quoting from letters received from "a coal miner's daughter," or from "I am proud to be from a family of miners," or from "I am the son of a coal miner," Obama cited the common theme of "Don't let this happen again."
"How can we fail them?" the president said. "How can a nation that relies on its miners not do everything in its power to protect them? How can we let anyone in this country put their lives at risk by simply showing up to work; by simply pursuing the American dream?"
The response of the families and community in attendance to Obama's appeal was powerful and positive. The press throughout West Virginia has been very generous in its response as well. Local talk radio hosts and call-ins on the Winners and Losers radio program in Shepherdstown, W.Va., gave it "two thumbs up."
There were also remarks from Vice President Joe Biden, West Virginia Gov. Joe Manchin, Senator Jay Rockefeller, D-W.Va., and others, pledging answers to the questions of families and communities about what went wrong at Massey in Montcoal. West Virginia's senior senator, Robert Byrd, appealed to God for comfort.
Congressman Nick Rahall from the 3rd District of West Virginia made this promise:
"I want to know why this tragedy happened; and to assure West Virginians that there will be a thorough investigation. We will seek answers about the cause of this disaster. We will look for inadequacies in the law and enforcement practices, and I will work to fix any we find. We will scrutinize the health and safety violations at this mine to see whether the law was circumvented and miners' precious lives were willfully put at risk, and there will be accountability."
During the service and introductions, the president sat next to a woman who lost three family members in the mine tragedy – a son and two grandchildren, the Davis boys. And his presence appeared to genuinely comfort her.
Nearly the entire state and federal leadership of West Virginia were in attendance at the memorial, signaling it as an emotional flashpoint for a number of sensitive political, energy, environmental and economic challenges facing the region, and the nation. While coal mining is essential to sustaining energy, it is likely to be a declining share of emerging energy technologies, according to many studies. The Beckley area is home to much "mountaintop removal" mining, also by Massey Energy. There is great environmental controversy surrounding the impact of this kind of mining on rivers, streams, wells and other water sources. The memorial suggest the loss of the 29 miners' lives may yet help unlock the logjam on upcoming energy and climate change legislation – all of which will greatly affect the lives of miners, and all Americans.
Photo: President Obama walks with Linda Davis, the grandmother of deceased miner Cory Davis, during a memorial for the victims of the Upper Big Branch Mine explosion in Beckley, W.Va., April 25. (Official White House Photo by Pete Souza, http://www.whitehouse.gov/blog/2010/04/25/families-big-branch-mine-our-hearts-ache-alongside-you)