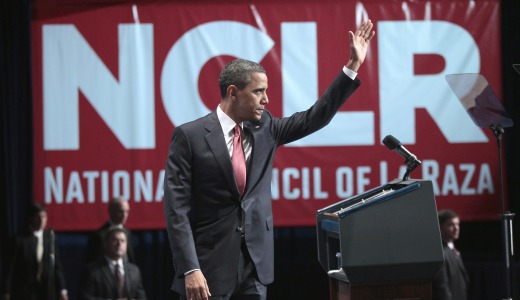 President Barack Obama was welcomed by thousands attending the National Council of La Raza's annual conference in Washington D.C. this week, where he delivered a major speech.
The national meeting brought together thousands of experts, policy makers, activists and young people to discuss several pressing issues facing the Latino community.
Obama highlighted the contributions Latinos in his administration are making on behalf of their communities and the American people.
He mentioned a recent meeting at the White House that brought together 100 Latino officials who met with Latino leaders from across the country.
At that meeting Obama recalled saying, "We need your voice. Your country needs you. Our American family will only be as strong as our growing Latino community."
Obama reiterated, "We're still climbing out of a vicious recession that has hit Latino families especially hard."
He said his number one priority is to figure out how to get businesses to hire people and create jobs with decent wages. He said there are hundreds of thousands of construction workers, many of them Latino, who recently lost their jobs. These workers, Obama said, should be helping to build roads, bridges, new schools, and airports across the country.
He assured attendees that such jobs measures would be signed into law if Congress would send them to his desk.
Obama noted the debt-ceiling debate and how it would directly impact every American if Congress cannot resolve the problem.
"Both parties have a responsibility to come together and solve this problem and make sure the American people are not hurt," he said. "We can't just close the deficit by cuts to spending. It's not fair and it doesn't make sense to put this problem on the backs of the middle class and poor families. The best way is a balanced approach – one where the wealthiest Americans and big corporations pay their fair share too."
Obama said he intends to keep his promise to ensure that America remains a place where opportunities are open to all who work, including immigrants.
We need an immigration system that holds true to our American values, he said, noting, it's not only a moral issue, but an economic imperative.
"This country has always been made stronger because of immigrants," said Obama.
He added, "We have a system that separates families, and punishes innocent young people for their parents' actions by denying them the chance to earn an education or contribute to our economy or serve in our military."
The president told the audience he understands the real pain and heartbreak that deportations are causing under his administration. As much as he'd like to change the laws by himself, he said, that's not how our democracy or our constitution works.
Five years ago, immigration reform was a bipartisan effort and Republicans helped draft the DREAM Act, said Obama. But today many of those GOP leaders are walking away from any reform, he continued.
"Feel free to keep the heat on me and on the Democrats. But you should know the Democrats and your president are with you. Don't get confused by that," said Obama.
"I need you to keep building a movement for change outside of Washington, one they cannot stop" he added. "I will be there every step of the way. I will keep up this fight."
In conclusion, Obama urged unity. "It's up to us, Latino, black, white, Asian, Native American, gay, straight, disabled," to continue the stories of those who sacrificed in order to give their children a better future.
During the conference a straw poll was conducted in partnership with Lake Research Partners and Revolution Messaging via text message with 547 supporters and NCLR attendees.
The poll found that immigration overwhelmingly trumped both the economy and education as the most important issue facing Latinos. Almost half (45 percent) of all respondents chose immigration as the top issue, as opposed to jobs and the economy (25 percent), education (21 percent) and health care (6 percent).
Janet Murguía, NCLR president and CEO said, "This should be a wake-up call to politicians on both sides of the aisle that inaction on this issue will be a huge factor in the upcoming elections."
While nearly 80 percent of respondents said they plan on voting for Obama in the upcoming election, only 29 percent "strongly approved" of the president's job performance, whereas 44 percent "somewhat approved" and 27 percent "disapproved."
Photo: President Obama waves as he prepares to walks off stage after delivering remarks at the NCLR conference, July 25, 2011. (AP Photo/Pablo Martinez Monsivais)