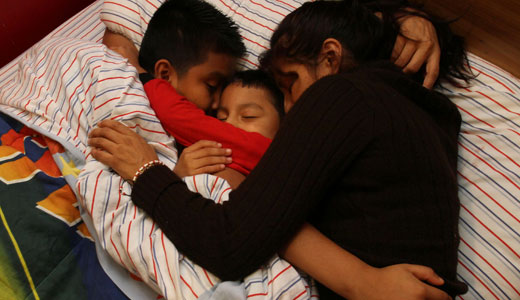 Last week the Obama administration announced the launch of a new hotline aimed at informing immigrant detainees held by local and state police agencies of their rights.
The round-the-clock hotline is said to be part of a broader effort to improve the immigration enforcement process, according to a press release issued by U.S. Immigration and Customs Enforcement (ICE). Immigration officials hope the initiative will help prioritize resources to focus on serious threats to public safety.
Resources will be used to focus on "repeat immigration law violators, recent border entrants, and immigration fugitives while continuing to strengthen oversight of the nation's immigration detention system and facilitate legal immigration."
The toll-free number, (855) 448-6903, will answer queries from detainees held by state or local law enforcement agencies, including those in custody who "believe they may be U.S. citizens or victims of a crime."
The release adds, "ICE personnel will collect information from the individual and refer it to the relevant ICE Enforcement and Removal Operations field office for immediate action."
Part of the new policy includes a new "detainer" form informing all detainees that ICE will assume their custody within 48 hours. The detainer, or notice to detain form, will be available in several languages, including Spanish, French, Portuguese, Chinese and Vietnamese.
According to the release, "The new form allows ICE to make the detainer operative only upon the individual's conviction of the offense for which he or she was arrested."
ICE posted a sample copy of the form online. "It also advises individuals that if ICE does not take them in custody within the 48 hours, they should contact the [law enforcement agency] or entity that is holding them to inquire about their release from state or local custody," the immigration agency says.
Thomas Saenz, president and general counsel of the Mexican American Legal Defense and Education Fund, told the Los Angeles Times the new hotline is "a positive development." But it's long overdue and still remains inadequate, he says.
"Often people who are subject to ICE detainers have no idea why they are being held," said Saenz. "This kind of step should have been in place the very first time ICE undertook an expansion of its detainers."
He continued, "ICE needs to focus on fixing the problems up front" to avoid unconstitutional arrests and monitoring local law enforcement agencies it partners with rather than relying on detainees to report abuses.
"It relies on the individuals being detained to have the courage, knowledge and wherewithal to make a call to the hotline and follow up. They may feel intimidated or unable to adequately navigate their case," said Saenz.
Other advocates say immigration enforcement is still a major concern, especially in states where local police are attempting to take immigration matters into their own hands. There has long been a need for more accountability and oversight of the issuance of immigration detainers, they argue.
"The ACLU and other advocates indentified four native-born U.S. citizens who were held unlawfully in custody through immigration detainers in Los Angeles County," said Laura Vazquez, immigration legislative analyst for the National Council of La Raza, to CNN in a statement.
Critics note scores of local law enforcement agencies abuse their authority through partnerships with the federal government under the controversial 287(g) program. Established in 1996, the program deputizes police to turn over "suspects" or alleged criminals to immigration officials for possible deportation. In most cases police do not enforce federal law.
ICE apparently has 287(g) agreements with 69 law enforcement agencies in 24 states. Since January 2006, the program is credited with identifying more than 217,300 potentially removable undocumented immigrants, mostly at local jails, according to ICE records. The agency claims it has certified more than 1,500 state and local officials to enforce immigration law, under the 287(g) program.
Immigrant rights groups both locally and nationally argue the program invites racial profiling and continues to violate the civil rights of people living in communities, mostly Latino, where its enforced.
For years, rights activists have criticized the mistreatment of suspected undocumented immigrants rounded up by the notorious and outspoken anti-immigrant Maricopa County Sheriff Joe Arpaio in Arizona.
In what some are calling a victory, the Justice Department announced last month it was suspending its 287(g) agreement with Arpaio and his deputies. An investigation found the sheriff and his staff was enforcing a campaign of racial profiling against Latinos, making unlawful arrests and violating civil rights laws in an effort to crack down on undocumented immigrants.
In other news U.S. Department of Homeland Security Secretary Janet Napolitano, former governor of Arizona, recently ended the Maricopa County jail officers' authority to detain people on immigration charges, barring them from holding immigration violators who have not been charged with local crimes.
Photo: Julia Caceres, right, spends a moment with her sons Fernando Guartan, 11, left, and Marco Jr. Guartan, 7, as she puts them to bed in their apartment in Queens. (AP Photo/Tina Fineberg)