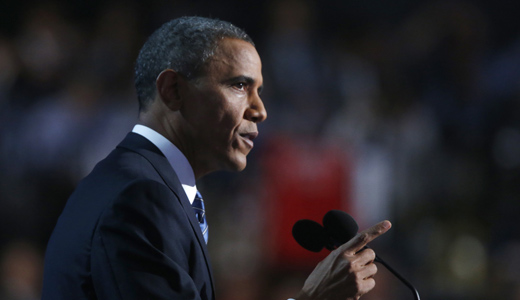 CHARLOTTE – President Barack Obama accepted the Democratic Party nomination for a second term Sept 6 calling the Nov. 6 election the starkest choice for working people in half a century.
He and his running mate, Vice President Joe Biden flew Friday morning to Iowa, New Hampshire, and Florida, all battleground states, to campaign in the 60-day countdown to the Nov. 6 election.
In his address to 6,000 delegates to the Democratic National Convention, Obama said, "When you pick up that ballot to vote (Nov. 6) you will face the clearest choice of any time in a generation."
He appealed to the crowd packed into the Time-Warner Arena and to tens of millions of voters watching on television across the nation to return him to office to complete the work he began four years ago.
Obama hammered his Republican rivals for threatening more tax cuts for the rich and deregulation of giant banks and corporations. He warned that Romney's trickle-down policy would push the nation back into the same deep economic recession he inherited from the George W. Bush administration.
A procession of DNC speakers over the past three days spelled out the stark choice, with many warning that if Republicans Mitt Romney and Paul Ryan win in November, every gain won by the people over the past century could be privatized, voucherized, or terminated outright.
Obama vowed if reelected to fight for the creation of one million new manufacturing jobs, building on his rescue of the auto industry which saved over one million jobs; he announced a goal of training 100,000 new math and science teachers, a 50 percent reduction in net oil imports by 2020 and a four trillion deficit reduction coupled with the restoration of higher taxes on the wealthy and lower taxes on middle income taxpayers. He also pledged to block the Ryan budget that would slash trillions from human needs program and convert Medicare to "vouchercare."
"I won't pretend that the path I'm offering is quick and easy. I never have," the President said, warning that the truth is "it will take more than a few years for us to solve the challenges that have built up over decades."
Obama stressed that only active engagement by the masses of the people can bring the change the people yearn for. "The election four years ago wasn't about me. It was about you," he said. 'You're the reason there's a little girl with a heart disorder in Phoenix who will get the surgery she needs because an insurance company can't limit her coverage. You did that.
"You're the reason a young immigrant who grew up here and went to school here, pledged allegiance to our flag will no longer be deported from the only country she's called home.
He added, "As citizens, we understand that America is not about what can be done for us. Its about what can be done by us, together, through the hard and frustrating but necessary work of self government."
Speaking directly at his viewers Obama added, "If you turn away now, if you buy into that cynicism that the change we fought for isn't possible, well, change will not happen,"
Lobbyists loaded with bundles of corporate cash will move into the vacuum, he warned.
"Only you can make sure that doesn't happen. Only you can move us forward."
Photo: Jae C. Hong/AP