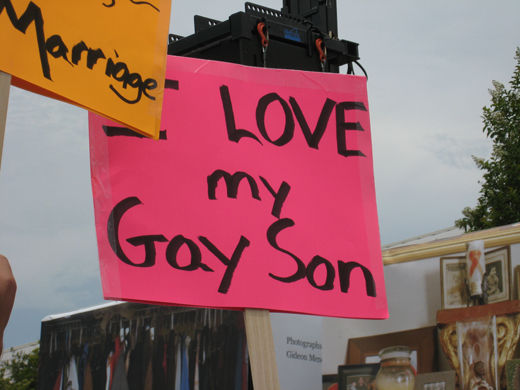 A federal law that bans recognition of same-sex marriage is unconstitutional says the Obama administration, which has ordered the Justice Department to stop defending it in courts nationwide.
Activist's say Obama's historic decision, announced by Attorney General Eric Holder Wednesday, Feb. 23, represents a big victory for gay and lesbian rights against the discriminatory law.
In a statement Holder said the Justice Department has been preserving the Defense of Marriage Act (DOMA) for two years noting the Obama administration had been acting out of a sense of legal precedent, not moral obligation.
The federal law, enacted in 1996, defines marriage as only between a man and a woman.
Holder stated the congressional debate during the law's passage "contains numerous expressions reflecting moral disapproval of gays and lesbians and their intimate and family relationships – precisely the kind of stereotype-based thinking and animus the (Constitution's) Equal Protection Clause is designed to guard against."
Holder added, "After careful consideration, including a review of my recommendation, the president has concluded that given a number of factors, including a documented history of discrimination, classification based on sexual orientation should be subjected to a more heightened standard of scrutiny."
In the past Obama has called the law "unnecessary and unfair."
Holder added that from now on, the Justice Department will no longer defend the law but the government will continue to enforce the policy across the executive branch unless Congress repeals it or a federal judge throws it out.
Much of the legal landscape has changed in the 15 years since Congress passed the measure, noted Holder. He added the Supreme Court has ruled the laws criminalizing the gay community are unconstitutional noting that Congress has recently repealed the military's "don't ask, don't tell" policy.
Anthony D. Romero, the executive director of the American Civil Liberties Union (ACLU), said Obama's move is a great step forward and a tipping point for the gay rights movement. This will reach into issues of employment discrimination, family recognition and full equality rights for lesbian and gay people, he said.
"The president did the right thing and just propelled gay rights into the 21st century, where it belongs," said Romero. "Our government finally recognizes what we knew 14 years ago – that the so called 'Defense of Marriage Act' is a gross violation of the Constitution's guarantee of equal protection before the law. DOMA betrays core American values of fairness, justice and dignity for all, and has no place in America. Our constitution promises that government will treat everyone equally. Today's announcement is a recognition that gay people, too, are promised equal treatment under the law. Now it is only a matter of time before LGBT people in the U.S. will finally have full equality in our society."
The ACLU is urging supporters to contact their lawmakers to demand that instead of defending DOMA, they co-sponsor the Respect for Marriage Act, which will be reintroduced next week.
Rep. Jerry Nadler, D-N.Y., a senior Democrat on the House Judiciary Committee, told The Huffington Post that he will be introducing the Respect for Marriage Act "very soon," which would repeal DOMA.
"The president's move is another step in the increasing realization that there is no conceivable justification for DOMA, that it is motivated, was motivated, purely by irrational considerations and fear and that there is no rational basis that will stand up to a constitutional challenge," said Nadler. "Hopefully, that will make it somewhat easier to pass legislation in Congress."
However the legislative battle will be difficult especially since House Judiciary Chairman Lamar Smith, R-Texas, has wide latitude over what bills get a hearing. Smith criticized Obama's decision calling it "irresponsible."
Meanwhile Sen. Dianne Feinstein, D-Calif., told the Huffington Post she intends to propose a similar bill in the Senate to effectively end DOMA.
"My own belief is that when two people love each other and enter the contract of marriage, the federal government should honor that," said Feinstein. "I opposed DOMA in 1996. It was the wrong law then; it is the wrong law now; and it should be repealed."
Over the years Obama has said he favors civil unions. However, advocates of same-sex marriage rights say Obama's courageous stance on the issue today stands as a signal that the president would soon embrace their cause for full equality.
In a letter written to House Speaker John Boehner, R-Ohio, Holder said the president has concluded DOMA fails to meet a rigorous standard under which courts view with suspicion any laws targeting minority groups who have suffered a history of discrimination.
In other news Hawaii Gov. Neil Abercrombie signed legislation legalizing civil unions for same-sex couples on the same day of Holder's announcement. The Hawaii bill grants same-sex couples the rights and responsibilities afforded to married couples under state law.
Photo: Steve Bott/ cc by 2.0