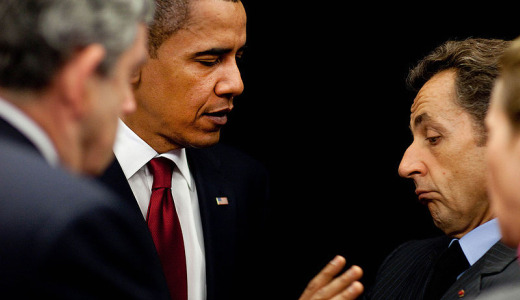 TORONTO (PAI) – President Barack Obama and other international leaders arriving for their June 26-27 summit here may encounter something they didn't expect: a picket line.
That's because unless Unite Here Local 75 and the owners of the Canadian metropolis' convention hotels reach settlement before the summit starts, the union could use the opportunity to garner publicity for the way its members have been mistreated.
Obama and other leaders of the G-20 industrialized nations will meet in Canada's largest city to discuss, among other things, the impact on workers of the continuing global recession.
Earlier this year, the G-20 labor ministers drafted a set of recommendations on helping workers cope with the crash. One recommendation, U.S. Labor Secretary Hilda Solis said then, implicitly backs the right to organize, though not in those words.
There will also be a "people's summit" to counter the G-20 in the Toronto area – and massive security downtown, which is where the convention hotels are located.
The 32 Toronto hotels facing the strike employ 5,500 workers combined, who overwhelmingly gave Local 75 a strike authorization vote on June 3, Unite Here said.
"Many of us are immigrants, women and workers of color and we have fought hard to lift ourselves out of poverty. Yet the hotels are trying to undo all that by continuing to cut hours and service levels as if they're still in deep recession, which they aren't," said Local 75 Vice President Cicely Phillips, a room attendant at one of the hotels, the Fairmont Royal York.
"These global giants are reporting profitable years in 2010 and into the future. As the people who make these hotels work, we want to share in that economic recovery. We refuse to have the hotels 'lock in the recession' for workers," Phillips stated.
Local 75 says many hotels shortened shifts, introduced split shifts (a breakfast shift and dinner shift with no pay in between), brought in "beck and call" hyper-flexible scheduling and increased the use of part-timers, costing workers income and benefits.
The Toronto Sheraton established a "fake green choice" program, which "purports to help guests save the environment but is really intended to reduce housekeeping services and room attendants," the local added.
"How can you get a second job or raise a family in dignity and security with these types of draconian measures?" asked Phillips.
While the confrontation in Toronto may greet world leaders, it is only the latest in a string of strikes Unite Here locals have been forced to stage against major chains:
* On June 10, workers and allies staged a mass protest at Hyatt's first-ever public shareholders' meeting, in Chicago. Just days before, several hundred Unite Here members had to walk out of the Hyatt Regency Chicago, the chain's flagship. Another forced strike in Chicago, against the Congress Plaza, just passed its seventh anniversary. Conditions there are so bad that the hotel gives travelers deep discounts.
* One former housekeeper at the Hyatt in Boston held proxy ballots and got into the chain's Chicago shareholders' meeting. Hyatt fired all 100 unionized workers in Boston last Aug. 31 and replaced them with contracted-out minimum wage workers.
"For 21 years, I gave my body – everything I have – to that hotel, and Hyatt kicked us to the curb," said Lucine Williams, who worked at the Hyatt Regency Boston. "You profess to be such a great company, but look at how you treat your workers," she said.
* Other protests were at Hyatts in Vancouver, Honolulu, San Francisco and Los Angeles. "Protesters are outraged at how the company is trying to make the recession permanent for workers despite significantly improving industry conditions and Hyatt's rising share values," the international union said.
* Hyatt workers in San Francisco staged a three-day strike, June 8-10, protesting working conditions. It was the fifth time that intransigence by nine hotel owners forced Unite Here Local 2 members to walk out. The last contract, covering 9,000 workers in San Francisco and San Mateo, Calif., ran out around a year ago.
The local announced a boycott, too. It listed seven, including a Hilton, a Westin and two Hyatts, over management demands for cuts. And it listed Le Meridien and Hyatt Fisherman's Wharf "because their workers demand the right to choose whether or not to form a union without any intimidation from management." Local 2 rep Riddi Mehta told the SF Bay Guardian: "We're not launching a boycott of San Francisco. We've moved $7 million out of boycotted hotels and the majority of the money has stayed in San Francisco."
* Even Disney mistreated workers. Hundreds of Unite Here members struck three Disneyland hotels just on June 11, over mistreatment on the job, refusal to respect seniority, and illegal firing of 23-year bartender — and union activist – MaryAnn Hegner.
Photo: President Barack Obama talks with French President Nicolas Sarkozy and British Prime Minister Gordon Brown during last year's G-20 Summit in Pittsburgh, Sept. 25, 2009. (White House/Pete Souza)