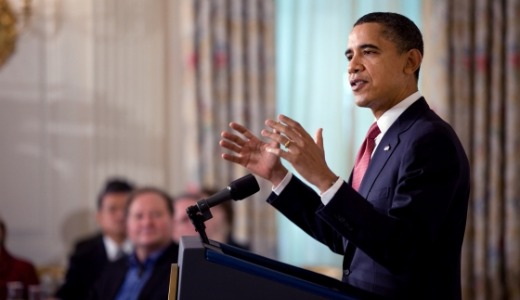 As workers continued monumental protests in several states against Republican attacks on their collective bargaining rights, they received support yesterday from two key sources.
Addressing governors at the White House Feb. 28 President Obama warned them not to vilify public workers.
"In fact, many public employees in your respective states have already agreed to cuts. But let me say this: I don't think it does anybody any good when public employees are denigrated or vilified or when their rights are infringed upon."
The president made his remarks as thousands of public workers and their supporters continued the protests at state capitols in Wisconsin, Indiana and Ohio.
"We need to attract the best and the brightest to public service," Obama said. "We're not going to attract the best teachers for our kids if they only make a fraction of what other professionals make."
Meanwhile, the latest New York Times/CBS poll, released Feb. 28, shows Americans overwhelmingly siding with Wisconsin workers and with civil servants generally.
The poll showed the public opposes weakening of the bargaining rights of public employee unions by a margin of nearly two to one: 60 percent to 33 percent.
By a whopping margin of 56 to 37 percent, Americans also oppose cutting the pay or benefits of public employees to reduce deficits.
The public is not buying into conservative claims that state and local government employees are already paid too much. Sixty one percent said they thought the salaries and benefits of most public employees were either 'about right' or 'too low' for the work they do.
Presidential and popular support for public workers was not the only bad polling news the right wing has to deal with today.
A new survey from Public Policy Polling finds many in Wisconsin wishing they could have a do over of last fall's elections. Voters say they'd back Scott Walker's opponent by 52 -45 if they could hold a do-over election.
Perhaps the most interesting part of the poll shows that Republicans themselves, not just Democrats or independents, have shifted away from Walker.
Ten percent of registered Republicans said they would now vote for the Democrat if they could do it again.
Last week, Gallup's national poll found that a startling 41 percent of Republicans oppose Walker's plan to roll back public employee collective bargaining rights.
The president's remarks and the latest polls are seen as strengthening labor's hand as it continues to call for the mass demonstrations aimed at getting ultra-conservative governors to back off their attacks on unions.
In Wisconsin, the Republican bill unions oppose would strip nearly all collective bargaining rights from the public employees. It would also slash take-home pay by 8 percent, on average, by diverting more pay into health care and pension costs.
In Indiana there are several bills that would weaken unions, the worst of which would ban any requirement that unionized workers in the private sector union pay union dues.
In Ohio, the Republican bill would end collective bargaining for state and local workers, require workers to pay 30 percent of the cost of their health insurance and end all automatic pay raises for teachers.
Democratic lawmakers in Wisconsin and Indiana can prevent passage of the bills by continuing their boycotts of legislative sessions. In Ohio, where there are strong Republican majorities in both houses and boycotts would not prevent votes, Republicans plan to get the measure to Rep. Gov. Kasich's desk as early as mid-March.
Image: President Obama addresses the nation's governors. Photo via White House press service.