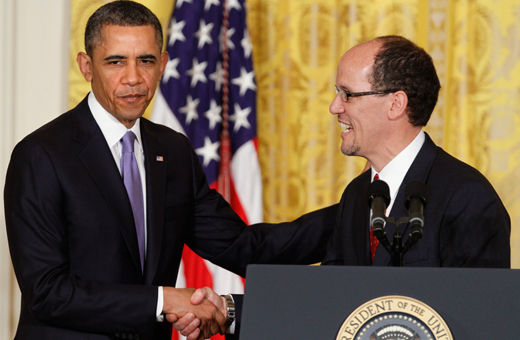 WASHINGTON – Anti-worker and anti-civil rights Republican senators are planning to grill Thomas Perez, President Obama's nominee to be the next Secretary of Labor, on his plans for the department and what they consider his overly strong civil rights policies.
Perez ran their gauntlet at his Senate Health, Education, Labor and Pensions Committee confirmation hearing on his nomination on April 18.
While committee Democrats, led by chairman Tom Harkin, D-Iowa, gave Perez a warm welcome and – eventually – their votes, the Republicans are another matter.
Several plan to quiz Perez on his stewardship of the Justice Department's Civil Rights Division, which he now heads. A recent Inspector General's report on the division disclosed political infighting between groups of officials and attorneys there.
Career workers who believe in enforcing civil rights laws battled a second group, inserted in the division by the GOP George W. Bush administration only after passing ideological muster with the right wing, who did not. The IG said Perez made little headway in cleaning up the mess.
The Republicans also plan to quiz Perez, a former Maryland state labor commissioner, about his policies and priorities for the federal department. Union leaders praised Perez' Maryland service, noting he was able to bring labor and business together on many issues.
As Maryland labor commissioner, Perez also initiated and pushed through legislation cracking down on employer misclassification of workers as "independent contractors." That practice lets venal and vicious employers undercut their competitors by not having to pay Social Security and Medicare payroll taxes, or workers' comp.
That's because employers arbitrarily declare the workers are "independent contractors," not "employees." And labor law also does not cover independent contractors, whom the employers still govern in every respect from uniforms to schedules to vehicles. That means unions can't organize them either.
If confirmed by the Senate, Perez would be the second straight Hispanic-American to hold DOL's top job, succeeding former Rep. Hilda Solis, D-Calif., who served for four years. But he faces yet another GOP roadblock outside the committee.
Sen. David Vitter, R-La., plans to put a "hold" – a version of the filibuster — against Perez. Vitter claims that in Louisiana, Perez' Justice Department division was only interested in enforcing voting rights for minorities, and not for white people.
Photo: Obama with labor secretary nominee Thomas Perez. Jacquelyn Martin/AP