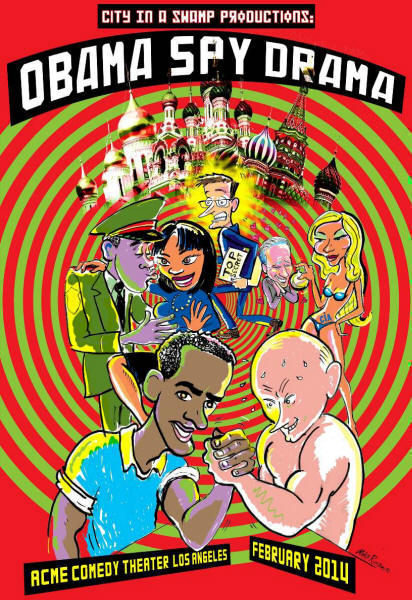 LOS ANGELES – Theatergoers here are currently reveling in a world premiere parodying Presidents Barack Obama and Vladimir Putin, and NSA whistleblower Edward Snowden: Obama Spy Drama at Hollywood's Acme Comedy Theater. The president (Matthew Harris) enters an Oval Office set and launches into an original song satirizing Obama as über-snooper "Big Bro' O," likening the commander-in-chief to Big Brother in George Orwell's 1984, with clever lyrics such as:
"I'm prying and peeking,
To block Wiki-Leaking,
I'm legal maneuvering,
J. Edgar Hoovering…
I'm sifting and panning,
To find Bradley Manning,
I'm searching for rodents,
Like that rat Edward Snowden."
Big Bro' O hatches "Operation Snow Job" to retrieve his bête noir Edward Snowden (Daniel Amerman) and the secrets he's absconded with from the National Security Agency. To do so the prez and CIA conspire to dispatch Dania Suarez (Beth Triffon), a stereotypical Hispanic femme fatale, to Moscow to lure Snowden away from his political asylum in Russia – with love. Suarez's sensual secret weapon is a CIA invention worthy of Q in the James Bond flicks: a chemical spray that puts the moan into pheromone, ensuring the bearer's irresistibility once it's sniffed.
During a White House demonstration Big Bro' O accidentally smells Suarez's sexy scent and they proceed to dance a bawdy "Pheromone Tango" – much to a diva-like Michelle Obama's (the voluptuous Arielle Widemon Siler) annoyance. In Act II, the First Lady is wooed and wowed by Obama lookalike Black Russian, an amorous KGB agent of African ancestry played by Max Lawrence, who beds her. The ecstatic Michelle sings Marvin Hamlisch and Carole Bayer Sager's "Nobody Does It Better," which Carly Simon memorably sang for the 1977 Bond film The Spy Who Loved Me.
With these scenes of marital infidelity, Obama Spy Drama goes beyond criticizing the chief executive's hyper-surveillance policies that even reveal German Chancellor Angela Merkel's "Wienerschnitzel recipe." Indeed, the irreverent comedy dares to poke fun at the until-now taboo subject of the Obamas' highly polished image as an ideal married couple.
But America's First Family is not alone in being given the travesty treatment by lyricist/ playwright Nicholas Zill. He aims his lampooning quill at the Muscovite characters, too. Snowden croons a take-off on a Beatles ditty renamed here as "Do You Want to Know Some Secrets?" (A prerecorded tape with music performed by the four-member Rock 'N' Ridicule Band accompanies the singers.) In turnaround fair play Snowden goes not unscathed, portrayed as revealing top secret information to the Russians.
Putin (Christopher Robert Smith) is also in for a shooting. Zill spoofs another "Lenin" and McCartney classic retitled "Back to USSR," wherein Putin fantasizes about returning Russia to its Soviet-era superpower status. But once rootin' tootin' Putin gets a whiff of the pheromone mist on Snowden, the Ruskie strongman turns into borscht, falling head over heels in love with the leaker.
Obama embarks on a clandestine "Mission to Moscow" (a reference to the 1943 movie that soon became a cause célèbre during the ensuing Cold War hysteria). Big Bro' O engages in an "Olympics" arm wrestling contest with the far brawnier Putin that will decide Snowden's fate. The refugee from Uncle Sam faces the punishment of being appointed America's computer czar, tasked with the impossible job of cleaning up the Obamacare website.
Obama Spy Drama has some of the funniest politics since W.C. Fields' Klopstokia in Million Dollar Legs (which also has an Olympics subplot and a president chosen via arm wrestling) and the Marx Brothers' Freedonia in Duck Soup, with Groucho as President Rufus T. Firefly. The play also has some of the sharpest current events lyrics since Tom Lehrer sang zingers in the 1960s.
Obama Spy Drama is the third installment of Obama satires by this team, but with more political barbs likely to stick in the throats of Democrats, Republicans, and independents alike, possibly owing to the troubled Obamacare, the administration's controversial drone policies, and Snowden's devastating revelations of an out-of-control national security state surveillance apparatus that would have boggled George Orwell's mind. In fact, Barack Obama has charged more Americans with violating the Espionage Act than all other U.S. presidents combined.
The City in a Swamp Productions' Obama Spy Drama is presented Fridays and Saturdays at 8:00 p.m. and Sundays at 3:00 p.m. through March 30 at the Acme Comedy Theater, 135 N. La Brea Ave., Hollywood, California. Info: (626) 274-1745; www.acmecomedy.com. For City in a Swamp comedy clips see: www.youtube.com/user/CityinaSwamp.