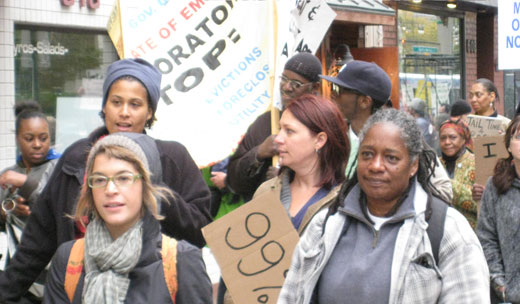 DETROIT – Occupy Detroit started off with a bang on Oct. 14 as close to 1000 people left the Spirit of Detroit statue outside the city's municipal building and marched down the main thoroughfare, Woodward Ave., to Grand Circus Park where an encampment has begun.
What drives the many young people to participate? I asked Calli McCain. She graduated from college in 2009. Two year later she has $50,000 in student loan debt, a decent job has been hard to come by and she's been forced to move back home to live with her mother. She thought the sacrifices she went through to finance her education would pay off. Now she's not so sure and feels she has "nothing to show for it."
Labor had a definite presence. Carrying a large container for donations was Chris Michalakis, Secretary Treasurer of the Metropolitan Detroit labor Council and Political Action Director of the United Food and Commercial Workers Union. He was helping Occupy Detroit raise money to rent Porta-Johns – something anyone who has attended a demonstration, let alone an encampment, can attest is a real need.
Why is labor supporting this movement? Michalakis says it's a "broad economic movement that represents what workers want." He's glad to see it take root.
Earlier in the day the local paper quoted Michalakis saying he was planning to march and spend the night. I mentioned to him it got me thinking that if he was going to do it, so should I.
I borrowed a tent and got "tentative" support that I would not be doing this alone. The main problem we had was getting the tent – which we hadn't seen before, up. Who would have thought it could be so complicated? It seemed to have poles going in every direction, but after about the sixth try (the first two with the tent inside out) and just before total darkness set in, the tent was pitched and my new home-sweet-home was born.
This comedy of errors was an amusing spectacle for many. A cameraman from the UK's The Guardian laughed good-heartedly as he filmed our ineptness.
Helping pitch the tent were two of my new neighbors Jenna Ennama and Sundi Bennett who drove eight hours from Michigan's upper peninsula. They are freshman at Northern Michigan University in Marquette and would only be staying for two nights – midterms started this week. What brought them? They are fed up that society has become a "survival of the fittest." For that they blame all the Wall Street and corporate money that has corrupted our democracy and the politicians we elect.
Their activism will continue after they graduate. Jenna plans to study environmental law and Sundi wants to become a nutritionist who helps society move toward a more plant based diet.
Campers for the most part were a young crowd but someone looking more my age was Bart Shovein, a former inspector with the city of Detroit who came, like me, to show support for this youth upsurge. In front of his tent he posted a sign calling for campaign finance reform and warning about Republican attempts to disenfranchise voters. "Republicans are trying to make voter ID an issue; get your NRA card now," the sign read. This was a reference to voter suppression bills that would prohibit using a university student ID card but allow the use of a National Rifle Association membership card.
Behind my tent was recent high school graduate, Tom Michalak. He said he was really enthusiastic when he first heard of the occupation in New York. With Wall Street stealing our wealth, "I'd be a hypocrite if I didn't get to something twenty minutes from my house," he said.
A week ago we had temperatures in the 80's but on Friday night the temperature sunk to the mid 40's and the rain never seemed to stop. On top of that, 45 mile per hour winds shook tree branches, and our tents, all night long.
No one slept well, apparently. However spirits were high and everyone was glad to see Occupy Detroit up and running.
The Detroit occupation might have started later than most but it's working hard to make up. Actions this coming week are planned at Bank of America's Detroit headquarters for the bank's role in creating the housing foreclosure crisis. Also planned will be a protest at a Michigan State government building in Detroit against Michigan's newly enacted 48-month cap of cash assistance affecting 12,600 families and 25,000 children.
See occupydetroit.us for a list of activities and meetings taking place for Occupy Detroit.
(Writer admission: his "occupation" lasted – as he had planned – one night. He may try it again.)
Photo: John Rummel/PW