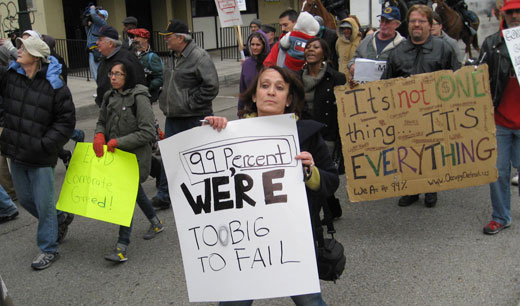 DETROIT – Detroiter's get it. They know banks received a $700 billion, taxpayer supported bailout but defiantly continue to force people out of their homes. Thus it was not surprising when Occupy Detroit issued a call to march to the offices of Bank of America (BOA) last Friday to demand they immediately implement a moratorium on foreclosures, hundreds enthusiastically responded.
It may have been one of Detroit's more spirited marches in recent memory and those spirits rose even higher when marchers arrived at the bank's headquarters. A large group, including many union members was already there, waiting to greet them.
United Auto Workers member Lee Schleicher came to show solidarity with those who are losing their homes. It irks her that the money given to banks never filtered down to the community. "They just held onto it; they are not taking care of people," she said.
For Tanya Sharon of West Bloomfield the issue hit close to home. Her brother's house was foreclosed when the bank refused his efforts to renegotiate the loan. "We paid taxpayer money to have them negotiate for better mortgages and they are not," she charged.
Barb Carter from Ferndale has been in the Occupy Detroit encampment since it started a week ago. She said the dismal future facing many of her generation is what drives them. "We are young and we are having everything taken away from us. We have little more to lose. We have no chance to get anything," she said.
Housing activist and Attorney Vanessa Fluker addressed the crowd on why the housing crisis cannot be solved solely through the courts. Fluker said, "I'm in court every day. Even if I won every case, you'd still have tens of thousands of people thrown out in the streets."
She and Rev. Rowe of Central United Methodist Church pointed out how banks make huge profits off of foreclosures and thus have little incentive to re-negotiate loans. Many homes have their loans insured through Fannie Mae or Freddie Mac. When a home falls into foreclosure banks are paid the full mortgage value even when the value of the home, like so many in the area, has fallen dramatically.
Occupier Tom Turner, a student at Wayne State University, said, "We are going to be here, come-hell-or high-water, through the winter. We're not leaving until things change." Turner also sees part of that change coming through the political process and urged people to "vote, vote, vote."
Another occupier, Joe McGuire said the protest against BOA has already resulted in one small victory. "From out last protest (Occupiers also had demonstrated in front of BOA earlier in the week) we know one foreclosure didn't go through that normally would have." McGuire and others understand that greater victories will require an even larger movement.
Photo: John Rummel/PW