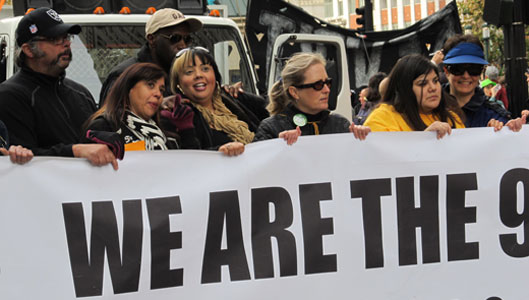 OAKLAND, Calif. – The occupy movement here is stepping up activities focused on national and local demands despite police evictions of its downtown tent encampments.
Thousands massed Nov. 19 at the now-emptied downtown plaza which for over a month housed the main Occupy Oakland camp. They protested the rash of foreclosures devastating working class neighborhoods throughout the city, and the impending closure of five of the city's public schools.
Tanya Dennis of the Alliance of Californians for Community Empowerment (ACCE) told how with ACCE's help she fended off a foreclosure attempt earlier this year and won a modification of her mortgage. "So we can stand up to the banks and we can prevail!" she declared to loud applause. Dennis urged rally-goers to join in a Dec. 6 national day of action "where people are going to reoccupy homes that have been foreclosed."
At press time, Occupy Oaklanders had set up tents at a West Oakland home currently in foreclosure proceedings, with permission of the owner and approval from neighbors.
Among other speakers at the rally: Maria Gastelumendi, owner of an area small business who expressed her wholehearted support for the occupy movement, and Dan Coffman, president of International Longshore and Warehouse Union (ILWU) Local 21 in Longview, Wash., who thanked Occupy Oakland for its solidarity with ILWU members' struggle against the corporate-owned EGT Development.
A 3,000-strong crowd then marched past downtown Oakland banks, posting signs, "Final notice, past due, from working people and the 99 percent" on the doors of Chase, Wells Fargo and Bank of America branches along the way.
At nearby Lakeview Elementary School, one of five public schools slated to be closed after the current academic year, parents, teachers and a Lakeview student demanded that all the schools be kept open.
Said one parent, "It's our school and they didn't even have the courtesy to let us in on plans to close any of the schools. They're taking our money to invest in wars; we want that money to keep the schools open!"
Protesters then marched back to the heart of downtown, where they briefly pitched tents in a park before again being evicted, with no reported violence or injuries.
It was an entirely different story at the University of California at Davis, where videos of the unprovoked close-range pepper-spraying Nov. 18 of campus protesters sitting quietly with arms linked was seen by millions on the internet and repeatedly in TV newscasts.
After massive campus protests, UC Davis Chancellor Linda Katehi apologized for the incident to a Nov. 21 rally of thousands of students. The police officers involved and the campus police chief are on leave pending an investigation. The university system's top officer, President Mark Yudof, who said he was appalled at the police attack, held a telephone conference with heads of all 10 UC campuses to call for a review of police tactics and ensuring campus freedom of expression.
In a strongly worded statement, the UC Faculty Association said it held the chancellors of the campuses responsible for use of "police brutality to suppress dissent, free speech and peaceful assembly" at UC Davis, UC Berkeley, UCLA, and California State University at Long Beach.
"We call for greater attention to the substantive issues that motivate the protests regarding the privatization of education," the faculty association said. Its statement cited "massive" budget cuts, rising tuition at universities and community colleges, swelling student debt and "growing" privatization.
Photo: Marilyn Bechtel/PW