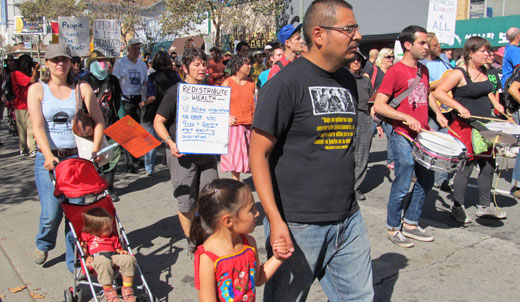 OAKLAND, Calif. – On the morning of Oct. 22, Occupy Oakland's two-week-old camp in front of City Hall – now said to number 150 tents – thronged with visitors. They viewed displays of artwork by the occupiers, including the children in the camp. A small garden bloomed in the center of an open space.
A covering of straw protected the ground, and walkways of pallets covered by plywood and cardboard wound through the clustered tents. A neat-looking kitchen was serving breakfast to campers as they prepared for Occupy Oakland's first rally and march. Organizers said 300 to 500 meals are served there each day.
The area, usually known as Frank Ogawa Plaza after a longtime city councilman, has been renamed Oscar Grant Plaza by the occupiers to honor a young black man killed by Bay Area Rapid Transit police nearly three years ago. It also housed supply, media, information and first aid tents, among others.
In the last few days the encampment has received eviction notices from the city, citing health and safety problems, none of which were visible on march day. At their daily general assemblies, occupiers themselves have talked about the need to overcome some problems that have arisen in the camp.
The question on many visitors' minds was, what brings people – mostly but not entirely young – to leave the comfort of their own beds and come, for a few nights or weeks, to join other campers in the broad and ever-growing Occupy Together movement.
Ayessa, 25, a young black single mother who's had to move back in with her own mother, put it this way: "Everything in this country is moving backward. Homes are being repossessed, jobs are hard to find. How can one live on $8 an hour?
"If everyone in the working class gets organized on this, like the 48 hour strike in Greece, we can change things!" she said.
A 23-year-old man who teaches in an afterschool program for 4th and 5th grade boys while he works on a master's degree, said he is overwhelmed with student loan debt. He called for taking on the top 10 percent, and singled out the prison system as needing reform.
"This is fantastic," he said. "What's happening here shows we're angry and not leaving until things change!"
Chris Thomas, 48, said he supports Occupy Oakland because "what is occurring in the mainstream is totally off base. I live in San Francisco; food lines are longer, shit is on the street. We spend $3 billion a week on wars and occupations abroad; it's truly psychotic."
Thomas said he's also been at the Washington D.C. encampment. "It feels to me like youthful energy, nonviolence and inclusiveness," he said.
Meanwhile, a pre-march rally in the nearby amphitheater heard teachers and graduate students tell of the grave problems burdening public education, from Oakland's K-12 schools through community colleges and universities.
A nurse with the California Nurses Association, which runs the camp's first aid program, said she and her co-workers are seeing more people who can't afford medicines, doctor and hospital co-pays.
The International Longshore and Warehouse Union's Clarence Thomas urged the labor movement to give wholehearted support to the occupation.
Signs and tee-shirts signaled the participation of several unions, including the Teamsters, Oakland Education Association, SEIU and others. OEA is funding the cluster of porta-potties at the edge of the plaza.
Other speakers targeted gang injunctions now in effect in parts of the city, and a youth curfew under consideration.
And then they set off, some 700 strong, to pour through downtown. Accompanied by the Brass Liberation Orchestra – the band that energizes many area demonstrations – they enlivened a nearby farmers' market with their chants before moving on to loud but nonviolent visits to Chase and Wells Fargo branches and returning to camp.
Though Occupy Oakland did not seek permits for the march, police cooperated throughout, blocking traffic along the march route and refraining from arrests at the Chase branch they closed after marchers surged inside.
Photo: Marilyn Bechtel/PW