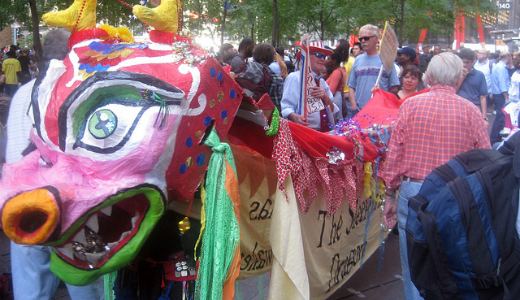 After a firestorm of protests that involved hundreds of thousands of online petitions, signatures and phone messages to New York's Mayor Bloomberg, and the arrival in lower Manhattan overnight of thousands of Occupy Wall Street supporters, a threatened "clean up" eviction of the demonstrators was postponed Friday morning.
Yesterday, Bloomberg had threatened that the city would use force if necessary to evict the protesters who have been camped in the privately owned Zucotti Park for nearly a month. Bloomberg said the eviction was necessary to "clean up" the park and that the protesters would be allowed to return, but under strict rules. The rules he put forward would have, in effect, shut down the round-the-clock protest.
As soon as the threat was announced, thousands of demonstrators began a highly publicized clean-up of the park showing the national media that they have been taking good care of the area throughout the occupation.
MoveOn.org and the AFL-CIO cranked up an enormous on-line and email campaign to fight the threatened eviction. In just two hours, more than 20,000 signed the AFL-CIO petition calling on Bloomberg top respect the First Amendment rights of the demonstrators.
Vincent Alvares, president of the New York City Central Labor Council, rushed to City Hall where he met with Bloomberg, urging the mayor to allow the demonstrators to remain in the park.
AFL-CIO President Richard Trumka denounced the threatened closing of the park: "It is clear that what is being threatened in Zucotti Park is nothing but silencing the voices and stomping out the rights of Americans. The AFL-CIO stands with Occupy Wall Street and the 99 percent of Americans just trying to level the massively unequal playing field."
Representatives of the real estate firm that owns the park met with Occupy Wall Street supporters early this morning and reached an agreement to develop a clean-up campaign that would not include forcible eviction.
The victory was celebrated by everyone in the encampment today.
People camped out in the park note that they have been cleaning the park since the protests began. They have formed an official Occupy Wall Street Sanitation Operation.
"You want to cleanup something? Clean up those crooks on Wall Street," New York Councilman Charles Barron commented late yesterday.
The National Nurses United announced today, meanwhile, that it will set up a first aid and medical station in Zucotti Park to provide basics medical assistance to the demonstrators. The medical center will be staffed by RNs who are members of the union.
The nurses say they will be establishing similar medical centers in other cities where the Occupy Wall Street protests are growing.
Photo: Protesters at the Occupy Wall Street encampment in Manhattan celebrated with a "dragon." They were successful in blocking a threatened eviction today.Alan Stoehr/PW