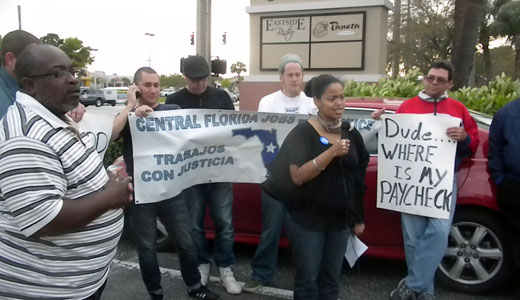 ORLANDO, Fla. – Community activists, clergy and labor came together here Tuesday, March 6, in defense of a simple concept – the right of workers to be paid for the work they do.
The coalition targeted three large corporations – Office Depot, Macy's, and Publix, a major supermarket chain in the Deep South – for their support of bills pending in the Florida legislature that would prohibit counties and municipalities from passing ordinances to help workers who have wage theft (unpaid wage) claims.
The bills, SB 862 in the Senate (sponsored by Sen. David Simmons, R-Maitland) and HB 609 in the House (sponsored by Rep. Tom Goodson, R-Titusville), have two purposes: to get rid of the Miami-Dade Wage Theft Ordinance, which is considered a model nationally, and ensure that it becomes the only one of its kind ever in the Sunshine State.
Since the Miami-Dade ordinance was passed in 2010, due to the efforts of South Florida Interfaith Worker Justice and other groups, more than $400,000 in unpaid wages has been recovered for more than 300 people, with another $1.5 million in claims pending. This success and the ease with which workers can file claims have put the ordinance on the hit list.
"We had passed it because we don't have a State Department of Labor and wage theft is such a huge problem," Jeanette Smith of South Florida Interfaith Worker Justice told In These Times. "Technically, we have a minimum wage law in Florida, but nobody to enforce it. Suing in the court for most workers isn't a viable option so we need local governments to enforce the law."
"Wage theft enforcement is a big problem for most low-wage workers, and Florida's wage hour laws are some of the most poorly enforced in the nation," In These Times reported, adding that "Nearly 17 percent of all American men and 18 percent of all American workers suffer wage and hour violations each year; 29 percent of all undocumented men and 47 percent of all undocumented women suffer wage and hour violations."
A recent study by researchers at Florida International University in Miami outlined the scope and impact of lost wages in the state. They found that more than $28 million in unpaid wages had been recovered by the U.S. Department of Labor Wage and Hour Division in Florida, the Miami-Dade ordinance and through the efforts of community groups around the state.
Workers in Florida's tourism, retail and construction sectors report the most problems with wage theft, with more than 3,000 cases a year being reported to the federal DOL's Florida Wage and Hour Division, according to the study. Perhaps unsurprisingly in a state controlled by the ultra-right, the researchers note that "in spite of ample evidence of widespread wage theft among low income workers, as of December 2011, the Florida Attorney General had not brought one single civil action to enforce the state's minimum wage law enacted in 2004."
Fight for Florida, an AFL-CIO backed group which opposes the anti-worker, anti-middle-class agenda of the Republican-dominated legislature and millionaire Gov. Rick Scott, organized Tuesday's actions.
The local activists rallied outside each business, holding signs with such slogans as "Don't Steal My Wages," "Dude…Where Is My Paycheck," "Honk for Fair Wages" and "I Work – I Should Be Paid." After brief speeches they sent delegations into the stores to present managers with a letter that they asked them to pass on to their corperate headquarters.
Tirso Moreno, general coordinator of the Farmworkers Association of Florida, said wage theft is a big problem in the state. He related that large numbers of low-wage workers, particularly in agriculture, construction and service industries, have come to FWAF offices around Florida complaining of millions of dollars in unpaid wages.
"The workers deserve justice," said Moreno, standing outside of Office Depot. "They work hard and they make low wages. They should be paid. They should make state laws to protect the workers, not try to [stop] local government from protecting workers."
At Macy's, Pastor Mike Davis' invocation called for people to support this campaign for worker justice. "We pray that everyone that has seen and heard our cause today gets behind us and that those of us that are going to receive this word on television or by the airwaves get behind us," said Davis. "We are out to support the hundreds of thousands of people whose wages are being stolen from them every day. Get behind us and our work."
Jose Noel Garcia, 43, has worked in the irrigation and funeral home industries although he is currently unemployed. He discussed his experiences with wage theft as he stood outside Macy's. He worked for an irrigation company for two weeks before leaving for a better-paying job. His former employer asked him to wait a week for his wages, and he agreed. When he came back, he only received around half of the $10-an-hour pay that had been agreed upon.
The situation left Garcia feeling powerless and unsure of his options."[The boss] just said, 'Well, what are you going to do? Are you going to take me to court for it?' I was like, 'Well, I'm thinking about it. I don't know what I can do, but this doesn't seem fair,' and he didn't seem concerned about it."
Garcia never pursued the issue: "I just cut my losses and let it go, mostly out of frustration," he said. "I didn't want to have to deal with going to court and missing work."
The three corporations targeted belong to the Florida Retail Federation (FRF), which is lobbying for the bill. Paul Imbrone, Macy's vice president of legislative affairs, chairs the FRF's board of directors. The bill also enjoys support from the other usual suspects, the Florida Chamber of Commerce and Florida's Associated Builders and Contractors.
Carol Bowen, ABC's director of governmental affairs, claimed the group believes "in streamlined processes and state and federal laws already have the authority to deal with these issues" (quoted in The Florida Independent, March 31, 2011, when a similar bill was introduced last year).
However, as In These Times reported, "wage theft laws remain mostly unenforced. On the federal level, there are only 1,000 wage and hour investigators tasked with investigating nearly 7 million different workplaces. The chance of a workplace being investigated by a federal Department of Labor investigator in one year is .0001 percent. Furthermore, most states have small wage hour divisions, with less than 10 investigators, according to a study done by Policy Matters Ohio. Another study done by a Columbia Law School program showed that states have on average one wage and hour inspector for every 146,000 workers."
Both HB 609 and its Senate companion bear the ironic title "An Act Relating to Wage Protection for Employees." As the activists' letter pointed out, the measure does the opposite of that. It doesn't offer "a statewide solution for people who work hard" and get stiffed by their employers since Florida lacks a state Department of Labor to enforce wage and hour laws.
"Why are they stopping workers from having a path to actually get their wages back when employers steal their wages?" said Denise Diaz, of Central Florida Jobs With Justice.
It's unclear why the three companies support HB 609 since it exempts employers who have more than $500,000 in annual sales. Larger companies that do business in multiple states generally fall under the jurisdiction of the federal Department of Labor. The companies could be concerned about the effects of the wage-theft ordinance on their local contractors.
As the community coalition's letter noted, "Wage theft is bad for business." It reminded the companies that employers who rip off workers can undercut other businesses on prices and bids, and employees who lack disposable income can't spend it with local businesses and may need public assistance in order to take care of their families.
The letter went on to tell Macy's, Office Depot and Publix that it's "astounding" that they do "not want workers to be paid their earned wages and would … support proposed legislation that would not only take away the only avenue many workers have to compel employers to pay them, but would also damage communities in other ways.
Under Miami-Dade's wage theft ordinance, an employee owed unpaid wages files a complaint with the county, which thens contacts the employer. If the issue can't be resolved, the case goes to a hearing examiner. If the worker prevails, the employer must pay a fine in addition to the back wages.
By contrast, HB609 appears designed to place obstacles in front of workers seeking redress from deadbeat companies. Workers only recourse would to file civil claims–provided they could afford a lawyer to be able to access the courts. Even with a lawyer, they would still be denied the basic American right of having their claim heard by a jury of their peers, since wage theft suits could only be heard by a judge.
In addition, the measure prohibits class action lawsuits–a powerful tool for workers to collectively seek justice, limits damages to the wages owed plus court costs and interest, sets up a one-year deadline from the end of employment for making claims, and requires written notice to employers before any claim is filed.
While the bill gives counties and municipalities the option to create administrative, non-judicial processes for wage theft claims, the bill fails to offer any guidelines for these processes. Issues left unaddressed include whether decisions by hearing officers could be appealed and how their decisions would be enforced along with what part of government might exercise oversight on how these processes would be implemented in a state without an agency dealing with worker rights.
Photo: Pastor Mike Davis, left in striped shirt, and Denise Diaz, coordinator of Central Florida Jobs With Justice, holding the microphone in front of banner.