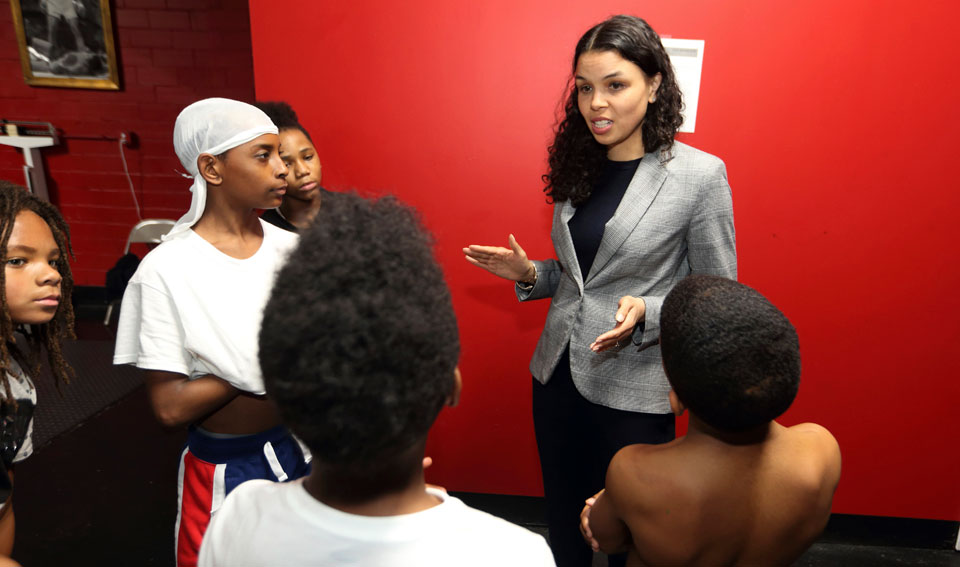 Since Ohio's Third Congressional District was created in 2012, covering most of Columbus, it has been represented in Congress by moderate Democrat and Black Caucus member Joyce Beatty, with no opposition from within her own party. But 2020 was different. Morgan Harper, a 36-year-old Columbus native with a formidable list of accomplishments, declared her candidacy for the Third District seat and endorsed positions progressive enough to earn her the Justice Democrats endorsement, the organization behind Alexandria Ocasio-Cortez's successful 2018 election.
Until Ohio's chaotic primary in March and April, District Three residents had hope that they too might be represented in Congress by someone who endorses Medicare for All, the Green New Deal, and student debt relief. While Rep. Beatty won the nomination, Harper is continuing her engagement and leadership in an era of sustained struggle and is active in efforts to expand voting rights and get out the vote, especially in underserved communities in Columbus.
We should issue a disclaimer before continuing: Both authors of this article were "Morganizers"—Waters as a volunteer canvasser and Parker as a paid intern beginning in the summer of 2019 when he moved to Columbus from Canton. The Harper campaign was overwhelmingly youthful, reflecting not only the age of the candidate and her network of community allies but also the fact that in recent years, youth have added a surge of support and energy for progressive political campaigns and increased their voter turnout in midterm elections by a whopping 79%. The youth vote could finish off the Trump administration once and for all in November.
Although she is 33 years Beatty's junior, Harper brought a compelling biography and an impressive resume to her candidacy. She was born in Columbus and spent her first nine months in foster care until she was adopted by a Columbus schoolteacher who had emigrated from Trinidad. That was when, she says, "I got lucky." Her mother worked hard to support Harper and her brother. She won a scholarship to a prestigious private school in Columbus, where she came into contact with wealthy young people for the first time and became acutely aware of economic inequality and its effects on young people's chances for success.
Harper went on to a stellar academic and professional career, with a bachelor's degree from Tufts University, a master's from Princeton, and a law degree from Stanford University. After college, she worked for a time with the Federal Trade Commission, an experience she said made her more skeptical of government's potential to make a real difference in people's lives. She worked at a think tank, then writing opinions for a judge in Columbus, and finally in the corporate side of law, a job that helped her pay off her student debt. The corporate law firm "gave me a window into what the private equity industry is all about," Harper said in a recent interview. "The deals that we were looking at were capital raises for companies that had been acquired by private equity and gutted."
When she was offered a position at the Consumer Financial Protection Bureau (CFPB), it was the midst of the 2008 recession. It was clear to Harper that different socioeconomic groups were affected more profoundly than others by the recession. The CFPB aimed to "do government differently," but Harper was still skeptical. What she discovered on that job were "committed people who were savvy about public policy" and who lived up to the goals of the agency.
Harper then returned to Columbus and took a job with a national economic development non-profit, the Local Initiatives Support Corporation (LISC). That job really transformed her thinking about the national level.  LISC had offices across the country, and part of her job involved visiting them and witnessing first hand their struggles on the ground. While she was familiar with the problems that Columbus faces, especially economic inequality and segregation, she realized that the same kinds of problems were being experienced in towns and cities across the nation. It was then that she decided to run for national office.
She got a lot of pushback early in her campaign from people who expressed shock that she was running against an established incumbent. "Women are expected to wait their turn," Harper told us, "to wait for the green light." She forged ahead, confident that her experiences and the contrasts between herself and the incumbent would give people a choice in the primary. She connected early on with Cori Bush, the BLM activist in St. Louis who was also running against an established incumbent of color and who won the nomination.
Controversies arose during the campaign that shed light on some fundamental social realities of racial representation and money in politics. In August 2019, a New York Times editor was demoted for a tweet that implied Harper was a young person with some disdain for Black leadership and so was trying to boot out a long term Black incumbent. He failed to mention that Morgan Harper is also a Black woman.
Harper's campaign emphasized grassroots funding. According to OpenSecrets.org, more than 99% of the $807,338 that the campaign raised came from individual contributions. In contrast, individual contributions to Beatty's campaign accounted for only $641,172, just 33% of the total $1,956,695 that Beatty raised. Most of the contributions to Beatty's campaign came from the insurance, securities, and banking industries.
Additionally, on the eve of the scheduled primary, criticisms were raised about Beatty's husband Otto Beatty, a former state representative and lobbyist for payday lending companies. He is the long-time vice-chair of the Downtown Zoning Commission in Columbus, whose decisions arguably have exacerbated housing inequalities and the shortage of low-income housing.
Furthermore, allegations of impropriety were made about a particular property deal Joyce and Otto Beatty made when they sold a property they owned to a developer just a month after Otto Beatty, in his capacity on the Downtown Zoning Commission, had voiced his support of the developer's plan to convert the property into high-priced condominiums.
Ohio's primary was scheduled for March 17, but was postponed literally at the eleventh hour, and switched to an all-mail primary, with a deadline later set by the legislature to be April 28. That same week, the stay-at-home orders were issued to alleviate the pandemic, and Harper's campaign pivoted to mutual aid and community service. The pandemic "crystallized the need right now in the community for us to just be there for one another, take care of one another, and make sure that folks are able to meet their basic needs," Harper wrote in social media.
In a recent interview, Harper emphasized that although Joe Biden has pledged to support aspects of the Green New Deal, strengthening labor rights, relieving student debt, and other progressive policies, they won't be realized without a strong, sustained people's movement pressuring every level of government.
Harper's recent activity includes participating in car caravans for the HEROES Act and lending her support to student workers organizing at Kenyon College. She has also launched a new mutual aid organization called Columbus Stand Up, a non-profit that provides mutual aid directly in communities, organizes at the grassroots level, and amplifies community voices in the political process, especially by getting out this vote this November.
Although Morgan Harper won't be a representative in the 117th Congress, Ohio's Third District will benefit from her leadership and public policy expertise in the struggles ahead.