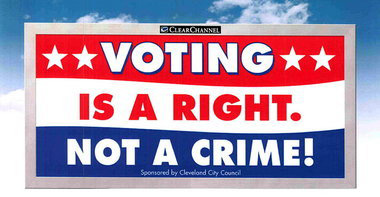 Some 140 billboards in Ohio and Wisconsin warning of jail sentences for "voter fraud" began coming down yesterday after the anonymous sponsor said it would take them down rather than reveal its identity, Clear Channel, the billboards' owner said.
The infamous billboards, lit up at night, showed a gavel and the words, "Voter Fraud is a felony – up to 3 years in jail and a $10,000 fine." They were set up in African-American, Latino and low-income neighborhoods early this month and caused a firestorm of opposition from human rights, voting rights, labor and community activists.
Voting rights activists charge that the anonymously-placed ads were an attempt to scare people away from voting.
Clear Channel, which is owned by Mitt Romney's Bain Capital, has a long history of participating in voter suppression efforts, having allowed similar billboards to run anonymously in 2010.
"We are pleased that Clear Channel has decided to remove the billboards that started popping up in Black and Latino neighborhoods in Cleveland, Columbus and Milwaukee," said ColorOfChange in a press release today. "We are pleased that after hearing from more than 100,000 people across the country, Clear Channel has finally decided to stop enabling this attack on Black and Latino voters by an anonymous group."
ColorOfChange, a large on-line civil rights organization, worked with numerous individuals and groups to gather the signatures including Cleveland City Councilwoman Phyllis Cleveland, the Lawyers Committee for Civil Rights under Law, CREDO Action, SumOfUs.org, Change.org and SignOn.org.
The anonymous group responsible for the voter suppression billboards, when given the choice by Clear Channel, decided to cancel the ads and "continue hiding in the shadows rather than publicly stand by the ads," said ColorOfChange. "These billboards are part of a massive right wing effort to suppress the votes of African Americans, Latinos and other people of color for political gain."
While the decision by Clear Channel is seen as a victory for voting rights, activists note that the same ads are being hosted by another outdoor ad company, Norton Outdoor, in Cincinnati.
"Norton's continued refusal to pull down these anonymous voter suppression ads speaks to their values," said the statement by ColorOfChange. The group pledged to continue applying pressure until all the ads are removed.
Councilwoman Cleveland said: "Needless to say I'm happy that they (the ads on the Clear Channel billboards) will be taken down but I want to know who was behind this in the first place."
Embarrassed by the firestorm around the ads, Clear Channel said it is donating 10 billboards around the Cleveland area that read: "Voting is a Right. Not a Crime."