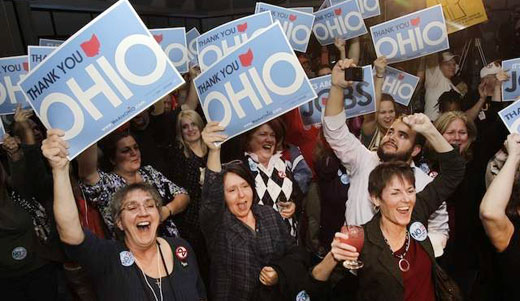 CLEVELAND – Labor and community activists throughout Ohio jubilantly celebrated the massive defeat of Issue 2 and repeal of the draconian union-busting SB 5 that would have stripped collective bargaining rights from 360,000 public employees.
Some 500 packed into the Hopkins Sheraton Conference Center here last night, cheering speakers, chanting slogans, hugging, kissing, back-slapping as it became clear that Issue 2 had not only lost but by a landslide 61%.
Chomping chicken wings and enjoying drinks, teachers, firefighters, painters, teamsters, public officials and community activists celebrated the unity and power of the giant coalition of unions and their allies that emerged when SB 5 was introduced in the Republican-controlled state legislature last February.
"O-H-I-O, SB 5 has got to go," the crowd chanted, led by retired Cleveland school teacher Hazel Hicks. Hicks was among the tens of thousands who rallied and filled the Statehouse during hearings and voting on SB 5. She proudly recalled being part of her union's brigade, which collected 25,000 signatures outside Cleveland Indians games to put the issue on the ballot after the measure passed and was signed into law by Republican Gov. John Kasich last March.
Statewide, 10,000 volunteers collected an unprecedented 1.3 million signatures to get the issue on the ballot. That number was greater than Tuesday's Yes vote for Issue 2 and was the lion's share of the more than 2 million votes cast to defeat the measure.
"After the petition drive, I became a phonebank diva," Hicks said, adding to loud cheers that in the past two months the Cleveland Teachers Union phonebank had made 500,000 calls.
Cleveland Firefighters President Tom Lally was cheered as he described his union's role in the massive relentless door to door canvassing, phoning and dramatic actions including the "firefighters' tailgate party" that reached 60,000 fans at a recent Cleveland Browns game. The firefighters became poster children of the fight everywhere as their members appeared in TV ads and plastered bright yellow, red and black yard signs in towns and cities throughout the state. This included rural Republican strongholds, like Logan County, where Issue 2 was defeated with over 56% of the vote.
"This is an unbelieveable victory," Jack Reall, president of the Columbus Firefighters, told MSNBC's Ed Schultz in a national TV broadcast from the state capital. "We learned how important elections are. Before this, our members were political passivists. Now we are political activists. This vote will make a heck of a difference in 2012."
Reflecting a serious problem for the GOP, Steve "Big Loom" Loomis, the towering president of the Cleveland Police Patrolmen's Association, said that because of SB 5, the Republicans had lost his long-time allegiance and that of many others in the safety forces.
"We have to get more active with the AFL-CIO," he said. "We're all in this together."
State Rep. Bill Patmon, standing with a group of other Democratic legislators, said he hoped his party would now have more clout in the state government. Scorning the Republicans, elected on promises to create jobs, who, instead, passed laws to allow guns in bars, suppress access to voting and destroy collective bargaining, Patmon said, "If they don't do something about jobs now, there could be a constitutional referendum to recall the governor."
SB 5 was Gov. Kasich's signature legislation. He promised it would break labor's political power and let local governments compensate for cuts in state funding.
"Get on my bus or we will run you over," he proclaimed after being narrowly elected last year. But the No votes on Issue 2 actually exceeded the votes he received in 2010 and now he sang a different tune, claiming he would have "to take a deep breath and to spend some time to reflect on what happened here."
"This victory has national implications," Randi Weingarten, president of the American Federation of Teachers, told the cheering crowd in Cleveland. It was, as was widely acknowledged, a huge defeat for right-wing extremism and seen as a trial run for the 2012 presidential election.
It was a setback for the billionaire Koch brothers, whose American Legislative Exchange Council (ALEC) had provided the template for SB 5 and whose Americans for Prosperity had succeeded in adding the most anti-labor provisions to the law after it first passed in the state Senate.
It was a defeat for all the ghoulish stars in the right-wing extremist galaxy: Glenn Beck and Rush Limbaugh, who bellowed that Ohio voters would "never rape themselves" by opposing Issue 2; Karl Rove, Liz Cheney and Sarah Palin, who all weighed in to support the measure; and Fox News and its commentator former Arkansas Gov. Mike Huckabee, the pious Christian fundamentalist, who exhorted Ohio Republicans to do whatever was necessary to keep opponents from voting, including slashing their tires or telling them the election was on a different date.
In fact, dirty tricks were used extensively by supporters of Issue 2. On Election Day robocalls went out from a mysterious "American Futures Fund" telling opponents to be sure to "vote tomorrow."
But dirty tricks, deceitful advertising and corporate funds could not overcome the unprecedented unity, clarity and mobilization of labor and its allies.
"This is just the beginning," said Stuart Garson, chairman of the Cuyahoga Democratic Party. "This showed us what they are capable of and we showed them what we can do. We got to keep this coalition together. United we stand!"
Photo: At a rally co-sponsored by the Cleveland Teachers Union and We Are Ohio as they hear election results sounding the defeat of Issue 2 on Nov. 8 in Cleveland. By voting no on Issue 2, Ohioans overturned the controversial Senate Bill 5 which, among other things, limited collective bargaining for 350,000 unionized public workers. Amy Sancetta/AP