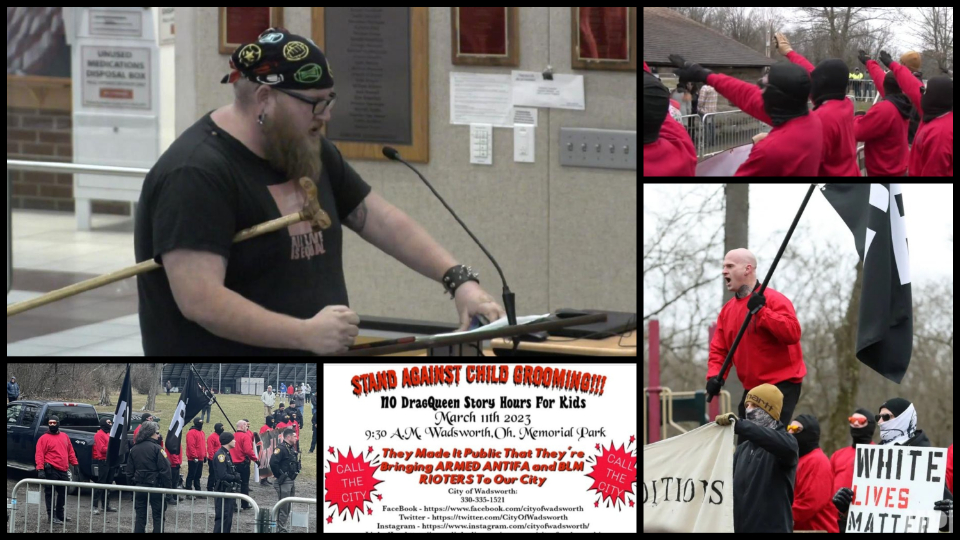 WADSWORTH, Ohio—A warrant has been issued for the arrest of Aaron Reed, lead organizer of this month's Rock and Roll Drag Queen Story hour, following weeks of harassment by fascist groups and the notable indifference of local police.
The warrant was issued for the charge of criminal mischief related to an event at which Reed was thrown out of City Hall for using the word "bullshit" to describe his treatment by the city.
On the order of city council president Bob Thurber, police removed him from a city council meeting in which residents were voicing their concerns over the influx of outside fascist agitators into the small Ohio town. The charge was announced the next day.
As the lead organizer of this month's Rock and Roll Drag Queen Story Hour, Reed has courageously stood his ground in the face of determined and coordinated harassment by fascists and their allies.
It started almost as soon as Reed went public with his plans to organize a charity fundraiser for the LGBTQ community. "I walked out my door the next day, and a little grey hatchback roared by my house with the horn blaring." A man shouted homophobic slurs at Aaron from the truck.
Over the course of the next several weeks, Reed faced a terrifying campaign of intimidation focused on himself and his family. He receives near constant threats on social media and has been followed in the grocery store by people he doesn't know. He is called "groomer" or "pedophile" by his neighbors.
Initial verbal harassment escalated quickly after local politicians became invested in organizing opposition to Reed's drag story hour event. These efforts were accelerated by Gary Fox, a prominent local Evangelical preacher, businessman, and supporter of the campaign to elect city council president Thurber, Republican, as mayor of Wadsworth. With an incumbent Republican already seated as mayor, Fox and Thurber searched for a cause around which to distinguish Thurber's candidacy.
Fox saw an opportunity to take advantage of a national hysteria, fueled by far-right extremists, that seeks to redefine LGBTQ rights advocacy as abusive "grooming" behavior targeting children. According to Reed, this messaging found its way into Fox's sermons, and from there began to permeate the small community.
Local representatives of the fascist anti-trans group Project 171, a sub-sect of White Lives Matter, took up the call to action from Fox and supported by Thurber. Flyers containing Reed's name and picture and labeling the activist a "groomer pedophile" and bearing the slogan "Shoot the pedo" circulated around town. Posts on social media openly threatened violence toward Reed and his family.
In the aftermath of the Rock and Roll Drag Queen Story Hour on March 11, alarming images of Nazis openly demonstrating against LGBTQ rights under the protection of local police circulated widely on social media. Most local residents were horrified at what their town officials had allowed to transpire in their city park. The 40 acres of Wadsworth Memorial Park were donated to the city in 1945 "in honor of 13 Wadsworth soldiers who gave their lives in the Second World War."
Private Telegram messages revealed that the fascists were beginning to have some misgivings about the effectiveness of their tactics.
Encrypted Telegram chats shared with People's World showed fascist organizers willing to admit that White Lives Matter had "screwed the pooch" and that the open display of Nazi flags and stiff-armed Hitler salutes may have hurt their efforts to influence legislation being considered at the Ohio Statehouse.
Even Bob Thurber, who had initially sought out help from fascist-aligned groups to boost his own political fortunes, now made public statements urging calm in the city.
Private texts show an effort to invent a new narrative—that Reed had in fact invited Nazi groups to his own event in an effort to garner sympathy and donations for his cause. "Do LGBTQ folks know that you are scamming their money for your own personal use?" read one public Facebook message shortly after the new approach had been developed in the private fascist chat groups.
Reed has worked as an organizer for dozens of charity events over the past eight years. A self-described "old broken-down rocker from the '90s", Reed wanted to show that "guys with tattoos and motorcycles are good people, too." Reed has often centered his charity events around hard rock music and is known in activist circles as "the rock-n-roll humanist."
He has also shown his tender side dressed as Santa Claus for events to distribute toys to kids. Motivated by a desire to show a "positive example of humanist atheism in the world," Reed has extensive experience as a charity organizer.
Several years ago, Reed grew disturbed after the estrangement of a long-time friend who became deeply preoccupied with anti-trans conspiracy theories. Having known many members of the trans and broader LGBTQ community, Reed was inspired to action.
He soon found that working in this field exposed him to new levels of vitriol. He had four successive DJs drop out of the March 11 event due to threats, along with all of his co-organizers. Still, he was determined to continue, even if alone.
Reed's car stopped one morning in the middle of an intersection. His oil pan had been drained by a puncture, and the engine had seized. The exact same damage occurred to the vehicle of a close friend on the same day. Reed is certain their vehicles were intentionally sabotaged. His wife, who works as a substitute teacher in the local schools and specializes in working with students with disabilities, has had to deal with multiple fraudulent abuse complaints filed against her.
Perhaps most alarming has been the indifference, if not hostility, of local police. Reed says he has not received any significant protection from law enforcement despite the countless threats made against him and his family.
On a recent afternoon, Reed and a friend were pulled from a parked car at gunpoint by Wadsworth Police, who claimed they suspected the men of narcotics trafficking. They searched the men and the vehicle for over an hour, ultimately finding nothing. No charges were filed, and both men were released. Reed feels certain the police knew who he was and intentionally targeted him.
Now, Reed faces a charge of criminal mischief from Wadsworth Police. In the aftermath of his removal from the city council meeting on March 23, Reed removed a POW/MIA flag and hoisted the LGBTQ ally flag at Wadsworth City Hall without permission of the city.
"The whole last month has been horrific. But my family, my wonderful wife stood by me every step of the way. I don't know what we're going to do next," Reed said. He is permanently disabled after an accident years ago and deals with intense pain. Still, he dreams of spreading his "Equality Rocks" LGBTQ message and fundraising to other communities where "LGBTQ folks need to see some love."
A GoFundMe has been set up to support the cause.
We hope you appreciated this article. Before you go, please support great working-class and pro-people journalism by donating to People's World.

We are not neutral. Our mission is to be a voice for truth, democracy, the environment, and socialism. We believe in people before profits. So, we take sides. Yours!

We are part of the pro-democracy media contesting the vast right-wing media propaganda ecosystem brainwashing tens of millions and putting democracy at risk.

Our journalism is free of corporate influence and paywalls because we are totally reader supported. At People's World, we believe news and information should be free and accessible to all.

But we need your help. It takes money—a lot of it—to produce and cover unique stories you see in our pages. Only you, our readers and supporters, make this possible. If you enjoy reading People's World and the stories we bring you, support our work by donating or becoming a monthly sustainer today.