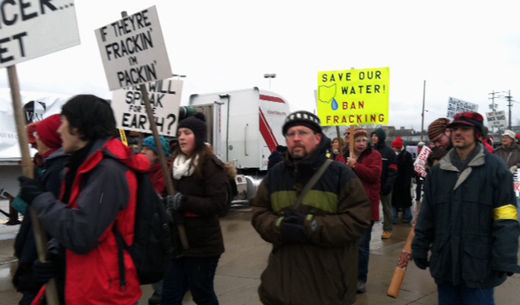 YOUNGSTOWN, Ohio – A victory was scored in the fight against hydraulic fracking in Ohio today when the state Department of Natural Resources announced a suspension of new drilling permits.
Fracking is the process used for the extraction of natural gas deep underground. Several earthquakes have been attributed to wells built on or near fault lines in Youngstown, Ohio. A 4.0 earthquake occurred in Youngstown on New Year's Eve.
The department says it is working on a study of the issue and will not issue new permits until that study is completed. ""Common sense dictates you should not approve applications when you have new standards on deck," said Carlo Loparo, ODNR spokesman, according to Vindy.com
The report is due to be released at the beginning of February.
The earthquakes here were the subject of a public hearing held by the Youngstown City Council last week. Over 400 alarmed residents turned out for it.
The state has issued several other restrictions on the controversial drilling recently.
On Monday, Republican Gov. John Kasich's office confirmed injection wells, which accept brine, a salty, chemical byproduct of natural gas and oil fracking, will not be allowed to exceed 8,000 feet in depth. On Tuesday, ODNR said injection wells can no longer be drilled into the Precambrian, or bedrock, formation, where injection wells could trigger seismic activity.
Ohio voters are overwhelmingly in favor of a moratorium on drilling until impact studies are completed according to a new poll.
"Voters say 72-23 percent stop hydro-fracking until there are further studies on its impact. Support for the shutdown is strong among all groups. Voters say 43-16 percent that hydro-fracking will damage the environment, with 40 percent who don't know."
Public opinion, however, has not been won over on fracking's claimed economic benefit, according to the poll: "The economic benefits of drilling for natural gas outweigh environmental concerns, Ohio voters say 64-29 percent. Voters say 85-11 percent that drilling will create jobs in Ohio.
Youngstown, the site of the worse quake in the state, has the highest concentration of poverty in the country.
State Rep. Bob Hagan, D-Youngstown, is calling for hearings and a statewide moratorium on drilling of new injection wells.
Because of the fracking controversy Kasich is expected to deliver his State of the State speech in Steubenville on February 7. Steubenville is located about 40 miles southeast of Youngstown. Plans are being made to protest his support of fracking and refusal to call state hearings on drilling.
Photo: Rachel DeGolia