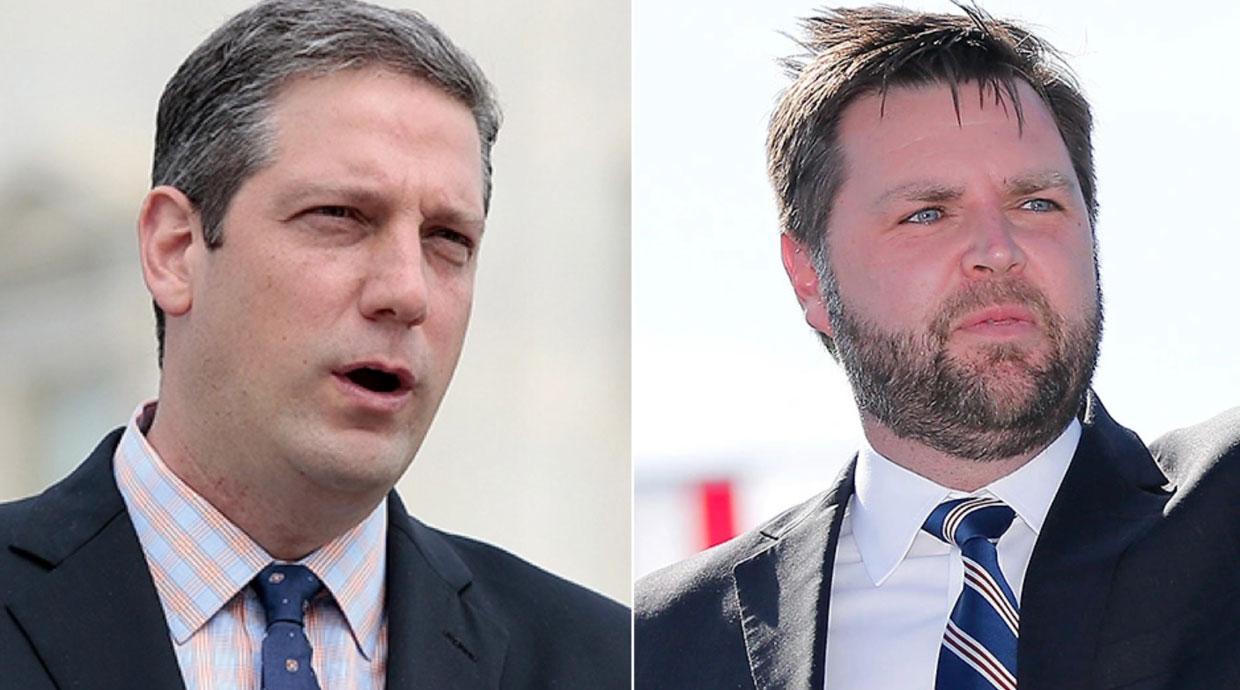 In Ohio voters, like elsewhere in the U.S., are alarmed by right-wing extremism. The 2022 mid-term elections are like no other. Most pundits predicted a "red wave," sweeping Republicans to majorities in the U.S. House and Senate. But something happened on the way to November – alarmed voters are repulsed by GOP extremism and fascist-leaning candidates assaulting privacy, abortion, and other democratic rights and institutions. The election has turned highly competitive, and it's anybody's ballgame.
Ohio is a microcosm of the nation. Historically a swing state, Ohio has voted Republican in the last few election cycles. The race for an open U.S. Senate seat, which pits GOP Senate candidate J.D. Vance against Democratic Rep. Tim Ryan, is one the GOP thought they had locked up.
But the Ohio GOP has gone MAGA wild, building a "laboratory of autocracy," in the words of David Pepper, former Ohio Democratic Party chair. Beginning in 2010, the GOP rigged a veto-proof majority in the state assembly despite Trump only winning the state with 53% of the vote. Now they've gone further and egregiously and illegally gerrymandered state legislative and congressional districts in open defiance of the will of Ohio voters and the Ohio Supreme Court.
The GOP state assembly passed extreme-right-wing policies opposed by most Ohioans, including banning abortion, allowing armed teachers in the classroom, and a "stand your ground" gun law.
In addition, Ohio politics under the GOP has become a "cesspool" of lawlessness, "corruption, and craziness." Some call Ohio the most corrupt state in the nation which includes leading GOP lawmakers like Rep. Jim Jordan and congressional candidate JR Majewski (running against Democrat Rep. Marcy Kaptur), both part of the Jan. 6 failed coup.
Then came the thunderbolt from the U.S. Supreme Court striking down Roe vs. Wade and a string of extreme-right-wing decisions. The ruling criminalizing abortion angered and dismayed a majority of voters in Ohio and across the nation, particularly women, impacting every race from Senate to state supreme court.
Democratic candidates, including Ryan, are overperforming 2020 vote shares everywhere, and the Senate race is very close in Ohio. The GOP is worried stiff, prompting GOP Senate Leader Mitch McConnell to pour $28 million into the race to rescue Vance and save the seat.
Even Republicans have criticized Vance as a lazy candidate who barely campaigns. He's raised little money and is so tone deaf he scheduled a campaign rally with Trump to coincide with an Ohio State Buckeyes football game, a no-no in this state.
Meanwhile, Ryan, backed by labor, civil rights, reproductive rights, and other independent movements, has relentlessly crisscrossed Ohio, campaigning in all 88 counties, from hard-hit industrial areas to rural communities. Ryan condemns the attack on privacy rights, advocates for rural development and a clean energy transition, supports union rights, lending solidarity to union rail workers without a contract for three years.
Many believe Ryan made a mistake in his effort to win Republican supporters by opposing Biden's cancelation of student debt, a move that won't endear him to the young voters he needs to win.
Ryan has fought alongside Democratic Sen. Sherrod Brown to rebuild Ohio's manufacturing base with union-wage jobs in the rising clean energy industries in deindustrialized communities and spearheaded the passage of the CHIPs act. The legislation includes funding for the Recompete Pilot program, focusing on distressed regions like towns along the Ohio River valley and the southeast Appalachian region. Ryan was also present with Biden at the groundbreaking for a new Intel chipmaking facility near Columbus that will employ thousands of workers.
This program resonates with many Ohio voters, including Republicans turned off by GOP extremism. A group of never-Trumpers is supporting Ryan and rallying disaffected Republicans to vote for him.
A Ryan victory would be monumental but not unthinkable. Ohio voted twice for Barack Obama and re-elected Brown, one of the Senate's most liberal members, multiple times. Ryan is among several Democratic Senate candidates vowing to get rid of the filibuster if elected. If Ryan and one other Democrat flip a Republican senate seat and all Democratic incumbents win, Democrats will have the votes to do it.
Assumed he could waltz in
Vance, author of "Hillbilly Elegy," falsely portrays himself as a humble son of the Appalachian region of Ohio and its hardscrabble people. In reality, Vance is a venture capitalist who prefers spending time with extreme-right-wing billionaires like Peter Thiel, his principal benefactor in the GOP primary.
Vance arrogantly assumed he could waltz to victory on the strength of a Trump endorsement. Once critical of Trump, Vance remade himself overnight into a MAGA Republican, groveling at Trump's feet. He openly embraced extreme far-right, white supremacism, and Christian nationalism to appeal to white voters influenced by racism.
Vance thinks if Trump wins the presidency in 2024, he should govern like Viktor Orban, the Hungarian fascist president, by firing all civil servants, installing loyalists, and ignoring federal law.
"If we're going to push back against it, we're going to have to get pretty wild, and pretty far out there, and go in directions that a lot of conservatives right now are uncomfortable with," Vance recently told an extreme-right podcaster.
Like other MAGA Republicans, Vance has an extreme anti-abortion position and supports Ohio's draconian "fetal heartbeat" law, which criminalizes abortion after just six weeks. Vance doubled down on misogyny by suggesting women are better off remaining in abusive and violent relationships.
Ohio's abortion law is one of several state "trigger bans" that went into effect after the U.S. Supreme Court struck down Roe vs. Wade. The ruling is widely unpopular in Ohio, where 52% of Ohioans opposed the "fetal heartbeat" bill, and 60% favored retaining Roe vs. Wade.
Ohio made national news when its abortion ban forced a 10-year-old rape victim to travel to Indiana to get an abortion. The GOP state legislature is considering even more restrictive legislation that defines personhood as the moment of conception, criminalizing abortion from that moment.
Since the Dobbs decision, Ohio and other states are witnessing a spike in voter registration among women, indicating increased voter enthusiasm and a brewing rebellion against right-wing extremism.
"Ohio! Since the Dobbs decision on June 24, women have out-registered men by an 11-point margin," tweeted Tom Bonier of TargetSmart. "In 2018, new registrants were slightly more women than men (.75-point margin), and in 2020 they were more men (1.5-point margin). Who are these women who are registering to vote?
According to Bonier, the new registrants are more likely to vote Democrat. "The women new registrants in Ohio in the '20 cycle were plus 5% GOP. The women's new registrants since Dobbs? They are plus 15% Dem."
"They are younger. 55% of the women registered in Ohio since Dobbs are under 35 years old," says Bonier. "Compare that to 2020, when 48% of women registered to vote that year were under 35.
Ohio voters will have an opportunity to begin restoring democratic rule in the state by electing a Democratic majority to the partisan Ohio Supreme Court. Federal electoral reform is another way to overcome autocratic rule by Ohio GOP.
Suppose Ryan becomes part of an anti-filibuster majority elected to the Senate and Democrats retain their majority in the U.S. House. In that case, Democrats can reverse the assault on democracy by the GOP in states like Ohio and nationally. It then becomes possible to pass the John Lewis Voting Advancement Act, the Freedom to Vote Act, federal election law reforms to prevent a GOP coup in 2024, remove dark money from elections, outlaw extreme gerrymandering, protect privacy rights, including codify the right to an abortion and confirm pro-democratic judges to the courts.