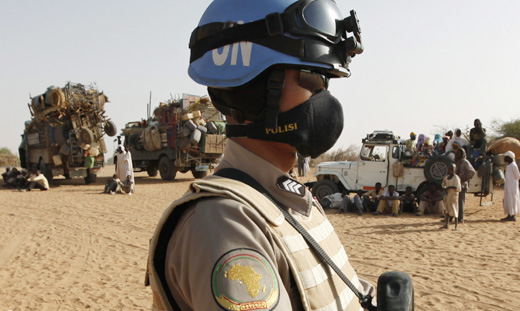 A full scale war may be developing between two key oil-producing countries in Africa, Sudan and South Sudan. Both countries, among the poorest in the world, are significant oil producers, but for South Sudan to get its oil to world markets, it must send it through pipelines that go through hundreds of miles of Sudanese territory. This factor is one of several which have led to the present fighting, in which China, both countries' main oil purchaser, now has a major stake.
Sudan got independence from the British in 1956. After a conservative government was ousted, the Sudanese government became a tense secular alliance between a nationalist officer, General Gaafar Nimeiry, the Sudanese Communist Party (at the time one of the largest communist parties in Africa) and others.
However, around 1971 Nimeiry started to take the country in an increasingly authoritarian and right wing direction. The communists balked, and there was a coup attempt involving some communist officers. Nimeiry turned on them with violent repression. He then imposed Sharia law and established a dictatorship which lasted until he was overthrown in 1986.
Meanwhile, oil was discovered in Sudan in 1978. The efforts of Nimeiry and his successors to clamp down on South Sudan, whose population is different in religion and culture from the rest of the country, developed into a long running guerilla war.
The current Sudanese president, Omar Hassan Al Bashir, came to power in a military coup in 1989 and has run a repressive regime. He is currently under an order of arrest by the International Criminal Court because of atrocities his forces are accused of in the Darfur conflict, in the Western Sudan.
After decades of war between the Khartoum government and Southern Sudanese guerrillas, a peace agreement was brokered in 2005 which established the borderline between South Sudan and the rest of the country as the regional border that existed in 1956, at independence The peace agreement led to a plebiscite in which 99 percent of the people in the South voted to become an independent state. The new Republic of South Sudan was proclaimed in 2011, with Salva Kiir as President.
But the situation created by the independence of South Sudan is far from stable.
The oil resources, which were supposed to be everybody's ticket away from grinding poverty, have instead become a major focus of conflict. The major reserves, blocked off as concessions to foreign enterprises, are spread out along the borderline of the two Sudans. Most of the reserves and pumping facilities are on the South Sudan side, but to get the oil to market, it must be sent through pipelines which cross into Sudan and then slant northeastward, running nearly 1000 miles to Port Sudan on the Red Sea. It was agreed that South Sudan and Sudan would split oil profits on some yet to be agreed upon basis, partly by fees to be paid by South Sudan for the use of the pipelines.
But South Sudan accuses Sudan of trying to rake off more profits than what it is entitled to. So in January of this year, the government of South Sudan's President Salva Kiir stopped pumping oil into the Sudanese pipeline, a potentially severe economic blow to both countries. Meanwhile, South Sudan has been promoting a plan which involves the running of a pipeline southeastward through Kenya to the Indian Ocean, which would potentially leave Sudan bereft of oil revenues.
The town of Heglig, which South Sudan calls Panthou, is an important production center smack on the border and claimed by both countries. When an arbitration body awarded it to Sudan, the Khartoum government decided that South Sudan should have no share in the oil profits from Heglig.
Both Sudans are complex ethnic and religious patchworks, and there are several armed groups in Sudan who are opposed to the government of Al Bashir. Some of them had been fighting in the rebel army of Kiir and his predecessor, John Garang. When South Sudan became independent, armed groups with links to South Sudan remained active against Al Bashir's government in the North. On the other hand, Kiir accuses Bashir's government of maintaining armed groups in South Sudan, and of having supported the notorious bandit Joseph Kony and his "Lord's Resistance Army".
So it was no surprise when fighting broke out on April 10. Quickly, South Sudan troops invaded and captured Heglig, and announced that they were going to keep it. Bashir's armed forces retaliated with bombing raids which went deep into South Sudan, causing both military and civilian casualties. Bashir said he was going to wipe out the "insects" that constitute the South Sudan leadership.
This is a serious matter for China, a major investor in both Sudanese and South Sudanese oil and gas production. More than 1.7 million barrels of oil are shipped to China from the two Sudans yearly, or 6 percent of China's oil imports. Now the pipelines in Sudan stand empty and some of the infrastructure in Heglig apparently lies in smoldering ruins after Sudanese areal bombardments and the withdrawal of South Sudanese troops. President Kiir insists that Heglig belongs to South Sudan, and on Friday sharply criticized the African Union and others for not taking South Sudan's part on that issue.
On Thursday, Kirr went to Beijing to consult with the Chinese leadership, and to solicit help for the construction of the alternative pipeline through Kenya. The Chinese government, for its part, appears not to have committed to the Kenya pipeline, and issued a cautiously worded statement calling for an end to fighting and a peaceful solution, a stance echoed by the United States and the African Union also. The situation is seen as a regional danger; Ugandan President Yoweri Museveni has suggested his country may intervene militarily if Sudan fully invades South Sudan.
Meanwhile, Al Bashir's government in Sudan is trying to silence domestic criticism. On April 24, authorities confiscated the entire print run of Al Midan, the newspaper of the Sudanese Communist Party, evidently because of its criticism of the belligerent way al Bashir has stoked the confrontation with South Sudan. This is not the first time. A year ago, the government arrested 10 Al Midan staff members and only released them after major outcry. This time, a government spokesman practically accused the communists and other opposition parties of treason for allegedly being slow to denounce the South's seizure of Heglig. The action is a classic example of how governments like those of Al Bashir use war situations to clamp down on domestic dissent.
Photo: UNAMID peacekeepers patrol near trucks loaded with new arrivals of displaced Sudanese at a refugee camp outside the Darfur town of al-Fasher, Sudan. (Nasser Nasser/AP)