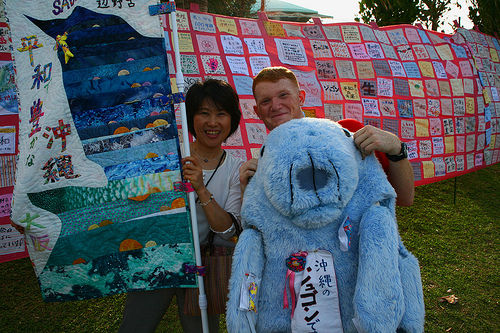 (Akahata) — A rally to unite to work for Iju Tadayuki's victory in the House of Councilors election took place on June 7 in Naha City in Okinawa, calling for the unconditional return of the U.S. Futenma base. Japanese Communist Party Chair Shii Kazuo took part in the rally.
Iju, supported by the Association for a Peaceful, Rich Okinawa without Military Bases, expressed his determination by saying, "A candidate who clearly says 'No!' to U.S. bases must win in the election. My victory will be the best way to show both the Japanese and the U.S. governments our strong resistance and opposition to their plan regarding the Futenma base relocation."
Okinawa Social Mass Party Vice-Chair Itokazu Keiko (House of Councilors) said, "I will fight together with you for Iju's victory." Three city mayors, Inamine Susumu (Nago), Iha Yoichi (Ginowan), and Tomon Mitsuko (Okinawa) sent their messages of support in solidarity with Iju.
Speaking on behalf of the JCP, a member of the Association for a Peaceful, Rich Okinawa without Military Bases, Shii stated, "We can show how to solve the Futenma base issue by the political position Iju takes."
Stating that Iju is standing by the position calling for the unconditional removal of the base and opposing the base relocation within Okinawa, Shii said, "In the first place, the base in question was built on land forcibly taken away from Okinawans during the U.S. occupation. It's legally Okinawans' land. Why should Japan look for locations to relocate the U.S. base? Japan should ask the U.S. government to take its base home without any condition, decide where to locate the base in its own country, and use its own money to withdraw the base."
Shii said that Iju does not side with any power or any party that takes a stand for the relocation of the base in Okinawa. "Standing firm in rejecting the plan to move the base within the prefecture, Iju is taking a leadership role in meeting Okinawans' demand," Shii stressed.
Shii pointed out that Iju pursues a base-free peaceful Okinawa without the Japan-U.S. military alliance in the future and said, "Advocates of the base relocation inside Okinawa believe that the Japan-U.S. Security Treaty is important and the U.S. Marines should stay in Japan as a deterrence force. However, the U.S. Marines in Okinawa are continuing to be dispatched to Iraq and Afghanistan. The Marines in the Futenma base go to the Middle East for six months each year. Is this really a deterrence that protects Japan? Isn't it a force used to invade other countries?"
He called on the audience to give support to Iju by stating, "The course the Okinawans should take is to defeat the argument of deterrence and to look for a base-free Okinawa without the military alliance."
Photo: From the "No Base Okinawa" protest in Ginowan, May 2010. thechrisdavis Flickr/cc