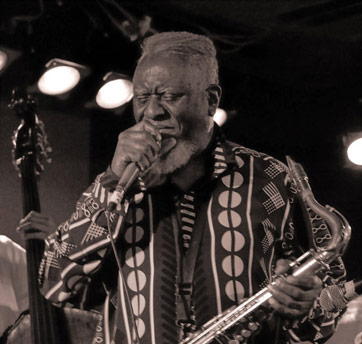 CHICAGO – On October 17, the acclaimed non-profit arts organization HotHouse will kick off its Old And New Dreams Festival at the Promontory, a brand new club in Hyde Park on 53rd.
With this major Festival, HotHouse is celebrating its return to the local presenting arena and publicly announcing its plans to rebuild a new home for its cultural enterprises.
HotHouse is also using the occasion of this Festival to pay homage to one of its most steadfast institutional collaborators – The Association for the Advancement for Creative Musicians (AACM), on the cusp of their 50th Anniversary. HotHouse has been the primary presenter of music performed by the individual members of the AACM for over 25 years.
An all-ages, free community event on Saturday, October 18 (from noon to 3pm) will feature: DJ Ayana Contreras spinning vintage AACM vinyl records, film screenings, and AACM member Douglas Ewart leading a participatory oral history project.
The weekend's activities will also pay tribute to the composer and musician Don Cherry for his enormous contributions to "world music" and groundbreaking achievements as an artist. A piece specially choreographed in Cherry's honor will be performed on Saturday night by Amansu Eason and dancers from the acclaimed Muntu Dance Theatre of Chicago.
Other homages to Cherry include the world premiere of the Chicago Underground Duo's partnership with legendary saxophonist Pharoah Sanders (headlining Saturday night) and appearances by Rajanstani Sufi masters Lahka Khan with world-renowned Chicago percussionist Hamid Drake. Saxophonist Ornette Coleman once described Pharoah Sanders as "probably the best tenor player in the world."
Additional Festival premieres include the debut concert appearance of Classic Black, led by acclaimed storyteller Shanta Nurullah, the US debut of Amsterdam-based trio Oliver's Cinema, and the highly anticipated return to Chicago of tenor saxophonist David Murray.
Replete with unusual pairings, Chicago debuts, the long-overdue appearance of major jazz artists, Old And New Dreams Festival is a spectacular entry in the fall calendar of arts and culture events.
Festival Summary /Calendar Listing (Jazz, Film, World Music, Dance)
HotHouse presents the Old And New Dreams Festival
Friday October 17 doors at 7pm, concert 8pm
Saturday October 18 Free Community Programs Noon-3pm
Saturday October 19 doors at 7pm, concert at 8pm
Sunday October 19 doors at 1pm, concert 2-4pm
Promontory 5311 S. Lake Park, Chicago
Tickets $22-$40
Information: Old And New Dreams Festival
Photo: Pharoah Sanders, Iridium, New York, CC BY-SA 2.0, Dmitry Scherbie