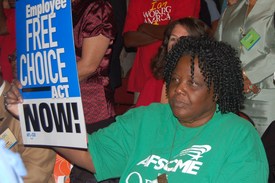 PITTSBURGH — Before the first full day session of the 26th AFL-CIO convention opened here last Monday the federation's officers met privately with a group of reporters who asked them about reports that Sen. Arlen Specter, D, Pa., was now in favor of passage of the Employee Free Choice Act. Specter, when he was still a Republican last year, was one of the bill's sponsors in the Senate.
As the extreme right wing began to solidify its control over the GOP he switched and said he was opposed to the labor law reform measure. Then he became a Democrat but said it didn't mean he could be counted on to back the EFCA. Still later he said he would support a version of the bill but that he wanted a version without "majority sign-up" or "card check," as he called it.
"Isn't it amazing how some people will change their positions?" was the response then federation president John Sweeney gave to reporters Monday morning.
Speaking before the full convention later that day Specter got polite applause from wary delegates when he said, "I predict that by the end of the year a version of EFCA will pass that will satisfy the AFL-CIO."
Only 30 minutes later, in response to a question from the Peoples World, off the convention floor he said, "I could never support a measure that eliminates free elections" and he indicated that he even had problems with the provision that prevents companies from stalling on a first contract, once a union is formed.
He said he wanted to make sure that any arbitrator would pick one or another of the union's or the company's "last best offer," rather than just splitting the difference down the middle and he would not commit himself on backing a very short period of time between the day a majority of workers sign up in support of a union and the date on which an election would have to beheld.
He was equally evasive on the question of health care, saying he supported President Obama's efforts at health care reform and that he was "happy" that "single-payer is on the table."
It was difficult to find delegates at the convention who were confident that Specter is a trustworthy spokesman for legislative concerns important to workers.
When the Peoples World asked Richard Trumka, now the federation's president, about this later in the day he said that "the labor movement is still fighting for majority sign-up."
Larry Cohen, president of the Communications Workers, who has been close to the negotiations, agreed and said any "compromise" on majority sign-up would have to guarantee that companies can't manipulate how their workers would vote in an election.
The compromise that involves an election being held in a matter of days with automatic recognition of the union if the company tried to influence votes would address this problem, Cohen said. He made it clear that that another idea Specter threw out when he talked with reporters, one that involved triple damages if the company fired union organizers during the election period, was not acceptable. He noted that companies don't mind spending a lot of money to prevent unions from being organized.
"We will continue to fight for real labor law reform and I believe, with the support of the president, workers will win this one," Cohen said.