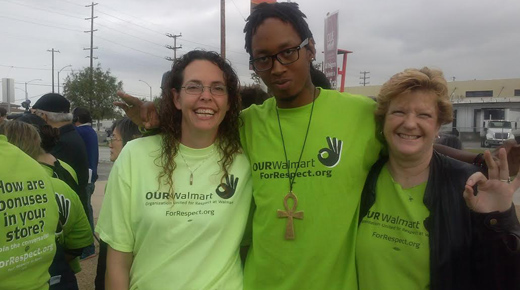 LOS ANGELES – History was made on Thursday, Nov. 13, when Walmart workers took part in the first sit-ins in the store's history to demand $15 an hour and full-time work.
In the morning a secret caravan of more than 20 workers descended entered the store at the Crenshaw Shopping Center here as "shoppers." One by one they and walked casually around the store until the signal came: "Sit down, live better." Workers immediately sat down, donned their Walmart badges, pulled signs from their pockets, put tape over their mouths, and sat in the aisles for two hours.
Management was taken completely by surprise. There was a well-publicized action later in the evening, but this one had been kept under wraps by the organizers. Cheers went out from those of us who watched the action on a live stream. It was an amazing sight, shoppers reacted positively, management reacted by demanding to see the workers' Walmart IDs.
Later that evening another sit-in took place at the Pico Rivera store, about ten miles east of Downtown L.A. Again workers entered the store casually, and again sat down at the signal. Once more, management was shocked. They didn't expect a repeat of the morning and upped their tactics, insisting on two pieces of Walmart ID, and threatening the workers that if any merchandise was damaged they would be held responsible.
But this time there was a flat bed truck with speakers, clergy, and music parked outside and more than 300 chanting supporters marching there with signs. As the workers finished their sit-in, we marched to the intersection in front of the store and held up eight lanes of traffic. Thirty marchers walked to the center and sat down on a huge map of the United States, showing where every one of the 2,400 Walmart stores is located. Cheers went up as they were arrested and marched to a police bus.
I have been honored to work as an intern with the UFCW helping to organize this action. Nothing I knew or had heard about Walmart prepared me for the horror stories that workers told us. Two long-time workers were fired a week before the action for talking to fellow workers about the sit-in. I met a man who has been working there for 22 years and was now making only $12 an hour. I heard stories of people who were fired while in the hospital, and pregnant women refused light duty even despite a note from their doctor. Women injured because they were ordered to lift boxes weighing more than 50 pounds. It goes on.
It goes on, but not for long. Walmart workers are fired up, they are mad and they will not be silent. The public is fired up. The sit-ins that took place in Los Angeles will be replicated in other parts of the country. History will continue to be made. The Walton family members, Walmart's owners, will finally realize that their billions of dollars cannot insulate them from the will of the people.
Photo: Susan Gosman/PW