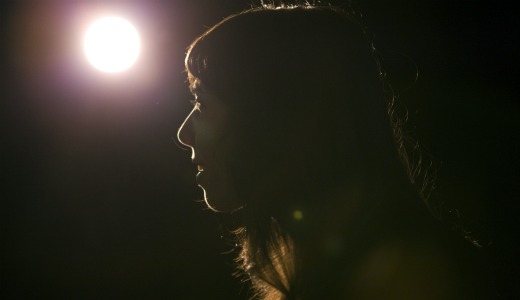 Theater Review
I Heart Hamas and Other Things I'm Afraid to Tell You
Written by and starring Jennifer Jajeh
Who are we as individuals? Are we the sum of our ancestral genetic pool played out in present-day psychosocial, political and economic surroundings? Or are we perhaps a reflection of the "looking glass self," intuiting what is expected of us through the subtle (and sometimes not so subtle) cues of others?
Jennifer Jajeh, who stars in her one-woman autobiographical play, I Heart Hamas and Other Things I'm Afraid to Tell You, grapples with the age-old conundrum of "who am I?" through her art. Having toured with the production, making stops in New York, Berkeley, Chicago, Minneapolis, several college campuses and theater festivals, and now Los Angeles for a second time, Jajeh conveys in her tragicomic tale what it's like to be a San Francisco-born Palestinian-American stuck in the middle of two contradictory cultures that seemingly have no way of melding. Her battle for psychological integration rages, and from such conflict illuminating humor and heartrending drama unfold.
Although Jajeh's play features minimal production values, she makes clever use of a few strategically placed props along with occasional projections of images onto a screen to establish time and place. One such prop is a carnival-like signboard, with the wording "Ask A Palestinian," that lights up at opportune moments and signals to the audience that a clarifying question germane to the narrative is about to be asked and then answered by the protagonist. Through this device, she slyly, but effectively and firmly dispels some of the worst stereotypes embedded in the collective American psyche regarding Palestinians.
While for some, the default assumption may be that as a group, Palestinians are all terrorists or would-be suicide bombers, Jajeh single-mindedly takes ownership of her identity by pointing out the rank absurdity of being politicized by others who know nothing about her as an individual. She is, we learn early on, a Christian (not a Muslim?!) with the very non-Arabic sounding name of Jennifer Ann Catherine, and also a young woman with many of the same interests and concerns as her contemporaries: dating, buying cat food, going to clubs, and listening to popular music.
Tellingly, and contrary to what one might expect, Hamas receives no mention in the entire piece up until the very end, when one of her "audience questions" asks why she chose such a provocative title.
Skilled as a mimic, Jennifer Jajeh plays not only herself but also a host of other characters, including a stoner boyfriend, her 13-year-old cousin, well-meaning but pushy moms of friends who urge her to marry young and have lots of children, and in Act Two, Palestinian boys and men as well as Israeli soldiers.
In the second act, the locale shifts from America to Ramallah, a large city in the West Bank, where we learn that Jajeh has family roots going back to the 16th century. We learn that her forebears settled in Ramallah to escape a tribal dispute between her Christian family and their Muslim neighbors, suggesting that no facile solutions to the many-layered conflict are in view. Her life changes dramatically when she decides that instead of staying in the West Bank to learn Arabic for only a month as originally planned (she confides to the audience that she still can't speak the language), she will relocate to her ancestral home.
As Jajeh settles in and makes a life for herself, she gradually becomes aware of the unbearable level of tension and violence in her new environment. She is rudely awakened while visiting Israeli checkpoints to see what it's like to deal with the humiliations, physical abuse, and threats the locals have come to know all too well. She is clear that the Israeli intention is to drive Palestinians crazy with the inability to pursue a normal life, and to drive as many of them as possible into exile.
As a writer and actor, Jennifer Jajeh has placed herself in a hot spotlight, perhaps not advantageously for a career in our commercial culture, and in the process forces her audience to ask some tough questions of themselves that demand a response.
That's real theatre.
Photo via play's website.