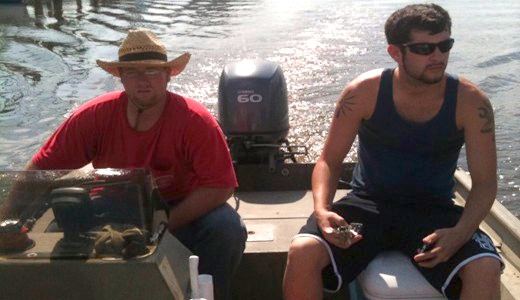 HOPEDALE, La. – Eric Guzman carries himself like any healthy 35-year-old, but his eyes tell you he's been through what only someone much older would normally have experienced.
Guzman is captain of a Bayou shrimp boat that he takes out now only on weekends. During the week he is a union electrician at the Folger's coffee plant here. He has also worked for Lazy Boy Seafood, an outfit that buys shrimp right off the boats.
"I'm glad I have this job," he said, when our reporters caught up with him during a break outside his plant gate. "You can't support a family without a good job, and now, after the oil spill, the shrimp and oyster businesses are hurting."
Guzman, like many of the fishermen in Louisiana, started out on the water as a kid and, like many others, when they got older, fished a big part of the year and worked in the building trades the rest of the year. He is a member of the International Brotherhood of Electrical Workers, Local 130.
He says he looks forward to the weekends when he can get out on his boat, the Captain Rusty. "I've been doing it since I was 12 years old," he said.
When Hurricane Katrina hit, destroying everything he and thousands of other families had, he went to Portland, Ore., where he could continue his apprenticeship as an electrical worker.
"I didn't want to drop that," he said, "because when you get through a union apprenticeship program you have top-notch skills that you can be proud of and that you can use for the rest of your life."
But he came back to Hopedale where, together with his wife, he re-started a life "in the place that me and all my friends and family love so much."
The BP oil spill intruded on that process a little over a year ago, and Guzman had to switch from shrimper to clean-up captain for the oil giant, skimming the oil off the waters of the Gulf. He and a crew of three worked a boat that belonged to someone else. They laid booms and skimmed the oil from the surface of the water.
"BP likes for people to think that the skimming got rid of all the oil," he said. "They don't want you to think about how most of the oil went down to the bottom. We were dead set against them using those dispersants but they didn't listen and they did it anyway." He recalled the "lack of concern they had for us out there doing the dirty work on the Gulf. No one knows how we've been affected by breathing in those vapors. People don't realize that they sent planes out over the Gulf spraying dispersants, not caring about whether those of us down in the boats were getting hit."
Guzman said the shrimp business has been hurt because, even though there are shrimp that have not been contaminated by the oil, people are afraid to take the chance on buying them. Prices have dropped, despite the smaller supplies, and people are going out of business.
A bait shop operated by a shrimp boat captain interviewed by the People's World right after the spill is going out of business.
The oyster farmers, Guzman said, are really suffering. "Only now are we seeing a few signs that oysters might come back," he said. He said the oyster business was hurt by the BP spill even in areas where the water was not actually poisoned. He explained how fresh water from the Mississippi was allowed to flow into the marshes to create an outflow to keep the advancing oil offshore. "The fresh water killed a lot of life forms that require salinity to survive," he said, "including the oysters."
The recent floods in the Midwest contributed to the destruction of the oyster beds also because river water had to be diverted again into the marshes to avoid flooding downstream in New Orleans. "Just as some things were coming back, there was a new setback," he said. "As a result of those Midwest floods we actually lost oyster beds to the west, even ones that had survived the BP spill."
Guzman said he was angry with BP because "even today they have not really made people whole for their losses. Some got back percentages of their losses and some have gotten nothing."
"I see crabs with sores on the bottom of them that are not supposed to be there. I see turtles and porpoises washing up on the beech and I wonder why. I worry about the long-term effects of those vapors, but I will never give up shrimping and crabbing" said Guzman. "It's in my blood."
Photo: Brad and Johnny Held, Louisiana IBEW members out crabbing in the Gulf recently. Blake Deppe/PW