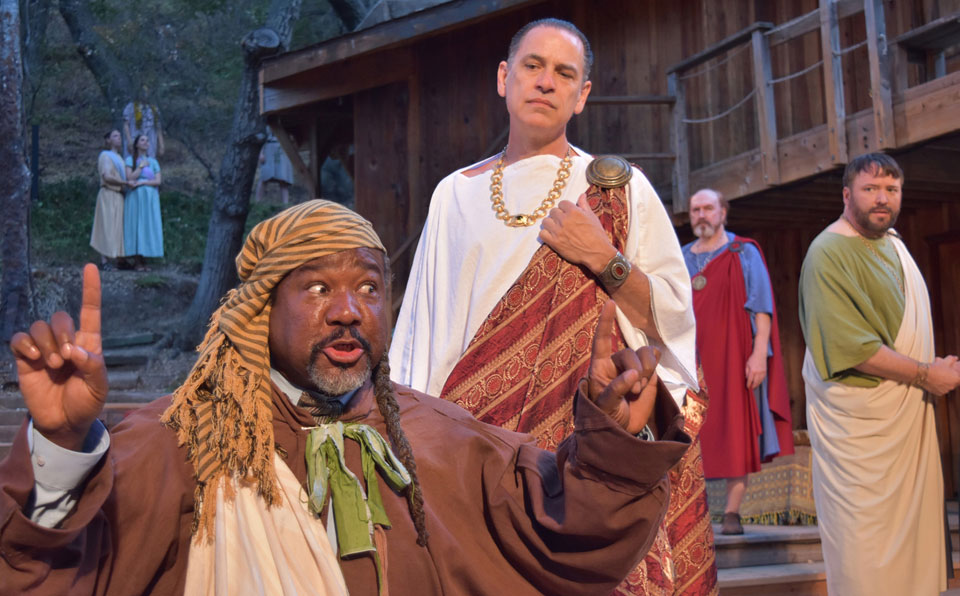 Friends! Angelenos! Theatergoers! Send me your rears—to fill the seats at that Roman-style amphitheater known as Will Geer's Theatricum Botanicum. After an interregnum due to the you-know-what, WGTB is back, launching its new season with a do-not-dare-miss Julius Caesar. William Shakespeare's immortal drama about intrigue and political liquidation opened with impeccable timing, coming hard on the heels of the assassination of Haiti's president and premiering on the precise anniversary of French DGSE saboteurs blowing up the Rainbow Warrior on July 10, 1985, at Auckland Harbor, in order to prevent Greenpeace's ship from protesting nuclear testing near Tahiti.
Indeed, WGTB's one-act version, sans intermission, of this harrowing Shakespearean tragedy set at ancient Imperial Rome in 44 BC is framed to emphasize themes contemporary audiences will find to be startlingly and disquietly current. In a similar vein, Orson Welles struck theatrical gold with the Mercury Theatre's fabled modern dress rendition of Caesar in 1937, which resonated with anti-fascist audiences leery of Mussolini and Hitler. In the Theatricum's iteration, the redoubtable, dreadlocked thesp Gerald Rivers is this Caesar's narrator, who makes pointed comments about liberty and slavery, democracy and empire and the eternal struggles against, as another Brit—Rudyard Kipling—pithily put it: The men who would be king.
In addition, Rivers—who has trod the boards of WGTB's amphitheater for 27 years and is also known for his reenactments of MLK—doubles as Caesar's soothsayer, who ominously warns the Roman dictator to "beware the Ides of March" (which either warns Julius Caesar regarding something that's going to happen on March 15 or about a 2011 George Clooney movie).
Beneath the wide and starry sky, the cast of dozens is splendidly co-directed by Ellen Geer and Willow Geer (who does double duty, delivering her lines with perfect elocution as Portia, wife of Brutus, played by Christopher W. Jones). One of the things I've loved best about the Theatricum is how its productions often make full use of the environment, extending its stage per se offstage into the sylvan glade of Topanga Canyon. In addition to scampering up and down the steep steps (whatever you do dear ticket buyer, don't stretch your legs out in the aisles, as "Beware the stomping sandals" is number 1 on the amphitheater's etiquette list!), the patrician and plebian thespians make full use of balconies on the main stage and at stage right, and rather dramatically, in the hilly woods, this rustic playhouse is rather splendidly ensconced in. Call it: "Theater in the Surroundings."
It is also quite thrilling to witness the sheer spectacle of dozens of Roman legionnaires do battle, crossing swords in full battle regalia right before one's eyes. The mise-en-scène of this mass action is an electric, palpable form of acting that can only be attained on a three-dimensional stage in a live performance with flesh and blood actors, as opposed to phantoms on a screen—truly a sight to behold. Talk about "toga parties"!
The cast of co-conspirators is too large for me to individually review all of the coup plotters, soldiers, loyalists, imperialists, et al, so I shall single a handful out "to praise, not to bury them, for the good that actors do often lives after them in reviews," to misquote Marc Antony, stunningly portrayed by that human dynamo Michael McFall—who's anything but anybody's fall guy. In previous WGTB productions, this towering thesp portrayed Aaron the Moor in 2016's Titus Andronicus and the Polynesian lancer Queequeg in the 2019 mounting of Orson Welles' Moby Dick – Rehearsed. Although in Caesar McFall has exchanged his harpoon for a double-edged gladius with which to slay not whales, but disloyal assassins. His furiously flawless recitation of the renowned "Friends, Romans, Countrymen, Lend me your ears" speech is absolutely bone chilling. What Cassius says of Caesar could likewise be said of McFall: "Why, man, he doth bestride the narrow world Like a Colossus, and we petty men Walk under his huge legs and peep about…"
The electrifying standout of this cast, McFall, who has also appeared onscreen in Star Trek: Voyager and Forrest Gump, is not a "Roman" per se, but an African American. Much to its credit, the progressive WGTB has long been known for its nontraditional casting, and once again WGTB's perennial co-star, Melora Marshall, breaks the gender barrier by playing the impatient, smoldering, scheming (presumably) male Cassius, who along with Brutus (a more restrained Jones) is the key coup plotter in the liquidation of Caesar, as he appears to be concentrating power in his imperial hands and turning the Roman Republic into a tyrannical empire. Alas, Cassius' warnings to Brutus about Antony fall on deaf ears—just as the soothsayer's admonition about the Ides of March did.
Max Lawrence, who also excelled as the Stakhanovite horse Boxer in WGTB's unforgettable 2017 production of George Orwell's Animal Farm, portrays that unindicted co-conspirator Marcellus. Mark Lewis depicts the title character, who appears to suffer more from "the falling sickness" (that's Shakespeare for "epilepsy") than to be a despotic strongman.
On a personal note, allow your humble scribe to say that the Theatricum is his very favorite theater in the whole wide world. For me, WGTB is the Praetorian Guard of Los Angeles theater; all its cast and crew, as Antony put it, "honorable men [and women]." Being back in the embrace of this Shakespearean enclave was nothing less than, well, an early summer night's dream for your itinerant scribbler. After an extended intermission suffering under the twin tyrannies and plagues of Trumpism and COVID, the return of this theater company to the live stage marks a major milestone on our road back to fully living. For what is life without art?
And the fact that WGTB's comeback is with a politically conscious play about the perils of power and democracy poised on a knife's edge reminds modern audiences that the Orange Julius still lurks among us. Underneath the uncanny canopy of the constellations, shining on high, cloaked in Topanga's night sky, we can see all too clearly, as Cassius wisely laments: "The fault, dear Brutus, is not in our stars, But in ourselves…"
FUN FACT OF THE REVIEW: Born Cassius Marcellus Clay, Muhammad Ali's father was Cassius Marcellus Clay Sr.; he was named after a Kentucky abolitionist of that same name who became instrumental in Lincoln's issuing of the Emancipation Proclamation. All three men were born bearing the names of two of the men who plunged their bloody daggers into Julius Caesar. Ken Burns' stellar documentary Muhammad Ali premieres on PBS in September.
And here is Marlon Brando delivering Marc Antony's speech in Joe Mankiewicz's 1953 film version of Shakespeare's classic: Julius Caesar (1953) – Mark Antony's Forum speech (starring Marlon Brando) – YouTube
Julius Caesar runs through Nov. 7 in repertory with A Midsummer Night's Dream and The Last, Best Small Town at Will Geer's Theatricum Botanicum, 1419 N. Topanga Canyon Blvd.,
Topanga CA 90290 (midway between Pacific Coast Highway and the Ventura Freeway and partway to heaven). For info: (310)455-3723 or www.theatricum.com. It can get chilly at night in the open-air amphitheater, so dress warmly. Togas, helmets, and sandals are optional.
Excelsior!