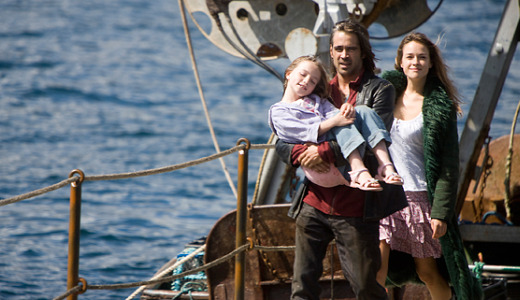 Movie Review
"Ondine"
Directed by Neil Jordan. Starring Collin Farrell, Alicja Bachleda and Alison Barry.
2009, Ireland/USA, 111 min., PG-13
Like most of Neil Jordan's fine Irish movies, this new one, released in the U.S. this year, is a romance wrapped around a crime story. I don't think my movie buddy and I have ever missed one, and we're even bigger fans now than we were this morning.
The characters are fascinating. There's a taciturn fisherman, now sober but still living down his reputation as the town drunk; his dying daughter, radiant from her wheelchair; his drunken ex; his drunken ex's drunken new boyfriend; and a mysterious, almost mute woman, who had the great salt ocean as her last known address. Everyone else in the little fishing town, especially the priest, played by the great Stephen Rea, is downright colorful. Perhaps the biggest attraction of all is the cold Irish sea, which forms the background of almost all the action.
I especially wanted to see this one, because I still remember wistfully the fine Joan Baez version of "The Great Silkie of Sule Skerry." In the song, a tragic sea creature with various magical qualities can walk on land and affect the fates of humans.
A lot of the film has to do with whether or not ordinary hard-working people can work up the courage to accept good fortune. It's not that easy, the priest tells the fisherman. Can the fisherman's luck change? Can the little girl recover? Can misery and alcoholism be overcome? Can anybody find love? Could this complicated movie ever work its way into a happy ending?
We're not telling, but we will say that "Ondine" is a more than satisfying film experience.
Photo: A scene from "Ondine." http://rlsfeed.com/movie/ondine-limited-dvdscr-xvid-bluntrola.html