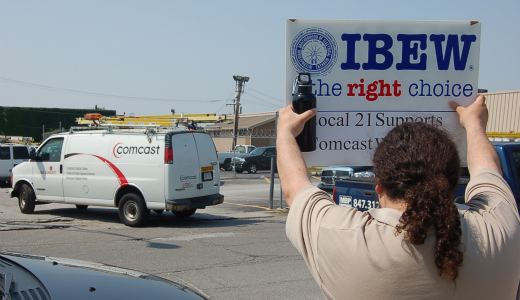 CHICAGO- "We're going to pick ourselves up tomorrow and go forward. The story for this corporation is the same. All they care about is the bottom line and not the workers," said Kevin Beallis, a Comcast technician and International Brotherhood of Electrical Workers (IBEW) Local 21 volunteer organizer.
"We came in here with our heads held high and left with our heads held high," said Beallis who was reflecting on a narrow National Labor Review Board election loss by workers attempting to organize a Comcast facility in the Pullman neighborhood June 8.
Only 2 percent of 90,000 Comcast workers nationally are organized. This was the second vote in five years at the facility and reflected the immense challenges workers and the labor movement face to win against the nation's largest cable television provider. Despite the latest loss, IBEW organizers are undeterred.
Local 21 President Ron Kastner describes Comcast as the "Wal-Mart of the telecom industry" for their vicious union busting.
In fact, Comcast pulled out all the stops to defeat the organizing drive, bringing in lawyers and the chief of labor relations, holding captive-audience meetings and spreading fear and lies about the union. The company saw defeat of the organizing drive as critical to preventing the unionization of 5,000 workers in the Chicago area.
Non-union Comcast workers earn roughly $16 hourly, and top wage is $19 per hour after five years. This is compared to a top wage of $30 hourly for unionized workers at ATT.
In addition, it is estimated 85 percent of cable installation or repair work in some areas is subcontracted out by Comcast to smaller outfits who pay even lower wages. Most customers don't know who is entering their homes.
According to Lori Davis, another IBEW organizer, "Because they pay less, they offer a cheaper product, which enabled them to become a big monopoly. Comcast runs a minimum wage sweatshop and are trying to make it the industry standard while they charge higher and higher rates for cable service."
Other issues of concern are forced overtime and the safety of workers. A worker will get assaulted on the job and Comcast will send another worker right after them to finish up. "To the company these workers are disposable," said Davis.
"Win or lose, this was a historic day in the Pullman neighborhood of Chicago," said Jerry Rankins, Business Representative of Local 21. Rankins was speaking in the shadow of the famous Pullman Historic Site where the Pullman rail cars were once built and company town once stood.
"The workers from Pullman, railroad workers led by Eugene Debs and the Brotherhood of Sleeping Car Porters Union, led by A. Phillip Randolph, engaged in similar struggles against powerful foes. The same struggle exists today against one of the biggest employers in America for dignity, respect, marginal wages and benefits and safety," said Rankins.
Joy Watson, IBEW Local 21 unit chairperson and ATT call center worker said union members worked with a volunteer organizing committee of workers at the facility and got support from the labor movement, clergy and other community organizations.
"We stuck together from start to finish. This was definitely a step forward," she said.
Among those standing in solidarity with the workers during the vote were the UAW, Jobs with Justice, the Coalition of Black Trade Unionists, CWA, USW and the Steelworkers Organization of Active Retirees.
Several members of UFCW Local 881 were also present. The local represents grocery workers at Jewel and Dominick stores and has been battling Wal-Mart as it invades the Chicago market. The world's biggest corporation is about to open a new super store blocks away from the Comcast facility and the UFCW aims to organize it.
"It's important for the community to know the importance of unions. The community can't afford any more low-wage jobs," said UFCW member Edwardo Victoria. "It's been an eye opener just how nasty a union busting company Comcast is and how much work and education we still need to do."
Lead IBEW organizer Dave Webster said the loss underscored the needed labor law reform. He said the union filed for an election on April 27 submitting cards representing a supermajority of workers. The company demanded an NLRB election and then went to work over the next 6 weeks organizing captive meetings, making promises they couldn't keep and lightening the work load to convince workers not to vote union.
"This was one battle in a big old war," said Webster.