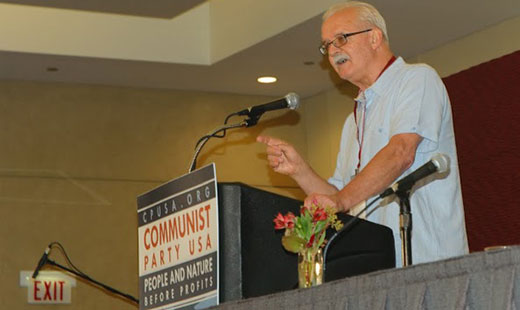 CHICAGO – Delegates from around the country are arriving here today for the opening of the Communist Party's 30th national convention at the University of Illinois at Chicago. "Folks are coming from as far away as Texas and Maine," said convention organizer John Bachtell. "They're excited to get started and so am I."
"It's going to be a convention like no other" he continued. "One thing I'm really excited about is the event's openness. Most of the sessions will be lived streamed, and the press is invited. Our coalition partners are coming to share their views on a host of issues including labor organizing, immigrant rights, racism, reproductive rights, and LGBTQ equality."
An event that's particularly lighting the imagination of participants is a labor history tour led by Rev. Tim Yeager the morning of the convention. Among other historic sites, the tour will visit the Haymarket memorial in Forest Park Cemetery. "I expect some will want to lay flowers to honor the Haymarket martyrs," said Yeager.
Communist Party Chairman Sam Webb will deliver a keynote address Friday afternoon. A key challenge according to Webb will be the upcoming mid-term elections. "Everyone should be involved," he said. Taking note of Eric Cantor's upset in Virginia, Webb warned, "This is a decisive election. Nothing can be taken for granted, including the election of tea party extremists."
But Webb remains optimistic. "With boots on the ground and a program that emphasizes jobs, the advantages of Obamacare, and preventing global warming, the Democrats can win the House and preserve their majority in the Senate."
Friday evening, the People's World is hosting a panel discussion on organizing low wage workers that includes Howard Kling, Secretary of the International Labor Communications Association AFL-CIO, Change to Win, Rasheen Aldrige, St. Louis Can't Survive of $7.35 strike leader, Young Activists United, Naquasia LeGrand (Fast Food Forward Colbert Show guest), Elce Redmond and Ada Fuentes of Jobs With Justice, Terrie Albano, co-editor of People's World, and Judith LeBlanc, field director of Peace Action.
Saturday, the convention will feature a panel discussion the mass media with Kari Lyderson, Social Justice Chicago Reporting Fellowship, Northwestern University, Bhaskar Sunkara, publisher of jacobin.com, Don Washington, MayoralTutorial.com, and Sue Webb, co-editor of People's World.
The day will be topped off with a welcome of international guests from Brazil, Great Britain, Cuba, and Vietnam.
The convention end on Sunday. "We'll close with a call to action that will encourage everyone to get busy," said Joe Sims, "The future belongs to those that organize it."
Photo: Terrie Albano/PW