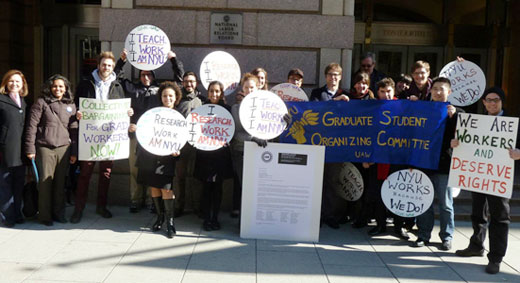 WASHINGTON – The National Education Association and a wide range of other organizations – from civil rights groups to the Chamber of Commerce – are opposing the proposal by the House's ruling Republicans to rewrite federal education law and school aid.
House Education Committee Chairman John Kline, R-Minn., unveiled the GOP proposal in a Feb. 9 speech to a right-wing think tank. More than 40 groups, including the AFL-CIO-affiliated School Administrators, call Kline's plan "a rollback" of the promise of equal educational opportunity that started with the U.S. Supreme Court's famous 1954 school integration ruling, Brown vs. Board of Education.
Kline would replace the 11-year old No Child Left Behind law, pushed through Congress by GOP President George W. Bush in early 2001. NCLB has led to "teaching to the test" nationwide, with schools forced to concentrate just on basics.
NCLB also set standards for student progress, measured solely by test scores that led directly to firings of teachers, state takeovers of schools, and virtual guarantees that public schools will fail, unions and teachers say. School failures let the federal government shift its education aid to private schools, a favorite right-wing cause.
Kline's plan is bad for the students the law is supposed to help, NEA says.
"We must remember the days before the Elementary and Secondary Education Act," which NCLB amended, "when generations of children were denied the basic educational opportunities they deserved," the union warned.
"We must judge proposals on whether they will strengthen our educational system, or whether they will move us backward. We must find an appropriate balance of federal and state roles by refocusing on strong state accountability systems while continuing to maintain a sharp federal focus on equity across state and district lines.
"The House draft fails to address equity issues adequately. The House proposals do not push states enough to narrow achievement gaps, provide equal access to quality education, and ensure state standards and assessment and accountability systems work for students.
"The proposals also lack a comprehensive plan to address existing inequities in public education that harm students and communities, particularly students and communities of color," NEA added. "Ensuring that all students have equal access to a quality education is why the federal government got involved in education in the first place. This principle should guide our efforts as we move forward," the union declared.
Photo: NYU teaching assistants – members of UAW Local 2110 – at the NLRB demand a ruling on their 2 year-old case involving their right to organize and bargain collectively. Photo courtesy UAW Region 9A via PAI Photo Service.