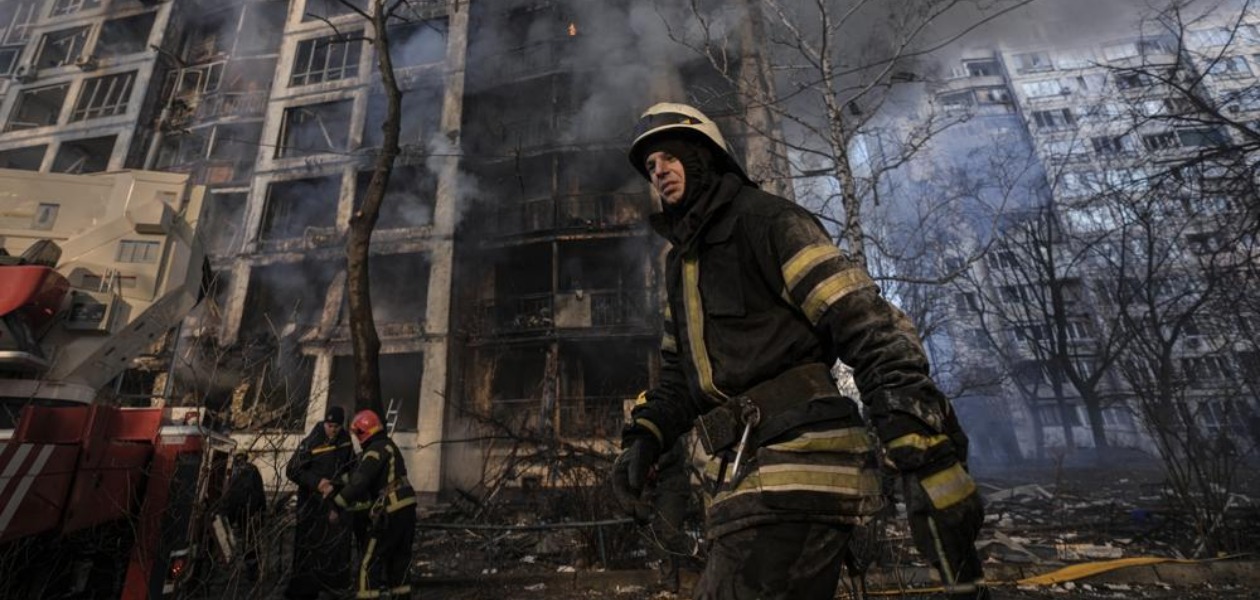 Hopes for peace in Ukraine were raised Tuesday when both Russia and Ukraine positively assessed the now ongoing negotiations between the two countries.
Russian Foreign Minister Sergey Lavrov said neutrality for Ukraine was being "seriously discussed" after talks that he described as "businesslike," while Ukrainian President Volodymyr Zelensky described Russian demands as "more realistic."
Some of the hope that spread after those assessments was dampened, however, as Zelensky, in a virtual address to the Canadian Parliament, repeated his call for a "no-fly zone" to be established over Ukraine by NATO.
"Please close the sky, close the airspace, please stop the bombing," Zelensky said to Canadian Prime Minister Justin Trudeau and the assembled lawmakers in Ottawa. "How many more cruise missiles have to fall on our cities until you make this happen?"
Despite the talks, Russia also seemed to step up bombing of Kiev and other cities as they continued to try to crush Ukrainian resistance. Both sides, however, say they will continue dialogue.
There is no support for establishing a no-fly zone in top U.S. and NATO circles. What can appear on the surface as a step toward peace, President Joe Biden has noted, is, in reality, a trigger for World War III. A no-fly zone means any plane entering it must be shot down, which makes much more likely a direct confrontation between the U.S. and Russia, the world's two biggest nuclear powers.
Many on the right in the U.S., including Republican Sen. Mitt Romney of Utah, have been blasting the Biden Administration for not doing enough to "support Ukraine." Others on the right, which is split over the war, are backing Putin, particularly figures associated with the Trump faction of the GOP.
Russian missiles hit the Kiev Oblast, the region in which the city sits, as they kept up their drive to weaken Ukrainian defenses. MSNBC's Richard Engel, reporting from Kiev, said a major subway station and selected apartment buildings were hit but that the bombings did not resemble the massive assaults that have been carried out in Kharkov and Mariupol.
He also noted that the city of Kiev has not been "surrounded" yet and that travel in and out of the city, unlike in other Ukrainian towns, is still flowing freely. The unimpeded journey by three national leaders of NATO countries—Poland, Czech Republic, and Slovenia—to Kiev by train Tuesday from Lvov attested to Engel's description of the situation.
Zelensky, in his latest nightly address to the nation, said Russia had continued their shelling of cities and had hit a high-rise apartment building in downtown Kiev.
"Efforts are still needed, patience is needed," he said in his talk to the country. In an apparent reference to the peace talks, he said "Any war ends with an agreement." Among Zelensky's many concerns are threats by the extreme right in his country to sabotage any ceasefire he negotiates with Russia that they deem to be too much of a compromise.
Hopes for peace also rose Tuesday before Zelensky's speech to Canadian lawmakers when he said that Ukraine understood it could not join NATO. The Russians have said that Ukraine in NATO would endanger Russian security.
The AP reported that Lavrov welcomed Zelensky's comment and said "the businesslike spirit" starting to surface in the talks "gives hope that we can agree on this issue."
"A neutral status is being seriously discussed in connection with security guarantees," Lavrov said Wednesday on Russian channel RBK TV. "There are concrete formulations that in my view are close to being agreed."
The AP also reported that Russia's chief negotiator, Vladimir Medinsky, said the sides are discussing a possible compromise idea for a future Ukraine with a smaller, non-aligned military.
Zelensky, in a powerful speech using a video of destruction in Ukraine, called upon the U.S. Congress to increase military aid to his country and to establish a no fly zone in Ukrainian skies. Biden is announcing $800 million more in military aid for Ukraine. The administration is reportedly considering provision of "Switchblades," guided drones touted to be more effective than the Turkish drones Ukraine now uses.
Peace forces are not happy with either Russia's continuation of the bombing or with the apparent hesitancy of the U.S., on the other hand, to be more supportive of the peace talks. Thus far, the main discussion coming out of Washington is how to provide more weapons for Ukraine while Russia continues its assault on its neighbor and jails peace activists at home.
Meanwhile, NATO plans an emergency summit next week in Brussels. Expectations for the meeting at this point are naturally very low, however, with few predicting the military alliance will be putting forward any peace proposals.
The war in Ukraine has so far pushed three million from their homes, according to the United Nations. The U.N.'s human rights body says 691 civilians have been killed and 1,143 injured, but it acknowledges those numbers are likely an undercount.
Russian forces succeeded in occupying the city of Ivankiv, 80 kilometers (50 miles) north of Kiev, and now control the surrounding region on the border with Belarus, according to Ukraine.
Health care workers in Ukraine are fighting an additional battle against rising COVID-19 infections that are causing available hospital beds to disappear. "Bombing takes place from morning into night. Thank god a bomb has not yet hit our hospital. But it could hit at any time," Dr. Pavel Nartov, director of the Kharkov Clinical Infections Disease Hospital, told the AP.
Russian Defense Ministry spokesman Igor Konashenkov claimed Russian forces have destroyed 111 Ukrainian aircraft, 160 drones, and more than 1,000 tanks or other military vehicles since the start of what he continued to call Russia's "special military operation" in Ukraine.
Some of the hope generated by the peace talks seemed to spill over into Mariupol yesterday as 20,000 people managed to leave the city in 4,000 vehicles, according to Zelensky's office.
The prime ministers of Poland, the Czech Republic, and Slovenia went back to Poland yesterday after their visit to Kiev which, they said, was a show of support for the country.
In Moscow, meanwhile, a Russian TV producer was released after being held for 14 hours by police after she interrupted a live news broadcast with an anti-war message.
Marina Ovsyannikova walked into the studio during Monday's evening news show with a poster saying, in Russian, "Stop the war, don't believe the propaganda, they are lying to you here." In English, it said, "No war" at the top of the poster and "Russians against the war" at the bottom.
She also shouted, "No to war—stop the war" and was visible to the channel's millions of Russian viewers for a few seconds before it switched to a different report.
Russia's TASS news agency cited police sources as saying she had been fined $270 and could face charges under new legislation making "discrediting the armed forces" or spreading "false information about the use of the armed forces" illegal.
In a pre-recorded video she posted after her protest, Ovsyannikova said she had one Ukrainian and one Russian parent, and the two nations were "never enemies."
The Associated Press contributed to this article.