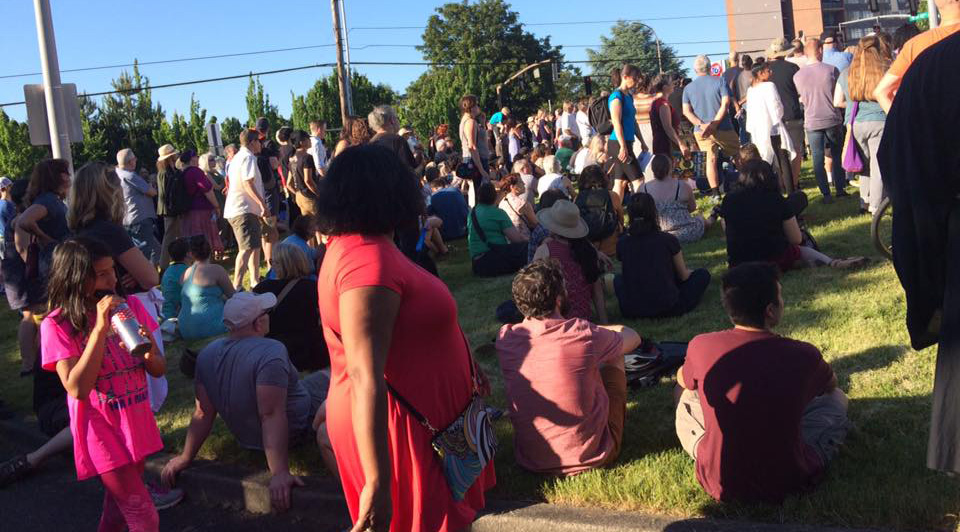 PORTLAND, Ore. — Around 1,000 people attended a vigil last week near the MAX transit station where the stabbing took place. People sat in the grass, facing each other in a circle as one by one family, friends and others affected by the tragedy rose to speak. Asha Deliverance, the mother of Taliesin Namkai-Meche, appears in photographs like a hippie goddess embracing friends and strangers. Taliesin's last words were "tell everyone on the train I love them." Love was very much the theme. Flowers and candles dotted the landscape. The walls of one of Portland's iconic bridges were covered with chalk graffiti. Messages like "We stand together" and "Love wins over hate."
Namkai-Meche's sister, Vajra Alaya-Maitreya, released a statement:
"Taliesin Myrddin lived a joyous and full life. His enthusiasm was infectious. We lost him in a senseless act that brought close to home the insidious rift of prejudice and intolerance that is too familiar, too common… He was resolute in his conduct and respect of all people. In his final act of bravery, he held true to what he believed is the way forward. He will live in our hearts forever as the just, brave, loving, hilarious and beautiful soul he was. We ask that in honor of his memory, we use this tragedy as an opportunity for reflection and change. We choose love. Safe journey, Taliesin. We love you."
MET, the Muslim Center in Tigard, hosted a vigil later that evening, following the first night of Ramadan's fasting. Portland Mayor Ted Wheeler attended, saying the packed auditorium gave him hope.
News of the attack was trending on twitter and facebook with hashtags like #portlandheroes, #portland, #stabbing and #hatecrime. Within days of the tragic stabbing, three crowdfunding campaigns for the victims topped $1 million. Another to raise money for necessities and mental health services for the two girls (the attacker's original target) had nearly reached $20,000.
Everyone seemed to be talking about it.
"Champions of justice risked and lost their lives. Hate is evil," said Senator Jeff Merkley.
Oregon's other U.S. Senator, Ron Wyden, tweeted: "The horrific killing shocks the senses and must sound an alarm louder than ever about the violence that follows hate speech."
Portland Mayor Ted Wheeler said: "They were attacked because they did the right thing. Their actions were brave and selfless and should serve as an example and inspiration to us all. They are heroes."
Some were conspicuously silent. Although one of the victims was a Republican, politician, veteran and father; there was (as of then) no word from the Republican Party or the White House. President Trump, never far from Twitter, must have known many Americans believe his anti-Muslim and anti-immigrant rhetoric have contributed to a rise in hate crimes such as this.
But in case he didn't know, on Sunday, Dan Rather posted a message to Facebook reminding him.
The next day, Asha Deliverance, wrote an open letter to President Trump.
"I'm writing to you today, Memorial Day, to share my heart after losing my son… Our family grieves, but we are proud that through his selfless action he, along with the other two men, has changed the world, when in the face of hate he did not hesitate to act with love… These brave men saw the immediate injustice and didn't hesitate to act. They recognized the truth: we are more alike than we are different. To ride the train home without being assaulted because of the color of your skin or your religious beliefs, is an inalienable right.
You have said that you will be President for all Americans. So, I ask you Mr. President to take action… Please encourage all Americans to protect and watch out for one another. Please condemn any acts of violence, which result directly from hate speech & hate groups. I am praying you will use your leadership to do so."
Eventually Trump responded on twitter with three sentences.