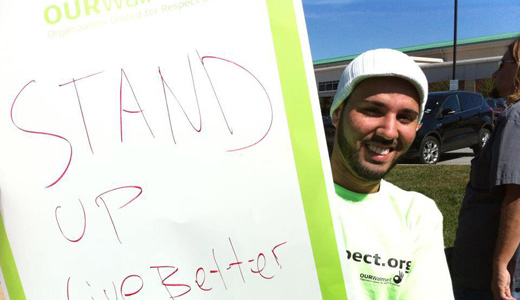 ORLANDO, Fla. – Local worker allies held an action at an Orlando-area Walmart store Oct. 25 to bring attention to another instance of retaliation against a Walmart "associate" who joined OURWalmart for better wages, working conditions, benefits and respect on the job.
OURWalmart is the Organization United for Respect at Walmart, a project of the United Food and Commercial Workers
A delegation made up of members of the Student Labor Action Project at the University of Central Florida and Central Florida Jobs with Justice tried to present managers at the east Orlando store with a letter. The missive was in support of OURWalmart member Alex Rivera, who was fired from the store in late September after having worked there for three years. It called for Rivera's reinstatement and included the names of Central Floridians who had signed an on-line petition in support of Rivera.
"It's time to say, Walmart, it's time to stop. Stop using retaliation. Stop using scare tactics against the associates," said Rivera. "Let the associates organize. Let the associates speak out. You should listen to the associates. We are the 99 percent."
The delegation, which also was intended as a show of support for other OURWalmart members who still work at the store Rivera was fired from, included state Rep.-elect Victor Torres, D-Orlando, a bus driver and member of the Amalgamated Transit Union Local 1596.
"We're just here coming to say we want Alex to get reinstated," said Denise Diaz, of Central Florida Jobs with Justice.
Store management refused to accept the letter, which was addressed to Rob Walton, chairman of the Walmart board.
Dave, the manager of the store that Rivera was fired from, claimed he wasn't "the right authority" to take the letter to, although it specifically addressed Rivera's plight. He suggested it be sent to the company's media relations office. Dave said there was no process or means by which the community could advocate for Rivera with store management, and suggested that community members call Walmart's home office in Arkansas.
Rivera, 30, a married father of two young children, joined OURWalmart about six months ago. Rivera said he joined the group because of concerns about retaliation against employees who speak out, low wages, the failure of management to listen to workers, "the way we've been disrespected at the stores [and] for the way they treat us as slaves."
"It's time to let Walmart know that all the stuff they're doing, it's wrong," said Rivera. "And they're violating a lot of [labor] law[s], also."
When Walmart fired Rivera, the company claimed it was for "gross misconduct" and violations of "integrity" over adjustments to when he started his half-hour lunch break and other breaks because he was assisting customers when those breaks were scheduled to begin. (Walmart claims its associates are not supposed to work while on break.) Rivera, however, believes his termination was the result of his having become known as a leader of OURWalmart in Florida, noting that in the last few months store managers had been closely monitoring his interactions with other workers.
At the time of his termination, Rivera, who worked full-time, was earning $8.40 an hour, after starting at $7.50 an hour when he was hired. Rivera filed an unfair labor practices complaint over his termination with the National Labor Relations Board office in Tampa.
"That's what they do when a lot of these associates get targeted, and what they've seen is they [often] get their job back because they [Walmart] are really unjust in the firings," said Diaz, of Jobs with Justice.
OURWalmart held one-day strikes Oct. 9 at 28 Walmart stores across the country, including in Dallas, Miami, Seattle, Washington, D.C., Chicago, San Francisco, and Los Angeles, to highlight company retaliation against its members. After the walkouts and a protest by 200 OURWalmart members and supporters at the company's annual investors meeting in Bentonville, Ark., on Oct. 10, Rivera feels that the company's attitude towards OURWalmart and its incipient worker organizing has changed.
"I think this time they are taking us seriously," said Rivera, who participated in the Bentonville protest. "I think they're saying, 'You know what? OURWalmart's not joking.'"
"They know we are planning for Black Friday [actions on Nov. 27]," said Rivera. "We're going to attack them real hard [that day]."
OURWalmart has announced that it intends to stage more strikes on Black Friday at Walmarts across the U.S. unless the company stops punishing and terminating its employees for standing up for themselves. This, potentially, could cost the company hundreds of millions of dollars in sales on the busiest shopping day of the year.
Although Rivera has found another full-time job that pays better than Walmart, he has not given up on his struggle for worker justice at America's largest retailer and employer. Rivera said he would head up an office that OURWalmart is opening in Orlando next month.
After the action at the east Orlando Walmart, some members of the delegation headed to a Walmart in Winter Springs, Fla. (about 15 miles north of Orlando), where they attempted to present store managers with a letter in support of an employee who was recently diagnosed with diabetes and lupus. Rather than accommodate the employee's medical condition by moving her to a less strenuous position, store management placed her on an unpaid leave of absence, apparently in the hopes that she would quit.
Photo via Central Florida Jobs with Justice.