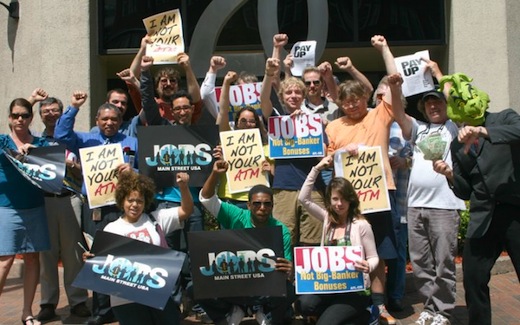 ORLANDO, Fla. – Even in a state with a "right-to-work" law like Florida, workers still need to join unions and leverage their power by collectively bargaining with employers. That was the message Central Florida AFL-CIO Central Labor Council Secretary Victor Sanchez had for the annual Labor Day picnic here last week.
More than 400 union members, their families and supporters flocked to the picnic at a downtown park here on Labor Day, Sept. 2. The annual event, organized by the Central Florida labor council to celebrate the contributions that working people make to the economy and to society, also attracted a wide range of groups from the local progressive community.
Florida is one of the 24 states that have so-called right-to-work laws (which rather than protecting the rights of workers, actually interfere with the right of organizations representing workers to negotiate contracts with employers that benefit workers). Sanchez, who is a member of the American Postal Workers Union, said that one of the points the CLC was trying to make with the picnic is: "By joining the union, we can build a stronger movement, and by building a stronger movement, we can stop bosses from abusing workers."
A 2011 study by the Washington-based Economic Policy Institute found that workers in "right-to-work" states earned lower wages and had lower rates of employee-sponsored health insurance and pensions.
Sanchez said that immediate goals for the labor movement should include ensuring that all workers earn living wages and have the right to organize, and making sure that younger workers remember the history and legacy of those in the labor movement who struggled before them for better pay, benefits and working conditions.
Timothy Murray, a community organizer with Organize Now!, a group that was heavily involved in the campaign for earned sick time for workers in Orange County, Fla. (the home of Orlando and Disney World), said that all workers need living wages of at least $10 an hour, sick time, vacation days and affordable housing.
"Every worker in this country should have at least five days of sick time or personal time and five days of vacation," said Murray. "Every worker in the country has earned that. Everyone deserves a week off."
More than 70,000 voters in Orange County signed petitions to put an earned sick time measure on the 2012 ballot that, if passed, would have mandated that companies with 15 or more workers give them one hour of paid sick time for every 37 hours worked–up to an annual limit of 56 hours.
In a brazen assault on democracy, the Orange County Commission, in violation of its own charter and after being intensively lobbied by local big business interests such as Disney and Darden Restaurants (Olive Garden, Red Lobster), refused to place the measure on the ballot. A three-judge panel later ruled that it had to be placed on the 2014 ballot.
Any vote on the measure has, however, been rendered moot by passage in this year's Florida legislative session of a bill, heavily backed by big business interests and Republicans, to prohibit counties and cities from mandating benefits such as sick time. The bill was signed into law in June by ultra-right millionaire Gov. Rick Scott.
A 2013 report by the Economic Policy Institute noted that the "inflation-adjusted value of the [federal] minimum wage today" – $7.25 an hour, last raised in 2009 – "is about $2.00 an hour less than it was at its peak value in 1968." Florida's minimum wage, last raised at the beginning of 2013, is $7.79 ($4.77 for tipped workers).
The report's authors also note that "in 2011, a full-time year-round worker needed to earn $11.06 an hour to keep a family of four out of poverty." Doing this in 2013 requires a yearly family income of $23,550 or above, according to the latest poverty guidelines from the federal Department of Health and Human Services.
According to the EPI, in 2011 – even if they were able to work full time – 36 percent of African American workers, 43 percent of Latino workers and around 25 percent of white workers were unable to raise themselves and their families above the poverty threshold.
Other community groups participating in the picnic included Central Florida Jobs With Justice, YAYA (Youth and Young Adult Network of the National Farmworker Ministry), the Farmworker Association of Florida, Mi Familia Vota, the Student-Labor Action Project at the University of Central Florida, LCLAA (The Labor Council for Latin American Advancement) and the A. Phillip Randolph Institute.
Photo: A Central Florida labor rally. Central Florida AFL-CIO Facebook page.