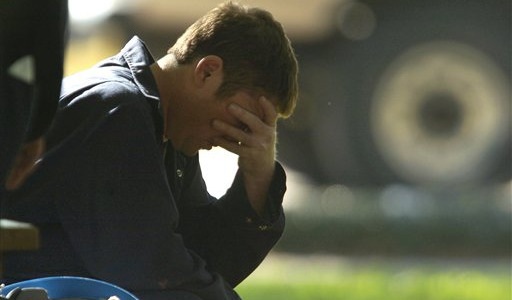 PITTSBURGH (PAI) – The Occupational Safety and Health Administration "will use not just our normal inspection system, but regulation by shaming" against notorious job safety and health violators, its administrator says.
In a June 15 telephone press conference/emergency meeting in Pittsburgh on the issue with Steelworkers President Leo Gerard and Mine Workers President Cecil Roberts, OSHA Administrator Dr. David Michaels added that the targets of the shaming would be "those companies that aren't playing by the rules" on worker safety and health.
"We have every right to call the CEO of any company and tell them what we want, and we will," Michaels added. And he urged workers to report violations.
Gerard, Roberts and Michaels spoke at an emergency safety conference of oil workers the Steelworkers union called in Pittsburgh, after a string of fatal oil refinery accidents – even before the deep-sea BP well blew up – and after deaths of 37 coal miners so far this year.
Michaels said he has already called the oil companies' lobby on the carpet to justify its practices, after the catastrophic Deepwater Horizon oil well fire, explosion and sinking in the Gulf of Mexico almost two months ago. The blast at the mile-deep well killed 11 workers and has spewed millions of barrels of oil into the Gulf in the worst environmental disaster in U.S. history.
Oil and mine disasters show the need for stronger job safety laws, and stronger enforcement, both union leaders said. "There's got to be an equal consequence" for companies when their laxity or refusal to protect workers costs lives, Gerard said.
Harkening back to the 1989 Pittston coal strike, where the United Mine Workers was fined $64 million for a peaceful protest that blocked a road, Roberts said "what corporate CEOs go through" when their firms kill people "is vastly different" than what hit his union.
"Their fines are not adequate. We need stronger laws, bigger penalties and criminal penalties for executives who commit these acts," Roberts added.
Both unions are leading labor's fight for the Protect American Workers Act (PAWA), a measure to strengthen the 40-year-old Occupational Safety and Health Act.
It would increase fines, let OSHA impose separate fines for each violation, and change violations that kill workers from criminal misdemeanors that carry maximum six-month jail sentences to felonies that carry 10-year and 15-year terms, among other things.
The Obama administration OSHA, led by Michaels, also endorses PAWA, but the measure is marooned in Congress, victim of a jammed schedule. Business and congressional Republicans also strongly oppose the legislation. The oil majors also don't want to do anything about safety, citing money, says Steelworkers Vice President Gary Beevers, who is in charge of bargaining with the oil firms. (The USW has represented the nation's oil workers since it merged with Paper, Allied-Industrial, Chemical and Energy Workers in 2005.
His statements were backed up, the same day, by documents released by congressional committees investigating the Gulf of Mexico disaster. They show BP, which buys the oil from Deepwater Horizon, stinted on safety. But the documents also showed the other oil majors also have large safety problems and lack plans for them.
In the last round of oil company bargaining, following the fatal 2005 blast at BP's Texas City, Texas, refinery, the USW pushed strongly for including safety standards – notably process safety, covering entire refineries, not just specific machinery – in its contracts with the oil companies, Beevers said. The firms turned that down flat.
Since then, he added, the oil majors remained intransigent. The independent investigatory federal Chemical Safety Board identified huge safety violations at Texas City and declared the industry as a whole was negligent. Beevers said the oil lobby then offered to share information, refinery by refinery – but only if the USW would "sign a confidentiality agreement," confining the data to each specific refinery's workforce.
"The one thing we know is that we have a fight at every refinery over money" to be spent on safety and health, he added. "As Dr. Michaels said, it's not just BP. OSHA's own survey showed 70 percent of the nation's refineries had the same conditions as at Texas City" where a large leak produced fumes that were then ignited, killing 15 and injuring more than 100.
Gerard reminded listeners that inattention to job safety and health costs lives. He said one committee, chaired by Sen. Patty Murray, D-Wash., has held hearings this year on the string of refinery blasts. Murray acted after one blast in Tesoro, Wash., near her home, killed six Steelworkers and a former unionist promoted to a supervisor's job. "Don't just have hearings about the oil leak in the Gulf. Have hearings about the 11 families whose lives were destroyed. You don't hear about them anymore," he said.
Photo: A refinery employee reacts after news of deaths from the explosion at a BP oil refinery in Texas City, Texas, March 23, 2005, in which 15 workers were killed and more than 100 injured. (AP/Houston Chronicle, Carlos Javier Sanchez).