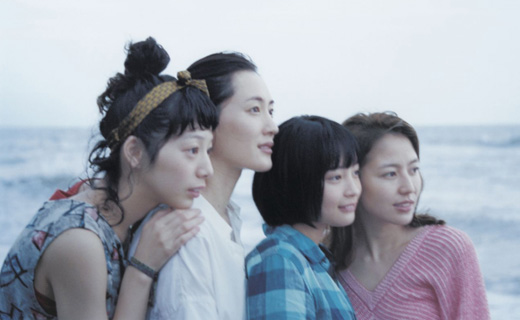 Our Little Sister is a film of surpassing beauty and sensitivity, a fully realized insight into family, a simple story of three sisters living together who are joined by their half sister. It unfolds patiently, with elegance and understanding.
The three Koda sisters – Sachi, Yoshino and Chika – live together in Kamakura by the sea. Years earlier they were abandoned to live in their grandmother's house. First their father left their mother for another woman. Then their mother ran off with another man. 30-year-old Sachi (Haruka Ayase), a nurse at a nearby hospital, kept the family together, raising the younger sisters.
When the sisters hear of their father's death, they decide to put aside old feelings of abandonment to travel to his funeral. At the memorial service, they encounter Suzu Asano (Suzu Hirose), their father's child with his third wife. Their meeting is at first uncomfortable. Feelings about the father are unresolved. But the open kindness of young Suzu disarms skepticism.
Sachi spontaneously invites Suzu to come live with them. Suzu gratefully accepts. She fits in quickly and well. Clearly, she is mature beyond her 13 years, having nursed her declining father. Suzu is helpful and upbeat. She adapts to school and community, as well. Skillful in soccer and proficient in studies, she wins friends, including one particularly interested boy. She enjoys hanging out with classmates at the local diner.
There are bumps in the road. But they are slight. The fact that Suzu looks like her mother, the woman who lured their father away, gives the sisters pause. As their grandmother warns, "She's the daughter of the woman who destroyed your family."
Through her quiet, supportive presence, Suzu provides a foil for the other sisters' character development. Chika (Kaho) and her boyfriend who has lost six toes on Mt. Everest are always upbeat. Sachi's secret affair with a married doctor at her hospital is more problematic. Yoshino's (Masami Nagasawa) serial failed romances and flightiness give even less promise for her future.
But the four sisters grow together. Normal family occasions, maintenance, tasks and issues rise and are resolved or dispatched. Suzu is woven into the fabric of their daily lives, complementing her siblings, even filling in spaces in their knowledge and memories. She shares reminiscences of their father that help the other sisters better understand their father and themselves. By film's end, they are bound by family and friendship, commonalities and differences. They are a family of four women learning from their experience to build a better life together.
The story is presented through the sparse, but knowing dialogue of writer Akimi Yoshida and director Kore-eda Hirokazu adapted from Yoshida's graphic novel Umimachi Diary. It is exquisitely framed by Kore-eda's breathtaking tracking shots of the sisters at the railway station, at their house window and at film's conclusion against the Kamakura seashore.
Our Little Sister won nine Japanese Academy Awards, including Best Actor, Best Director and Best Film.
Although it may be heresy, one cannot view Our Little Sister and other work by Kore-eda (Still Walking, Like Father, Like Son, After Life) without thinking of the towering postwar achievements of Tokyo Story Director Yasujiro Ozu (Late Spring, Early Summer, An Autumn Afternoon). There is no higher compliment.
This article was reposted from Huffington Post.
Photo: From Our Little Sister