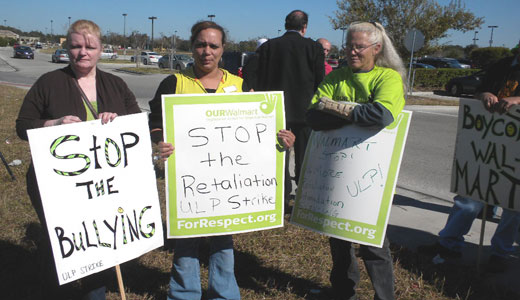 ORLANDO, Fla.- Walmart workers and labor and community allies held a protest at an east Orlando Walmart on Nov. 23 (Black Friday). The action was one of hundreds organized around the country by OURWalmart–on the biggest shopping day of the year–to press the retail behemoth for better wages, working conditions, an end to retaliation and intimidation of its workers, and respect from bosses.
OURWalmart is the Organization United for Respect at Walmart, a project of the United Food and Commercial Workers, with members in 700 Walmart stores in 42 states.
U.S. Rep.-elect Alan Grayson, D-Orlando, joined the protestors for the bus ride to the Walmart. Many of those who marched to the store entrance had tape over their mouths to symbolize attempts by Walmart to intimidate and silence workers who speak out about their treatment at the company's 4,600 stores in the U.S.
The activists were greeted by at least five Walmart managers and several Orlando police, who threatened them with trespass warnings if they attempted to enter the store.
"I want you to see all these people here [who] saw what happened to Alex [Rivera]," Denise Diaz, director of Central Florida Jobs with Justice told store manager David Finch. "They stand in solidarity with him and all other associates in this store who feel as if they cannot speak out on their issues."
Rivera, a member of OURWalmart, was fired from the east Orlando Walmart in September, after working there three years.
The activists marched single-file to an area by the store's parking lot where they held signs with slogans such as "Boycott Walmart," "Stop the Bullying –ULP (Unfair Labor Practice) Strike," and "Shame on Walmart," chanted, did interviews with local media and held a spirited rally.
Rep. Grayson told the protestors that it's possible for working people to have living wages, paid sick leave, health coverage, paid vacations and pensions. He also called upon Walmart to give all its employees a 30 percent pay raise, noting that the company would still be extremely profitable. (The average wage for a Walmart "associate" is $8.81 per hour, according to Makingchangeatwalmart.org.)
"It all comes down to one thing: organization. The people have to exercise their right to organize–that's what it comes down to, and when that does happen, we win, because the people united will never be defeated," Rep. Grayson said, prompting cheering and chanting from the crowd.
The company's heavy-handed tactics, such as cuts in hours and terminations, sparked the unprecedented wave of strikes at Walmarts around the country in early October, and continue to fuel OURWalmart's growth.
"The main issue is being able to talk to Walmart about what the issues are," said Angela Williamson, 42, an OURWalt organizer with the UFCW. "Every time a Walmart worker, such as myself, speaks out about cut hours, understaffing, unfair write-ups for production because of understaffing, they retaliate by cutting your hours or finding a reason to fire you for trying to get other workers to stand with you on those issues."
Williamson worked at a Walmart deli in Gulf Breeze, Fla. (in the Panhandle), from June of 2011 to May of this year, earning $9.45 an hour. (She had previously worked for the company from 1999 to 2001.) During training she worked 28 to 34 hours a week.
After training, Walmart began cutting Williamson's hours, some weeks only scheduling her for 12-16 hours, although she needed 32 hours a week to pay her bills while she went to nursing school.
Williamson began speaking out about cuts in hours and other issues. After a letter she wrote a letter to management prompted the company to remove an unfair write-up for productivity from another worker's file, she began searching online for other Walmart workers who were organizing around similar issues and found OURWalmart, which she joined in October 2011.
Williamson says she was fired from the Gulfbreeze store for her OURWalmart activism, and has filed an unfair labor practices complaint with the National Labor Relations Board.
Vanessa Ferreira, 59, is a bakery worker at a Walmart in St. Cloud, Fla. (30 miles south of Orlando). A member of OURWalmart since March, she walked out during an action inside the store on Nov. 21. Management reportedly had 20 people trespassed, including members of the Student-Labor Action Project (SLAP) at the University of Central Florida, UFCW, Jobs with Justice and customers who joined the action. Ferreira was among those trespassed, but management had it rescinded after realizing that she worked at the store.
Ferreira, who has been at the Walmart for eight years, earns $11.90 an hour (less than the $13 she earned doing the same job at a grocery store in Connecticut 16 years ago). She had health insurance through the company, which cost $60 every two weeks, but dropped it because of high deductibles.
Ferreira said that for her the main issues are respect, higher wages and scheduling. "We need a decent regular scheduling. Our bodies can't take this open-availability," Ferreira said, referring to Walmart's requirement that workers make themselves available for any shift during the week.
In what may be Walmart's greatest fear, Ferreira is a strong supporter of the company's workers joining a union. "We need a third party in there to protect us," she said.
Other unions and groups with a presence at the Black Friday action included AFSCME, IUPAT, Industrial Workers of the World, SLAP, Alliance for Retired Americans, Orlando Food Not Bombs and Occupy Orlando. State Rep. Victor Torres, D-Orlando, a member of the Amalgamated Transit Union, Local 1596, also attended.
OURWalmart organized a dinner Thanksgiving night (Nov. 22) at an Orlando-area store, handing out food (provided by the local AFL-CIO Central Labor Council) to 30 Walmart workers. Rep. Grayson also attended this action and walked out with Lisa Lopez, a store worker and new OURWalmart member.
Photo: Florida OurWalmart members (L to R): Vanessa Ferreira (St. Cloud), Karen Aubrey (Merritt Island), Lisa Lopez (Orlando). Ben Markeson/PW