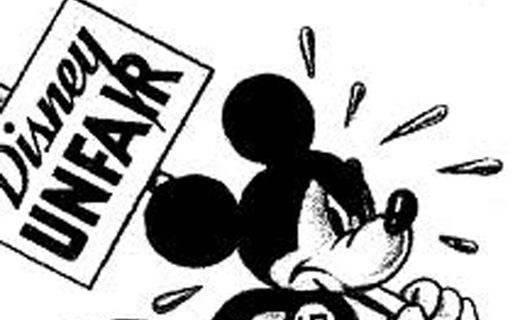 ORLANDO, Fla. (PAI) – The outsourcing firms that brought in foreign high-tech workers to Southern California Edison and forced SCE workers to train them – as their replacements – are being sued for doing that to information technology workers at Disney World in Orlando, Fla. And Disney is being sued, too.
In one of the two complaints, lawyers for IT engineer Leo Perrero told the U.S. District Court in Orlando on Jan. 24 that Disney forced 200-300 of its IT engineers to train their foreign replacements and then fired him and his colleagues. Perrero names Disney as a co-defendant in what is also a racketeering complaint and seeks class-action status for his colleagues.
In both California and Florida, HCL and another outsourcing firm used the federal H1-B visa program to bring in workers from overseas, usually India, forced U.S. high-tech workers – such as the IBEW members-to train them and then fired the U.S. workers.
After the training, Southern California Edison and Disney, which had hired the outsourcing companies, then hired the H1-B workers for substantially less than they paid the U.S. workers. The U.S. workers, including 500 members of Electrical Workers Local 47 at Southern California Edison, were fired.
The SCE firings drew national attention and congressional hearings on corporate abuse of the H1-B visa system, which lets firms to import tens of thousands of trainees yearly into the U.S. High-tech firms in particular argue they need H1-B imported trainees to fill vacant positions that lack qualified U.S. workers.
The H1-B visa law bars firms from replacing U.S. workers with imported H1-B trainees-turned-workers, unless the firms prove that U.S. workers are unavailable. The law also mandates the trainees-turned-workers must be paid prevailing wages, not cut rates.
But unions and workers counter that employers routinely abuse the system, by lying about the lack of U.S. workers, bringing in H1-B trainees, forcing U.S. workers to train them, firing the U.S. workers, and then hiring the trainees to the vacant jobs – at lower pay.
That's what happened in Orlando, former IT engineer Perrero said in his class-action suit filed against Disney and subcontractor HCL.
Perrero "and other Disney workers were told by Disney management they were being fired on Jan. 30, 2015, but that they had 90 days to train the visa-holders as their replacements. They were told that if they did not stay and train, they would not get a bonus and severance." Most of the Disney domestic workers "reluctantly accepted" that deal, the suit says. Fewer than five have gotten jobs since and some were blackballed, it adds.
The whole Orlando sequence is similar, though not identical, to what happened to IBEW
Local 47 members at Southern California Edison. The uproar over that firing led the Democratic-run California State Assembly to pass two bills last year, by 2-to-1 margins, against H1-B visa abuse. The California State Senate may take up that legislation this year.
One California H1-B visa bill asks the U.S. Congress and the federal Labor Department to investigate abuse of the visas. The other sets stiff rules state-regulated utilities, such as Southern California Edison, must follow if they want to import and employ overseas trainees.
Any lawmaker who favors offshoring or "otherwise doing away with vital internal jobs does not deserve to be an elected official," IBEW Local 47 Business Manager Patrick Lavin told California state lawmakers last year.
"The granting of H1-B visa jobs should never result in creation of a virtual pipeline for outsourcing U.S. workers' jobs," says the first bill, introduced by State Rep. Eduardo Garcia, D-Imperial County.
That's basically what happened at Disney, Perrero's suit says.
Perrero "had numerous conversations with H1-B visa holders whom he trained, and based on these conversations, he knew that Disney would terminate – and not rehire – U.S. workers with the job duties taken over by the HCL H-1B visa holders."
Photo: WordPress site