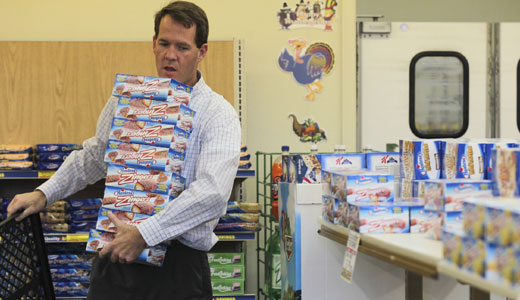 WHITE PLAINS, N.Y. – Over the objections of its unions, whose members were thrown out of their jobs, a federal bankruptcy judge awarded $1.75 million in bonus payments to the corporate executives who ran Hostess Brands into the ground.
The Nov. 29 ruling by U.S. Bankruptcy Judge Robert Drain upset the Bakery, Confectionery, Tobacco Workers and Grain Millers (BCTGM) and the Teamsters, who together represent more than 13,000 of Hostess' 18,000 workers.
The firm's other smaller union locals were also dismayed, but not represented. "Whoa, this is disgraceful," and "just disgusting," the Teamsters blogged.
Hostess filed for bankruptcy for the second time in eight years earlier this year, and forced a concessionary contract, featuring huge pay cuts, on its unions. The Teamsters voted 53 – 47 percent for the pact, but the BCTGM rejected it, 92 – 8 percent. Judge Drain then imposed the pact on BCTGM, which responded with a nationwide strike Nov. 9.
Hostess execs did not invest in upgrading its facilities, improve its distribution system and find new money-making lines of baked goods. They also loaded Hostess with $673 million in debt. They used BCTGM's strike as an excuse to declare bankruptcy and start the shutdown before Thanksgiving, and went to Drain to get paid. He agreed, doling out between $7,400 and $130,500 to 19 execs, but not the CEO.
The executives' shutdown work on Hostess is "significantly beyond the type of jobs" the execs "were doing at the start of this case," Drain said. He called the "incentives" for the shutdown work "an exercise of proper business judgment."
The BCTGM Joint Pension Plan, which sits on the firm's creditors' committee, objected. So did the Teamsters. And Pete Carroll, a 60-year-old Hostess fleet mechanic, drove 12 hours from Kentucky to tell Drain how the execs mis-ran Hostess.
Carroll told Drain that company execs' mismanagement "brought us down further." He asked Drain to order Hostess to make good on its pension obligations to the workers. Last year, even before the bankruptcy, Hostess stopped paying into pension funds, in violation of its union contracts.
"There is no basis under any possible standard of review, including 'business judgment' or 'justification by the facts and circumstances of the case,'" for Drain to approve the Hostess executives' bonuses, Teamster attorneys argued in court. "This is particularly true in these tragic circumstances where so many thousands of employees have lost their jobs and benefits." Teamster attorneys called the bonuses illegal and "disguised retention payments" that violate bankruptcy law.
Photo: A shopper in Chiro, Calif. loads up on Hostess iconic Zingers cakes, seizing his last chance to buy them before the company goes out of business. Andreas Fuhrmann/AP & Record Searchlight