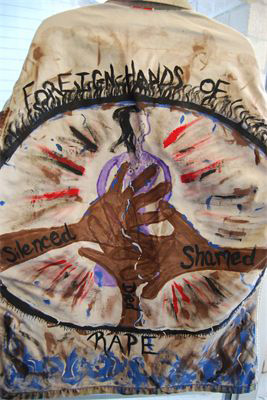 CHICAGO — With extraordinarily high rates of post-traumatic stress disorder and skyrocketing suicides, US military veterans from the Afghanistan and Iraq occupations urgently need a means to share experiences and deal with the pain and trauma of war.
And the growing number of active duty and veteran women in the armed forces need a means to share their unique experiences not least the pain and trauma of rampant sexual harassment, rape, assault and other violence while in the military.
Women veterans are sharing their experiences in a powerful and eye opening exhibit at the National Veterans Art Museum (NVAM) called "Overlooked/Looked Over." The exhibit includes the work of 8 women artists including members of Iraq Veterans Against the War (IVAW). It opened on March 10 in honor of the centennial celebration of International Women's Day and will run through Memorial Day.
Iraq War veteran and curator Erica Slone notes that women currently comprise 14.5% of active duty military and there are 1.8 million women veterans; yet there has been little research to date on how contemporary military culture and war affects women. "Through Overlooked/Looked Over," Slone says, "I intend to shine a light on the unique experiences of women during service, in war, and as veterans."
The actual number of sexually traumatized victims is nearly impossible to know because they are often intimidated from reporting assaults and have little support. It is believed 66% of active duty women are sexually harassed and over one-third are assaulted. An estimated 60% of women in the military reserves and National Guard have been sexually traumatized.
Of those reported, only 8% of the perpetrators are court-martialed compared to 40% who are prosecuted of those arrested in the civilian world. 75-84% of those convicted of rape in the military leave with an honorable discharge.
Regina Vasquez served in the US Marines from 1998-2002 and experienced a sexual assault. "In the military, there is a lack of justice," said Vasquez. "A lot of women haven't come out and talked to anyone and it's extremely hard for us to talk about being raped."
Vasquez says victims blame themselves and are scared, ashamed and angry. So she created an art piece she calls "Fatigues Clothesline" with the hope that it will inspire other victims "not to avoid it and to put the blame on the perpetrator."
"Fatigues Clothesline" takes off on the "Civilian Clothesline" concept of victims of sexual assault in civilian life. It uses military fatigues instead of civilian clothes including a white blouse that is turned inside out to reveal Vasquez's inner thoughts and fears.
"The emotions I had, I just poured them out. I had bad dreams, I was detached. It took me 3 months to complete it," said Vasquez.
Vasquez urged passage of HR 3435 introduced by Rep. Jackie Speier, D-Calif., that would take sexual assault out of the normal chain of command of the military and place it in a new oversight office staffed by civilian and military personnel. Incredibly the 122 co-sponsors include not one Republican.
Iris Feliciano was a US Marine from 1996-2010 and served in Afghanistan in 2002. She's working with veterans out of the Albany Park Community Center and the Jesse Brown Veterans Administration. She leads a Writing Warriors workshop, helping veterans to express their pain through writing.
Feliciano also has a series of photos in the exhibit.
"The photos represent different aspects of my identity," says Feliciano. "When I was in the military being identified by rank, my ribbons and medals and coming home and recreating another identity especially as a woman."
"This exhibit is important because it highlights an overlooked voice. The experience of war and the military is usually from a male perspective," she said.
Feliciano believes the NVAM, founded in 1981, is a place to educate society, hear the voices of veterans and let them tell their stories.
The NVAM is located at 1801 S. Indiana Avenue, Third Floor, in Chicago and is open Tuesday through Saturday from 10:00 a.m. to 5:00 p.m. Tickets are $10.00 general admission and $7.00 seniors and students. Admission is free for veterans and active military and their dependents. For group admission reservations, call the Museum at 312/326-0270.
Photo: Fatigues Clothesline by Regina Vasquez USMC