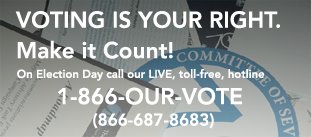 PHILADELPHIA – The non-partisan Pennsylvania Voter ID Coalition field office is up and running at 310 W. Chelten Ave. in the Germantown section of Philadelphia. Over 100 diverse organizations from throughout Philadelphia and the Delaware Valley have joined forces to protect people's right to vote and to get out the word about how to obtain the photo IDs required for voting November 6.
This includes helping voters assemble the documents required for obtaining photo IDs, transporting people to Pennsylvania Department of Transportation offices, as well as assisting with voter registration. The DOT is the agency that issues driver's licenses.
Pennsylvania lawmakers may have awakened a sleeping giant. The coalition has mushroomed. Calls are coming into the Chelten Ave. office from all over the city, and from coast to coast, with offers to help. Community groups are hosting information sessions, volunteers are canvassing neighborhoods, and a call center has been set up.
While Republican-dominated legislatures in several states have passed voter ID laws, Pennsylvania passed a particularly restrictive law that attempts to disenfranchise particular groups of voters: women, youth, minorities, and the elderly.
The majority-Republican state legislature passed the onerous legislation in March, which was signed by Governor Tom Corbett – also a Republican. Little thought was given and no resources were set aside for the task of getting photo IDs into the hands of the close to one million Pennsylvanians without driver's licenses. As of August, there was no signage in Pennsylvania DOT offices, nor had Penn DOT been informed about the new regulation.
It's ironic that in the Middle East, democratic movements in the spring of 2011 overthrew repressive governments and demanded voting rights for all. At the same time, right-wing legislatures in the U.S. were cooking up plans to make voting more difficult.
The Committee of 70 is a century-old non-partisan organization whose mission includes assuring fair elections. It provides a wealth of information about the Voter ID Coalition, the new voter ID rules, the lawsuit against it, and necessary voter forms. The Committee of 70's hotline can be reached at 1-866-OUR-VOTE (1-866-687-8683).
To volunteer for literature drops or office work, or to provide transportation, contact the Committee of 70, or the Coalition's Chelten Ave. office at 215-848-1283.
Photo: The Committee of Seventy Facebook page