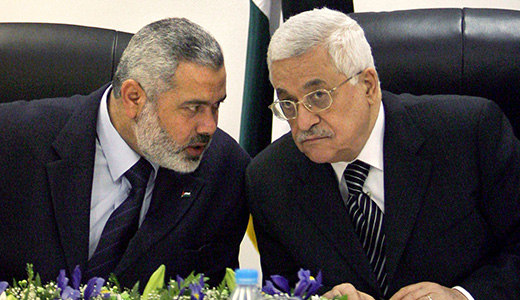 Leaders of 14 Palestinian political parties including Fatah and Hamas announced a unity agreement in Cairo on Wednesday. Palestinian President Mahmoud Abbas, who also heads the Fatah party, joined Hamas leaders Khaled Mashaal and Ismail Haniyeh for the announcement.
Also present were Turkish Foreign Minister Ahmet Davutoglu, Egyptian Foreign Minister Nabil al-Arabi and United Nations Special Coordinator for the Middle East Peace Process Robert Serry.
The pact provides for a transitional unity government of nonpartisan "technocrats" that will prepare for presidential and parliamentary elections next year. The new government will administer the Palestinian territories, while the Palestine Liberation Organization (PLO) will continue to be in charge of international relations including peace talks with Israel.
The signing of the agreement on Tuesday and the ceremonial announcement Wednesday saw "all the Palestinian factions come together for the first time in four years," al-Jazeera correspondent Nicole Johnston noted.
The agreement would end the split between the West Bank and Gaza which dates back to 2007. It is seen as a key step for the Palestinians in building international pressure on the Israeli government to come to terms with a Palestinian state. A next step is a request for full United Nations recognition of Palestine based on the pre-1967 borders. That request is expected to be taken up by the UN in September.
"We signed the deal despite several reservations," Walid al-Awad, a leader of the Palestinian People's Party, told Egyptian television, according at an al-Jazeera report. "But we insisted on working for the higher national interest," he said.
Abbas aide Nabil Shaath told Israel Radio ahead of Wednesday's ceremony that demands by Israeli leaders and others that Hamas recognize Israel as a precondition for talks "are unfair, unworkable and do not make sense," the Associated Press reported.
The only thing that should matter, he said, is that Hamas "would refrain from any violence … and be interested in the peace process."
In his speech at Wednesday's ceremony, Abbas declared that the unified Palestinian government will be "an authority committed to non-violence," the independent Palestinian Maan News Agency reported. At the same time, he emphasized that nonviolent Palestinian resistance against Israel's military and settler presence in the West Bank would continue.
Hamas leader Mashaal, in his remarks, praised the mediation efforts of Egypt, and said he supported "elections at first possible moment," but said that in order for the vote to be genuine, "first we must establish a real and normal atmosphere on the ground."
Abbas assailed the hostile response by Israeli Prime Minister Benjamin Netanyahu and other Israeli officials to the Palestinian unity move, including the announcement by the Israeli government that it would withhold tax revenues from the Palestinian Authority, Maan reported.
"If they keep blackmailing us, we'll make September nearer," Abbas said, referring to the Palestinian plan to seek UN recognition in September.
"Israel used division as pretext to stall a peace deal. Now they object to unity. That's unacceptable, it's illegitimate," he said.
The Palestinian president said Israeli Prime Minister Netanyahu must now "choose between [building] settlements and peace." He accused Israel of opposing the Palestinian reconciliation agreement as "a pretext to avoid peace negotiations."
Earlier in the week, Hamas leader Ismail Haniyeh stirred some controversy when he reacted to the U.S. killing of Osama bin Laden by seeming to refer to bin Laden as a "holy warrior." His actual statement was somewhat ambiguous, however. As quoted by Israeli Ynet News, his comment was, ""We condemn any killing of a holy warrior or of a Muslim and Arab person and we ask God to bestow his mercy upon him."
But the issue seemed of little interest to Palestinians in the West Bank and Gaza, where a secular grassroots movement, inspired by those in Egypt and elsewhere, has been demonstrating for Palestinian unity since March.
Following the announcement of the unity agreement, celebrations took place in both the West Bank and Gaza, Maan reported. In Gaza City, around 300 people waving Palestinian flags as well as flags of both Hamas and Fatah "gathered in a festive atmosphere to celebrate the deal, dancing and letting off firecrackers," the news agency reported.
"Palestinians want to end the division," said one banner held aloft by the crowd.
Photo: Ismail Haniyeh, left, and Mahmoud Abbas, in a 2007 photo. (AP/Khalil Hamra, File)