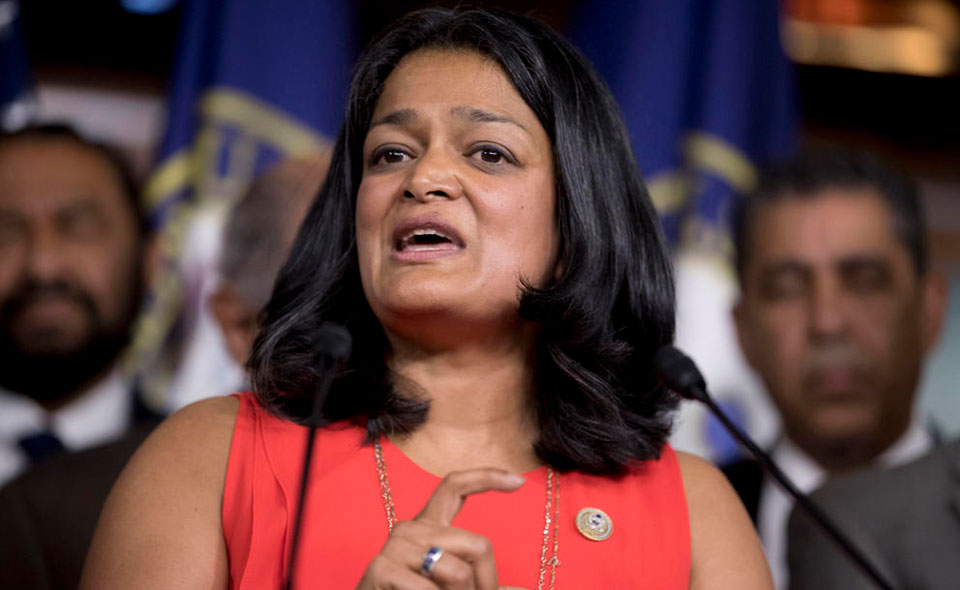 WASHINGTON—Propelled by the impact of the coronavirus pandemic, which exposed, as never before, the gaping holes in U.S. health care's non-system, proponents of Medicare For All launched a new push for comprehensive health care reconstruction.
But the March 17 exuberant "Town Hall" for the bill, re-introduced by House Progressive Caucus Chair Rep. Pramila Jayapal, D-Wash., Rep. Debbie Dingell, D-Mich., and a majority of the House's ruling Democrats, faces an obstacle nobody mentioned: Joe Biden.
"Everybody has seen the chaos and destruction" of the pandemic, Jayapal said. "It's making people ask if we could have had something different with a Medicare For All system."
The powerful and well-moneyed health insurance lobby is already campaigning against Medicare For All, which received two House hearings in 2019 before the pandemic hit. But House Speaker Nancy Pelosi, D-Calif., ordered House committee chairs to then do nothing.
President Biden is another matter.
Unlike his leading Democratic primary foe in last year's campaign, Sen. Bernie Sanders, Biden opposed Medicare For All. He preferred, and said so, to improve the Obama-era Affordable Care Act. As Obama's VP, with long and strong ties to Congress, he led the lobbying for the ACA in 2010.
Biden also favors lowering the age for Medicare eligibility and enacting a "public option," a light version of Medicare For All. His then-boss, Democratic President Barack Obama, rejected that choice, after the health insurance lobby, which Obama courted, opposed it.
All that didn't stop the lawmakers and two top union leaders, National Nurses United Executive Director Bonnie Castillo, RN, and Postal Workers (APWU) President Mark Dimondstein, from strongly supporting it at the March 17 event.
NNU was the first union to champion Medicare For All, and APWU and at least 13 other unions back it. So does Our Revolution, the organization of Sanders supporters who held their own 8 a.m. rally for it on March 17. The AFL-CIO's last convention, four years ago, endorsed Medicare For All as one potential way to improve U.S. health care.
"Those flaws" of the current U.S. medical non-system "result in deaths" from the pandemic, Castillo declared. "It values profits over people."
Unable to afford life-saving treatment
"Nurses see patients unable to afford life-saving treatment," she said. "The current system was a disaster before the pandemic, and it's gotten worse.
"We have lost more than 530,000 people" to the virus, officially called Covid-19, in the year since the pandemic was officially declared in the U.S., Castillo explained. "If we had Medicare For All before it hit, many of them would be alive today."
That's because, advocates said, people would not be afraid to seek treatment and care early. Right now, people refuse to seek care due to worries about both cost and how to pay for it, as health insurers repeatedly reject claims for payment.
In a way, Biden's $1.9 trillion American Rescue Act and prior laws sending money to people who lose jobs, health insurance, or both due to the pandemic, solved that financial problem, at least for vaccinations against Covid-19.
"Vaccines are free to all, with no [insurer] co-pays and no middlemen" in insurance companies, pharmaceutical benefits managers, and health care honchos, including insurers' high-paid corporate executives. "That principle should apply to all" of medicine, said Castillo.
Dimondstein's APWU members have health insurance coverage through their employer, the U.S. Postal Service. But many ex-postal workers—and others—don't. Millions more people, unionized or not, are underinsured.
Government-run single-payer Medicare For All, eliminating the insurers, their deductibles, high co-pays, rejections of coverage, and no payments for care—followed by deaths of patients—would solve that problem, said Dimondstein. It also would cover health care which insurers, and Medicare, now don't: Dental, vision, and hearing care.
"If we had cradle-to-grave coverage, individuals and our society would be better off," the Postal Workers president declared. Even with USPS-provided policies, "Our members are saddled with more than $6,000 per year in out-of-pocket costs for families, and that's not counting co-pays and deductibles.
"And taking ever-increasing health care costs off the bargaining table" for both public sector and private sector union workers "would be a great start" towards once again providing higher pay via collective bargaining, Dimondstein noted.
"It's time to put health care as a human right over the profits of the medical-industrial complex."
A parade of lawmakers
The town hall also featured a parade of lawmakers backing Medicare For All. Sanders was absent. He was chairing, at that hour, a Senate Budget Committee hearing on how to close the gap between the rich and the rest of us.
There, Sanders said Medicare for All is one of several ways to achieve that goal, along with his proposal to tax the rich, higher inheritance taxes, and, most importantly, strengthening unions and the right to organize, through enacting the Protect the Right to Organize Act.
Other lawmakers took his place in the town hall and the video. Lead co-sponsor Dingell, whose late husband and predecessor, Rep. John Dingell Jr., D-Mich., sponsored Medicare in 1965, noted the pandemic left "nearly 30 million people now uninsured" since they lost coverage when they lost their jobs. "Another 40 million can't afford [insurers'] co-pays."
At the same time, she added, the U.S. spends twice as much, per person, on health care compared to other developed nations. As private firms shoulder those costs, they're at a competitive disadvantage against their counterparts in nations with government-run national health care. That's "a Republican argument" for backing Medicare for All, Dingell deadpanned.
The high spending also produces bad outcomes, which Dingell linked to insurers' 20% overhead share of U.S. health care spending, which now consumes 17% of U.S. gross domestic product. By contrast, she noted, Medicare's overhead is 3%.
The bad outcomes, she said, include declining life expectancy, "infant mortality rates higher than in third world countries," and "a health care system that is ineffective, inefficient and a waste of money and time."
Dozens of lawmakers chimed in during the town hall or taped segments on its video.
"We are failing our neighbors with what I call corporate greed schemes—what I call private health insurance," said Rep. Rashida Tlaib, D-Mich. She had health care coverage, as one of 14 children, because her father was a United Auto Workers member who toiled at Ford. But 100,000 of her constituents, in the third-poorest congressional district in the U.S., don't.
"Our current system is subjecting our neighbors, especially children of color, to illness and death," while Medicare for All would cover them, Tlaib said. "We're saying: 'Enough!'"
Medicare For All "would mean the end of premiums, co-pays, and deductibles, which, for seniors, would eat up half of their Social Security checks" within a few years, said Rep. Ted Deutch, D-Fla. The head of Social Security Works, which also backs Medicare For All, said medical care costs unpaid by insurers now consume 40% of those payments.
Have lost jobs
"Millions have lost jobs through no fault of their own. They're being forced to choose between paying for their care or paying their bills," said first-year Rep. Nikema Williams, D-Ga., who won the seat held by the late and revered civil rights leader Rep. John Lewis (D).
"I'm a nurse who has seen patients die because they couldn't afford treatment," said first-year Rep. Cori Bush, D-Mo., who overcame both Covid-19 and an entrenched incumbent to win her congressional seat in St. Louis last year. Bush ran, and won, on a platform that included Medicare For All, and joined "The Squad" of progressive female House Democratic women of color—including Tlaib–pushing that cause, and others.
Dingell expects the GOP to be dead set against Medicare For All, just as it opposed Medicare in 1965 and Social Security in 1935. Her father-in-law, Rep. John Dingell, Sr., D-Mich., helped FDR push that through. Opposition was so violent then he was called a socialist and a communist and "crosses were burned on his lawn," current Rep. Dingell said.