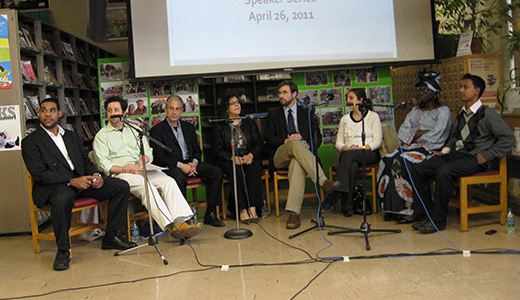 HAMTRAMCK, Mich. – Did you know Southeast Michigan is home to 365,000 foreign-born residents, the second largest foreign-born population in the Great Lakes region? In addition, while Census reports show Detroit and Michigan losing population, the immigrant population of Southeast Michigan continues to grow.
Those 365,000 are part of the largest concentration of Arab people outside the Middle East, as well as the largest concentrations of Albanians and Macedonians outside their native countries. Significant Indian American, Bangladeshi, Pakistani, Mexican, African, Southeast Asian and Caribbean populations are here as well.
An April 26 panel discussion at the Hamtramck Public Library brought out those facts and many more. It was titled "Rolling Out the Welcome Mat: Detroit as a Global Community."
Contrary to anti-immigrant hysteria, immigrants do not "take jobs," former state Rep. Steve Tobocman, author of a 2010 Global Detroit study, told the gathering.
In what can only suggest good news for this job-hungry area, Tobocman said areas of the country with growing immigrant populations are those with the lowest unemployment rates. The 2010 study he wrote, funded by New Economy Initiative, the Detroit Regional Chamber of Commerce, and the Skillman Foundation, found that Southeast Michigan's foreign-born residents "provide enormous contributions to the region's economic growth and will play a key role in our economic future."
However panelists pointed out that as large as the immigrant population is here, rates of economic growth are lagging other areas of the country.
Nadia Tonova of the National Network for Arab American Communities said 497,000 Arab Americans are living here and many came because of family. Unfortunately, she said, prospective future immigrants to the area are now thinking twice.
Part of the reason, Tonova said, is the hostile anti-immigrant atmosphere created by measures introduced in the Republican-dominated state legislature. These include Arizona-type racial profiling legislation, an English-only bill, and an E-verify bill that requires verification of immigration status through a flawed federal database.
Similar concerns were voiced by Maria Elena Rodriguez, a community activist in Southwest Detroit. While that community has rich history of Mexican immigration dating back to the beginning of the last century, the region has not seen the growth in Latinos seen in other parts of the Midwest and nation, she said.
Rodriguez and others pointed to an atmosphere of fear that has developed in Southwest Detroit. Ryan Bates of the Alliance for Immigrants Rights and Reform said the Detroit Immigration and Custom Enforcement (ICE) office is completely out of control. He cited recent ICE actions that have terrorized the immigrant community, including laying siege to an elementary school as parents were dropping off their children, warrantless searches, and denying medical care to a pregnant mother while in detention.
Bates said, "You have 11 million undocumented people in this country, paying taxes and the reality is you cannot deport them. You need a path to citizenship."
Dawud Walid, of the Council on American-Islamic Relations, pointed to differences in how immigrants are treated, saying "ICE vehicles are not found in every community." He noted what he called the "demeaning" FBI practice of offering some Muslims help on their immigration status only if they agree to become FBI informants in their mosques.
Another obstacle faced by immigrants was brought up Seydi Sarr, artistic director of the Rowe Niodior African Dance Company, who is from Senegal. She described the cost, time and resulting frustration of trying to maintain legal status or acquiring citizenship.
Sarr said it can take six to seven years and upwards of $10,000 in lawyer and application fees to become a legal resident.
She eloquently expressed what many immigrants feel: "We are here, we are participating, you don't have to see my papers to welcome me."
The panelists made the point that the lack of a "welcome" curtails the ability of immigrants to help grow the economy. All of us lose as a result.
The event was co-sponsored by Detroit online magazine Model D and public radio station WDET, and presented by Michigan State Housing Development Authority and the City of Hamtramck.
Photo: Panelists at the April 26 event, "Rolling Out the Welcome Mat: Detroit as a Global Community," at the Hamtramck Public Library. PW/John Rummel