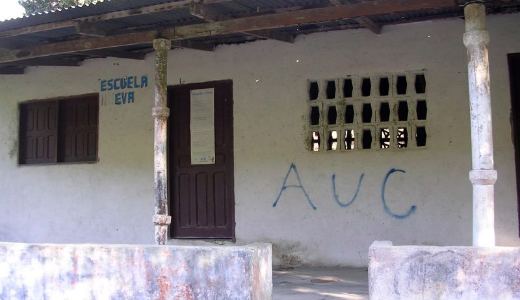 Paramilitaries killed Bernardo Rios on March 23 in Uraba, Colombia, just like they killed 200 other peace activists in San Jose de Apartado. In Medellin the day after Rios's murder, someone killed 70-year-old David de Jesús Góez. He had testified against land takeovers. Reports proliferated that month of death threats against women, children and men.
Paramilitary forces have displaced over four million rural people from 16 million acres of land. Drug traffickers, paramilitary chieftains, big farm operators and mining and oil corporations have moved in. The death toll has ascended into the tens of thousands. Urged on by Washington, the government of President Alvaro Uribe took steps to deescalate the violence.
Under his 2005 Law of Justice and Peace, paramilitary leaders confessed to crimes and demobilized troops. In return, they received light sentences and guarantees they could keep stolen land. They and their underlings would be protected from future prosecution. But recent reports say 12,000 of the 30,000 supposedly retiring paramilitaries were unemployed men recruited for brief periods and given guns. And paramilitary killings continue.
In late 2010, Colombia's Congress gave initial approval to the "Law of Victims and Land Restitution." Critics object to its relieving the Attorney General and judiciary of responsibilities to investigate and prosecute crimes attributed to "groups outside the law." They protest executive branch assumption of judicial powers. The proposed law contains only nebulous provisions for the return of stolen land, but current President Juan Manuel Santos has promised that some 880,000 acres would be given back
The practice of land restitution has so far fallen short. The Incoder land reform agency, for example, returned 37 parcels in Magdelena stolen by paramilitaries under the command of "Jorge 40." Over just two months in 2003, that agency revoked peasant ownership of 134 tracts appropriated by paramilitaries in 13 municipalities. New owners, most of them colleagues of "Jorge 40," were given new titles. An online report claims direct local government negotiations with paramilitaries led to land transfers.
New verbiage hints at backing off from paramilitary demobilization. It crops up in the Attorney General's most recent annual report. The introduction to the section on the Law of Justice and Peace says, "With the economic and logistic support of the U.S. Embassy's legal group, we are moving ahead with the special task force for inquiry into and investigation of punishable behavior presumably committed by emerging groups or bands through their members or with collaboration of or participation by other persons. The purpose of this tool of struggle [relates] to proliferation of a series of criminal bands emerging in some parts of the country …especially where illegal armed groups were demobilized." Paramilitaries became "criminal bands" in a statement that acknowledges U.S. overview. Roundabout language suggests irresolution.
Ivan Cepeda heads the Movement of Victims of State Crimes, or MOVICE, and represents the leftist Alternative Democratic Pole in Congress. Debating on March 23, Cepeda declared, "In Colombia the horrible night of paramilitarism has not ended. Its structures remain intact." He adds that "the Santos government wants to make it appear that criminal bands" are causing population displacement, when in fact "recycled paramilitary groups" are responsible.
At its national meeting March 10 -12, MOVICE blamed the Santos government for "serious crimes against humanity, such as forced displacement, extrajudicial executions, torture, forced disappearance, and sexual violence. A MOVICE declaration points out that paramilitaries are most active "in regions of the country where great economic interests prevail – agro-industry [and] development of megaprojects for extracting natural resources."
A spokesperson protested that victims were not consulted in framing the Law of Victims, that the legislation fails to recognize state responsibility for paramilitary crimes and that it offers no guarantee that land returned to small farmers will not "again end up in the hands of big landowners or transnational corporations." He rejected "designation of paramilitary structures as criminal bands," maintaining, "State crime and common criminality are not alike."
Ex-paramilitary head Pablo Hernán Sierra, interviewed in late March, reported government officials were participating in meetings aimed at settling turf battles between paramilitaries, accommodating drug traffickers, and providing legal cover for land seizures. Sierra regards the supposed disarming of paramilitaries as a fiction. He sees President Santos as continuing and extending paramilitary impunity enshrined in the Law of Justice and Peace.
Image: The initials of a Colombian paramilitary group spraypainted onto a building. Cameron Alexander and Katie Rose // CC BY-NC 2.0